Remembering Andy Gibb's amazing and all-too-brief career
30 December 2022, 11:30 | Updated: 6 October 2023, 15:15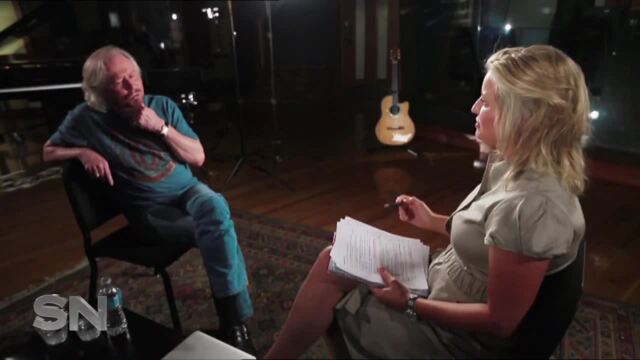 Barry Gibb emotionally reflects on losing his brothers
He was too young to be a Bee Gee, but Andy Gibb still had a stunning career in his short life.
"There is no Andy," Tipping Point host Ben Shephard said last month when correcting a contestant.
What he meant to say was "There is no Andy in the Bee Gees."
There absolutely was an Andy Gibb, of course, the younger brother of Maurice, Barry and Robin Gibb and a disco pop superstar in his own right.
Born Andrew Roy Gibb on March 5, 1958, Andy Gibb was the youngest of the five Gibb siblings, being the little brother to the Bee Gees trio and sister Lesley.
While the Bee Gees started off pretty young themselves, Andy wasn't even ten when the group were beginning to score some pretty massive international success – so he was too young to join his brothers.
He'd moved with the family to Australia when he was just six months old, but came back to the UK in early 1967.
A bit of a tearaway, Andy quit school when he was 13 and spent his time playing guitar (a gift from his brother Barry), doing gigs around Ibiza and the Isle of Man.
He recorded his brother Maurice's song 'My Father Was a Rebel' in August 1973 and they co-wrote 'Windows of My World' together, with his brother also producing the track and playing on it.
It didn't get a release, and Andy formed his first band in June 1974 (when he was 16), backed by John Alderson on guitar, Stan Hughes on bass, and John Stringer on drums, managed by Gibb matriarch Barbara.
Andy Gibb - Words And Music
Their name? Melody Fayre, after a Bee Gees song.
They recorded a clutch of demos, but the band disintegrated. Andy went on to front Zenta, who supported Sweet and the Bay City Rollers in Sydney.
They laid down some tracks but the songs didn't get released, Instead, backed by Aussie group Crossfire, Andy finally released his first single 'Words And Music' which was a regional hit in Sidney in 1976.
With that, Andy Gibb had arrived.
Andy Gibb - I Just Want to Be Your Everything
Bee Gees manager Robert Stigwood signed Andy to his RSO Records label, and he moved to Florida with Barry and producers Albhy Galuten and Karl Richardson to record his debut album Flowing Rivers.
Written by Barry and featuring his inimitable backing vocals, Andy's first international single was 'I Just Want to Be Your Everything'.
It wasn't just number one in Australia. It also topped the US charts, and reached the top 30 in the UK.
But Andy wasn't resting on his brother's talents. He had written eight out of album's ten songs himself, and had also co-written another number one single '(Love Is) Thicker Than Water', with Barry.
Andy Gibb - Love Is Thicker Than Water • TopPop
To show just how imperial the Gibbs' work was in 1978, that single knocked the Bee Gees' 'Stayin Alive' off the of the chart, and stayed there for two weeks until it was replaced by... the Bee Gees' 'Night Fever'.
The hits kept coming. The same team behind the first album reconvened for the April 1978 follow-up Shadow Dancing.
Its title track 'Shadow Dancing' was written by Barry, Maurice, Robin and Andy, and had an incredible seven-week run at the top of the charts, eventually going platinum.
'An Everlasting Love' reached number five, and was followed by ('Our Love ) Don't Throw It All Away' at number 9.
Andy Gibb - An Everlasting Love
The following year, Andy performed at the massive music for UNICEF Concert at the United Nations General Assembly, which was broadcast worldwide, singing a duet of 'Rest Your Love on Me' with Olivia Newton-John.
On his return, he recorded After Dark, the final studio album he would ever release.
Its lead single 'Desire' was written by his three brothers and a version recorded for their own Spirits Having Flown album with Andy on backing vocals.
After it was dropped, Andy resurrected it and made it a tip ten hit.
He followed it with another Olivia Newton-John duet, the top 20 'I Can't Help It'.
Andy put out a couple more hit singles, 'Time is Time' and 'Me (Without You)' for 1980's Andy Gibb's Greatest Hits.
But the cracks were beginning to show.
Despite his success, Andy had been struggling with mental health issues and drug addiction.
"He became ensconced in the drug scene," said his wife Kim Reeder. The couple had married in 1976, but divorced two years later.
"Cocaine became his first love. He became depressed and paranoid."
He later met actress Victoria Principal in 1981 and the couple hit it off, but Andy's drug issues were still hampering his career.
Andy Gibb Bee Gees "Shadow Dancing" HD Rare Remastered
Andy was sacked from stints hosting TV show Solid Gold and a Broadway run in Joseph and the Amazing Technicolor Dreamcoat because of repeatedly failing to show up.
"We'd lose him over long weekend," said Broadway producer Zev Buffman.
"He'd come back on Tuesday, and he'd look beat. He was like a little puppy – so ashamed when he did something wrong."
ANDY GIBB VICTORIA PRINCIPAL All I Have To Do Is Dream
There were attempts to keep his music career going. His final single was a duet with his partner VIctoria, a cover of the Everly Brothers 'All I Have to Do is Dream', which fell just outside the top 50.
They split soon after as a result of Andy's drug issues, and while he continued to perform live in between stints in rehab, he didn't release any new music.
In June 1987 he finally returned to the studio and laid down four tracks, including the posthumously released 'Man on Fire' and 'Arrow Through The Heart', co-written by with Barry and Maurice.
A mooted record deal with Island fell through, and on March 5, 1988, just two days after his 30th birthday, Andy went to the John Radcliffe Hospital in Oxford with chest pains.
Five days later, Andy collapsed and died. The cause of death was myocarditis, an inflammation of his heart likely caused by years of cocaine abuse.
His body was interred at Forest Lawn Memorial Park in Hollywood Hills, Los Angeles.
An understated headstone reads simply Andy Gibb / March 5, 1958 – March 10, 1988 / An Everlasting Love.