Remembering Lisa Marie Presley's heartbreaking 'duet' with Elvis on 'I Love You Because'
16 January 2023, 13:52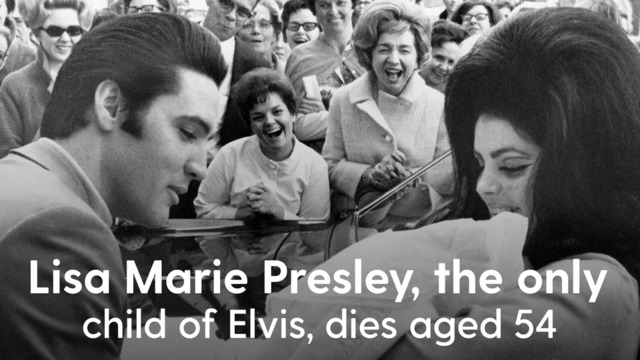 Singer Lisa Marie Presley, only child of Elvis Presley, dies at the age of 54
During her lifetime, Lisa Marie Presley released a string of special "duets" with her late father Elvis.
Lisa Marie Presley – who tragically died last week at the age of 54 after a cardiac arrest – was an accomplished singer and songwriter in her own right.
She was also, of course, Elvis Presley's daughter. Rather than ignore or reject her rock 'n' roll heritage, Lisa Marie embraced it.
She even recorded a string of "duets" with her father after his death in 1977, with her singing being seamlessly melded with vocals Elvis had recorded before his passing.
In 2007 she released 'In The Ghetto', with proceeds from sales of the singles being donated to the Presley Charitable Foundation. She also added vocals to her dad's 'Where No One Stands Alone' for a gospel album in 2018.
Lisa Marie made a tender duet and special video of Elvis's 1969 track 'Don't Cry Daddy' presented at a concert in August 1997 held to mark the 20th anniversary of her father's death.
Elvis Presley, Lisa Marie Presley - I Love You Because (Duet)
Perhaps the most touching of all the collaborations Lisa Marie made with her dad's vocals was her revamp of 'I Love You Because'.
Written and originally released by country musician Leon Payne in 1949, Elvis recorded the song early in his career, laying it down at Sun Studios on July 4 and 5, 1954, the same day he recorded 'That's All Right'.
The recording was briefly considered as Elvis's potential debut single, but ended up as a t eB-side of 'Tryin' to Get to You' and an album track on his 1956 debut Elvis Presley.
Elvis Presley - Where No One Stands Alone (Official Music Video)
Released in 2016, Lisa Marie and Elvis Presley's "duet" version starts off using only Elvis's vocal line for the first half, before Lisa joins in and helps draw heartbreaking new meaning from the lyrics ("No matter what the world may say about me / I know your love will always see me through").
Just as impressive as the studio work bringing their two voices together, the music video is especially beautiful, including a montage of photos and home movies of Elvis together with the young Lisa Marie.
The clip also includes Finley & Harper, Riley Keough and Benjamin Keough – all the more poignant since Benjamin's death in 2020 – as well as footage of Lisa Marie in the studio recording her new vocals.