Queen at Live Aid: The story of the greatest gig of all time
7 October 2022, 13:55 | Updated: 6 October 2023, 10:35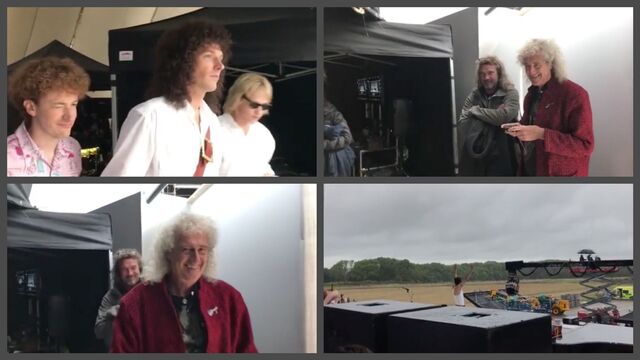 Watch Brian May's reaction as the Bohemian Rhapsody cast walk onto the Live Aid stage
Saturday, July 13, 1985. 6:41pm. Queen take to the stage at Live Aid.
Queen at Live Aid is widely acknowledged as one of the greatest – if not the greatest – rock concerts of all time.
It was far from a foregone conclusion that would be the case when Mel Smith and Griff Rhys Jones introduced John Deacon, Roger Taylor, Brian May and Freddie Mercury on to the stage on Saturday, July 13, 1985 at 6:41pm.
It's difficult to believe today, but Queen were thought by many critics to be well past their peak by 1985.
Despite the success of The Works a year earlier – including singles 'Radio Ga Ga' and 'I Want to Break Free' – it was felt by some that Queen were yesterday's men.
'Bohemian Rhapsody' had come out ten years earlier, after all.
Queen get booked for Live Aid... against the wishes of some
We Will Rock You - Original Sun City TV Advert
More of an issue to many was the very idea of Queen playing a benefit concert for people in Africa, given that in 1984 they had played nine concerts in Sun City, Bophuthatswana, South Africa.
That was during the height of apartheid, violating the United Nations cultural boycott of the country.
"We've thought a lot about the morals of it a lot and it is something we've decided to do," said Brian May at the time. "The band is not political - we play to anybody who wants to come and listen."
That they played only for racially integrated audiences and donated to a school for the deaf and blind did little to calm the outcry. They were fined by the Musicians' Union and blacklisted by the UN.
Artists United Against Apartheid - Sun City
Nonetheless, organiser Bob Geldof was getting everyone he could to make this the biggest and best show (actually, two shows) in music history, even if it meant being a bit sneaky about it.
"Bob had to play some tricks to get artists involved," Live Aid production manager Andy Zweck told The Observer.
"He had to call Elton and say Queen are in and Bowie's in, and of course they weren't. Then he'd call Bowie and say Elton and Queen are in. It was a game of bluff."
Queen admit they're not just doing the show for the "right" reasons
Speaking ahead of their performance, Queen were asked if they agreed to play Live Aid to "support the cause" and do their bit or instead because it was "a unique rock event" that they "can't afford to miss".
The ever candid Freddie replied: "To answer that honestly it's a bit of both.
"It is a good cause and initially we would have liked to have taken part in the Band Aid single but i think we were in separate parts of the globe.
"The second bash at it was this thing, and also the fact that some of the biggest and best known groups were taking part, so why not us. It makes me personally proud to be part of it."
Queen choose an impossible setlist for their most important show
Queen Interview from Live Aid
Looking down the list of songs performed at Live Aid, it's a pretty interesting mix.
Of course, most artists played their very biggest hits (Dire Straits did a double header of 'Money for Nothing' and 'Sultans of Swing'). Some played covers (Elvis Costello's 'All You Need Is Love').
Others made sure to play songs which had some emotional resonance for the event (the Bob Dylan/Keith Richards/Ronnie Wood supergroup hitting a trilogy of 'Ballad of Hollis Brown', 'When the Ship Comes In', 'Blowin' in the Wind').
Bob Dylan / Keith Richards / Ron Wood - Blowin' In The Wind (Live Aid 1985)
There's the odd curio, too. David Bowie opening his set with 'TVC-15', which had only reached number 33 in the UK charts on its release ten years earlier was certainly a bold choice.
By 1985, Queen had already released one Greatest Hits album and were well on their way to their second. They had no shortage of bangers to pick from.
They admitted to some internal squabbling on exactly what they'd play. Brian said before the set: "It is pretty hard to make the choice."
These touring veterans quickly realised that they had to squeeze in the hits.
Roger said: "I think in 20 minutes we've got to play things that people know."
Years later he added: "You wanna make maximum impact to raise money.
"In order to do that I think the most effective thing would be to put as many hits in 17 minutes as you can which is what we did."
And they did it, too even though it meant cutting down 'Bohemian Rhapsody' and 'We Will Rock You' to make the time.
That Queen at Live Aid setlist in full:
Bohemian Rhapsody
Radio Ga Ga
Ay‐Oh / Hammer to Fall
Crazy Little Thing Called Love
We Will Rock You
We Are The Champions
Later that evening, Freddie Mercury and Brian May performed the opening song of the three-part finale, 'Is This the World We Created...?'.
It was a song that sounded like it was written for Live Aid, but actually long predated the show.
Queen admit to being incredibly nervous before Live Aid
The Story Of Queen At Live Aid
You wouldn't believe it in retrospect, but Queen were far from supremely confident just before the show.
Despite their experience, there were plenty of good reasons for that.
When you're playing a festival show rather than your own gig, those people out there aren't necessarily your fans.
For a packed bill at a charity concert with a single stage, you can multiply that concern several times over.
What's more, bands like Queen usually controlled every single aspect of their live show with incredible precision, from sound to lights to presentation.
Paul McCartney - Let It Be (Live Aid 1985)
At a show like Live Aid, everyone had to share, mend and make do. It didn't always work out.
The first two minutes of Paul McCartney's 'Let It Be' closer were all-but inaudible to everyone in the audience.
And despite their incredible veteran status, bands as big as Led Zeppelin and The Who floundered in those conditions – though both were admittedly out-of-practice and not working with their long-standing drummers who had passed away.
Live Aid Press Officer Bernard Doherty recalled of Queen "It's interesting that they were the most nervous backstage.
The Who - My Generation (Live Aid 1985)
"They'd been arguing, they'd fallen out. They thought that Queen didn't matter any more."
Roger Taylor added: "I do remember we were quite tense, a bit tense. Just hoping it was all going to work, that the equipment wasn't going to break down."
Brian May agreed: "I can't tell you what it feels like to be on a stage like that, in that situation where you have no control.
"There's an infinite space underneath your feet. If you fall it would be really appalling if you screw up and Freddie just thinks, 'Ah what the hell, Ay-Oh!'."
Queen take to the stage and take ownership of Live Aid within seconds
Queen Voted Best Gig-Live Aid
Brian May said years later: "I remember a huge rush of adrenalin as I went on stage and a massive roar from the crowd, and then all of us just pitching in.
"Looking back, I think we were all a bit over-excited, and I remember coming off and thinking it was very scrappy. But there was a lot of very good energy too."
He added: "Freddie was our secret weapon. He was able to reach out to everybody in that stadium effortlessly, and I think it was really his night."
More than anyone else that day, Freddie Mercury seemed to instantly understand Live Aid, and rose to the occasion without letting it phase them a single bit.
Bob Geldof said: "Freddie truly got exactly how many and who was watching this and just thrived on it.
"Everyone had been amazing, but this seemed to me to be of another order. The last people anyone expected to come out of that gig as being the memorable ones were Queen."
He added: "I was walking along the top and they started and i saw 'Radio Ga Ga'. *clap clap* "*clap clap* I just thought this is extraordinary.
As Roger Taylor said: "Of course we knew what we were doing really, and put our heads down and hit everything hard."
Brian May added: "Freddie knew exactly how to get across to a stadium audience. The guy right at the back of Wembley Stadium still felt that Freddie had a connection.
"I remember getting a bit of a lump at the time thinking my god this is not a Queen audience but this is happening it was an incredibly charged moment."
Watch the entire Queen at Live Aid set yourself, and relive the greatest performance in music history
There's only so much we can say about this performance, which was voted the greatest ever in an industry-wide poll in 2005.
In truth, the only way to really understand it is to watch it for yourself.
Unlike the Led Zeppelin shambles that has never been officially released, Queen and Live Aid have proudly made it available for all to watch for free. Altogether now, Ayyyyyyyyyyyyyy-oh!
Queen - Bohemian Rhapsody (Live Aid 1985)
Queen - Radio Ga Ga (Live Aid 1985)
Queen - Hammer To Fall (Live Aid 1985)
Queen - Crazy Little Thing Called Love (Live Aid 1985)
Queen - We Will Rock You (Live Aid 1985)
Queen - We Are The Champions (Live Aid 1985)
Freddie Mercury & Brian May - Is This The World We Created? (Live Aid 1985)