Jeff Beck tribute concert: Watch Eric Clapton, Rod Stewart, Ronnie Wood and more
24 May 2023, 12:31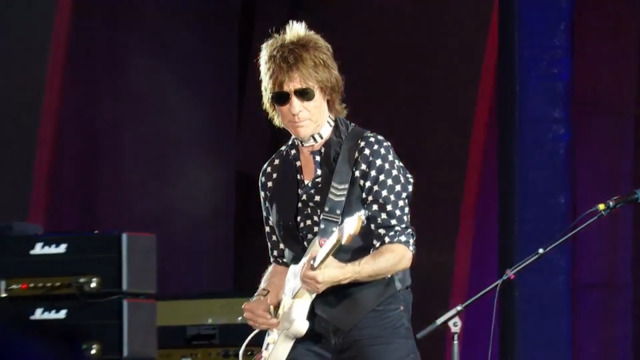 The Jeff Beck Story - Still On The Run documentary trailer
Some of Jeff Beck's most important collaborators take to the stage.
When Jeff Beck died at the age of 78 earlier this year, tributes flew in from across the world of music.
As well as being one of the most influential guitarists of all time, Beck was known for his collaborations with several key figures in rock history.
Just some of these players and many more admirers joined forces last night (May 23) for the first of two shows paying tribute to Beck, hosted at the Royal Albert Hall in London.
Among them were Rod Stewart and Ronnie Wood, who were vital members of The Jeff Beck Group in its two runs.
Also performing was Eric Clapton, who replaced Beck in the Yardbirds in 1965.
"Going Down" at the Jeff Beck Tribute Concert (Royal Albert Hall) May 22, 2023
Beck's last studio album was 2022's 18 a collaboration with actor/musician Johnny Depp, who also performed at the show.
Other musicians popping up at last night's celebration of Beck were Joss Stone, Olivia Stone, Billy Gibbons and Kirk Hammett.
Wood played the Jeff Beck Group songs 'Beck's Bolero' and 'Rice Pudding', the former as a collaboration with Clapton.
Stewart played 'Infatuation', 'Rock My Plimsoul' and 'Ain't Superstitious' with Wood, and 'People Get Ready' with Gary Clark Jr.
Clapton played two guest-packed sets at the show, and his full setlist as as follows:
Set 1
Blue Rainbow
Shapes of Things
Heart Full of Soul
Wee Wee Baby
Little Brown Bird
Done Somebody Wrong (with Susan Tedeschi & Derek Trucks)
The Sky Is Crying (with Susan Tedeschi & Derek Trucks)
Beck's Bolero (with Ron Wood)
Set 2
Freeway Jam
I Put a Spell on You (with Joss Stone)
'Cause We've Ended As Lovers (with Gary Clark Jr.)
Let Me Love You Baby (with Gary Clark Jr.)
Encore:
Going Down (with Ensemble)