Here's why Rod Stewart has stopped kicking signed footballs into the crowd
11 May 2023, 10:48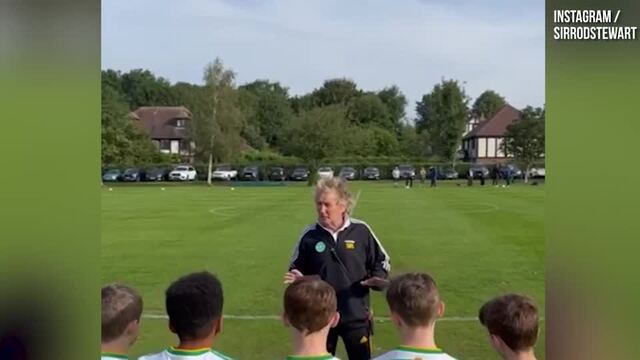 Sir Rod Stewart gives encouraging talk to football team before match
Lawsuits, broken glasses and muggings have meant Rod giving his famous antics the red card.
While he has no plans of giving up playing live, Rod Stewart has admitted that he's retiring from "rock 'n' roll touring".
Even during his last run as a rockstar on the road, he's no longer kicking signed footballs into the crowd as he used to do.
In the past, Rod has suggested that fans who caught the signed balls have been mugged outside the concerts, and now he's even claimed to have been sued after some were injured by the stunt.
"Sometimes, I let the girls do it because they're not going to hurt anybody," Rod told the Las Vegas Review-Journal, in comments that may raise the eyebrows of Beth Mead and Chloe Kelly.
"But, you know, I got one or two lawsuits. In fact, when I got to Hollywood Bowl last year, a dear friend who came all the way over to see me got smashed in the face with a ball.
"It broke his glasses. He's still having operations. It was very upsetting for both of us. I said, 'You've got to keep your eye on the ball in all sports, Mate'."
He added of staying in touring shape into his 70s: "I love to perform, and have always kept myself fit because I've always played soccer.
"I work out three times a week to train, and I've been doing that over the last 35 years. I don't smoke, I have a drink now and then, but otherwise I work the muscles in my legs.
"My dad said, 'Keep your legs strong, all your life, and you'll always be mobile'."
Before he became a rock superstar, Rod very much came from a football background, with his dad Robert playing in a local side, and Rod himself being captain of the school team and playing for Middlesex Schoolboys.
A fan of Arsenal, Rod had trials with the then-third division Brentford FC in the summer of 1960, but didn't get a callback.