See Rod Stewart fill potholes in Essex: 'My Ferrari can't go through here at all!'
15 March 2022, 11:10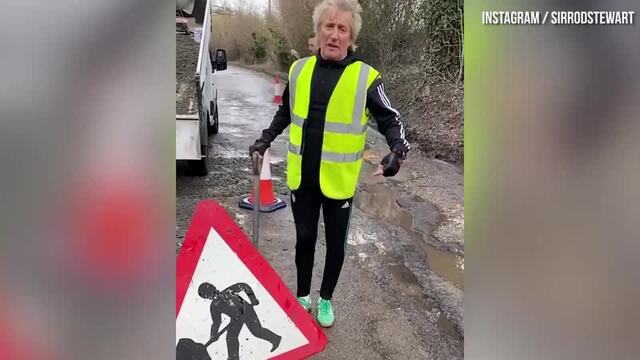 Sir Rod Stewart fills in potholes near his home
"Working for a living, filling holes is good for the soul!"
Rod Stewart has taken some time off from his dayjob as a rock icon to fill some potholes in the roads near his home.
Sir Rod posted a couple of videos on Instagram of his tyre-saving work on the streets of Harlow, in Essex.
"I'm repairing the street where I live, because no-one can be bothered to do it!" Rod said in the clip.
"This is the state of the roads near where I live, in Harlow.
"People are smashing their cars up. The other day, there was an ambulance with a burst tyre."
He quipped: "My Ferrari can't go through here at all!
"So me and the boys thought we would come and do it ourselves. We are filling the holes while millions and millions of pounds have been spent on the M11."
Sir Rod captioned the post: "Working for a living, filling holes is good for the soul! 🕳 😇"
Rod Stewart - Da Ya Think I'm Sexy? (Official Video)
The singer was rightly congratulated wide and far, and not just by Harlow residents.
Sir Rod picked up plaudits from his daughters Kimberley and Ruby, as well as Rolling Stones star Ronnie Wood.
Rod has been spending a bit of time with Ronnie lately, hooking up in the studio along with Kenney Jones to record the first new Faces material in 40 years.