'A Horse With No Name' by America: The making of the folk-rock classic
28 July 2022, 13:43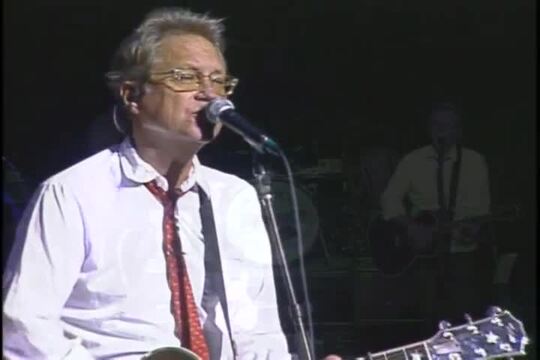 America – Holiday Harmony live in concert trailer
It may sound like Neil Young. It's not Neil Young. The story of America's biggest hit.
It's a classic song that immediately conjures up a dry-as-can-be desert with tumbleweed rolling by.
America's 'A Horse With No Name' is as instantly recognisable as it is evocative – but how much do you know about the folk-rock masterpiece?
Did you know that the frontman of America was actually born in Yorkshire? Or how experimental artists Salvador Dalí and MC Escher inspired the song?
Read on to find out everything you need to know about 'A Horse With No Name'.
Who wrote and played on 'A Horse With No Name'?
America - A Horse With No Name (1972)
'A Horse With No Name' is by folk-rockers America, made up of guitarist Gerry Beckley (born in Forth Worth, Texas), bassist Dan Peek (born Panama City, Florida) and singer/guitarist Dewey Bunnell (born in Harrogate, Yorkshire).
Yep, one-third of America is British, albeit born to a US airman dad. And it was frontman Dewey Bunnell who wrote 'A Horse With No Name'.
Dewey sang and played acoustic guitar on the song, while Gerry Beckley played 12-string acoustic and sung backing vocals and Dan played bass and also provided backing vocals.
With no permanent drummer in America, Kim Haworth played drums on the album with percussion from the prolific Ray Cooper, who has played with pretty much everyone but is best known for his extensive work with Elton John.
Does Neil Young have anything to do with 'A Horse With No Name'?
One person we haven't mentioned in the writing or performing on the song is Neil Young. That's because well, he has absolutely nothing to do with it.
To the untrained ear, when you first hear 'A Horse With No Name' it absolutely sounds like it could be something Neil chucked out around the time.
"I know that virtually everyone, on first hearing, assumed it was Neil", said the song's actual writer and singer Dewey Bunnell.
"I never fully shied away from the fact that I was inspired by him. I think it's in the structure of the song as much as in the tone of his voice.
"It did hurt a little, because we got some pretty bad backlash. I've always attributed it more to people protecting their own heroes more than attacking me."
By an odd coincidence, when 'A Horse With No Name' topped the US singles charts, it knocked Neil Young's "Heart of Gold' off the number one spot.
What is 'A Horse With No Name' about?
'A Horse With No Name' was originally called 'Desert Song' and was written during a stay at Arthur Brown's home studio in Dorset, prompted by a painting of a desert by Salvador Dalí and a quirky M. C. Escher picture of a horse.
Also lending its inspiration to the feel of the song was Dewey's travels through the deserts of Arizona and New Mexico when he lived at Vandenberg Air Force Base as a child.
And the Horse? Originally it was a metaphor for something to take you away from the confusion of life to somewhere more quiet and peaceful, but Dewey told The Houston Press that to its writer that's shifted over the years.
"It has changed for me as I've gotten older," he said. "The lyric-writing and imagery takes on new meaning.
"It also used to be more about the sights and sounds and physical aspect of the desert that I loved. Now, it takes on more of a feel of isolation and contemplating-your-navel-type stuff."
When was 'A Horse With No Name' released and how did it do in the charts?
We got 'A Horse With No Name' first here in the UK, as it was released in November 12, 1971. The US had to wait a few months for America's debut, as it was released there on January 12, 1972.
In the UK it was a double-A-side with 'Everyone I Meet Is From California', with 'Sandman' on the B-side. In the US it just had 'Everyone I Meet Is From California' on the flip.
When America's self-titled album was released (December 1971 in the UK, January 1972 in the US), it didn't even include 'A Horse With No Name'.
When the single became a smash, the album was swiftly re-released with it included as track five, and it's been on every version of the album you can buy since then.
As we mentioned earlier, 'A Horse With No Name' went all the way to number one in the US Billboard Hot 100, as well as topping the charts in Canada. It reached number three in the UK, too.
The song has gone Gold in the US with over a million sales, and Platinum in the UK, shifting more than 600,000 copies.