Genesis and Phil Collins play their emotional last ever concert with Peter Gabriel in attendance
28 March 2022, 10:30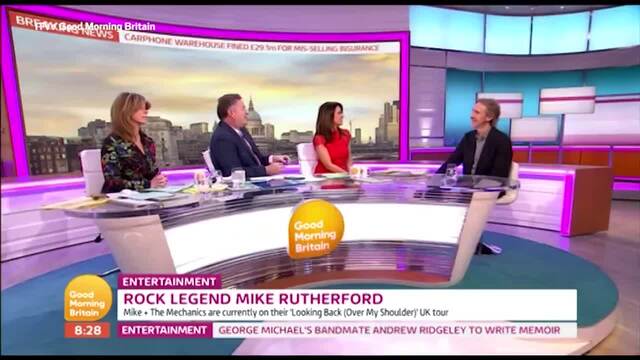 Mike Rutherford hints at Genesis reunion
Phil Collins, Tony Banks and Mike Rutherford played their last ever show as Genesis this weekend.
After a career spanning over half a century, Genesis had an emotional farewell with their last ever show on Saturday night (March 26).
Among those in attendance at the concert at London's O2 was Peter Gabriel, the band's original frontman.
Gabriel was the lead singer of the group when they formed in 1967, leaving in 1975 after their sixth album The Lamb Lies Down on Broadway.
Phil Collins, who first joined the group on drums in 1970, stepped up to the mic after Gabriel's departure.
This past year, Genesis have been on the road for their farewell The Last Domino? Tour with the lineup featuring Collins together with founding members and ever-presents Tony Banks and Mike Rutherford.
Also featuring in the touring lineup was Phil's son Nic on drums, alongside additional live musicians Daryl Stuermer, Daniel Pearce and Patrick Smyth.
A photograph posted on long-time Genesis associate and former tour manager Richard Macphail's Facebook page showed Gabriel backstage with Collins.
During the set, Collins quipped that Gabriel had been calling out requests for 'Supper's Ready', the seven-part song from Genesis' 1972 album Foxtrot.
"Tonight is a very special night of course," Phil told the audience.
"We're playing in London and it's the last stop of our tour – and it's the last show for Genesis."
He added" "It's difficult to believe that you still came out to see us! Oh god, yes, after tonight we've all got to get real jobs."
Phil Collins declares this to be the last [ever] Genesis show - O2 Arena, London, 26/3/22
Collins has struggled with ill health in recent years and is no longer able to hold a drum stick.
He has had to perform seated throughout The Last Dominio? tour and has been clear during the promotion of the show that these will be his last ever Genesis concerts, and quite probably his last ever live shows altogether.
"This English and American tour, that will be enough for me," Collins said.
He had previously said: "I'm kind of physically challenged a bit, which is very frustrating, because I'd love to be playing up there with my son.
"I'd love to, but I mean, I can barely hold a stick with this hand. So there are certain physical things which get in the way."
Collins added: "We're all men of our age and I think to some extent, to some extent it is putting it to bed.
"Just generally for me. I don't know if I want to go out on the road any more."
The setlist for the last ever Genesis concert was as follows:
Behind the Lines / Duke's End
Turn It On Again
Mama
Land of Confusion
Home by the Sea
Second Home by the Sea
Fading Lights
The Cinema Show
Afterglow
That's All
The Lamb Lies Down on Broadway
Follow You Follow Me
Duchess
No Son of Mine
Firth of Fifth
I Know What I Like (In Your Wardrobe) (with 'Stagnation' snippet)
Domino
Throwing It All Away
Tonight, Tonight, Tonight
Invisible Touch
I Can't Dance
Dancing With the Moonlit Knight
The Carpet Crawlers