The Ronettes' 15 greatest songs ever, ranked
13 January 2022, 12:53 | Updated: 13 October 2023, 14:09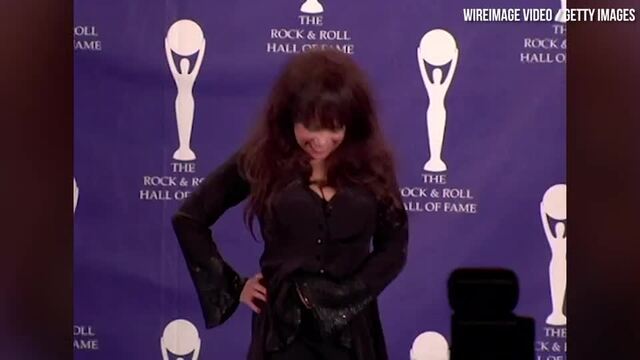 Ronnie Spector of The Ronnies poses on red carpet of Rock and Roll Hall of Fame in 2007
After the death of Ronnie Spector, we celebrate the very best of her work with the Ronettes and her solo career.
Ronnie Spector passed away on January 13, 2022, at the age of 78 after a short battle with cancer.
As the frontwoman of The Ronettes, Ronnie set the '60s alight with a string of incredible singles.
In a touching statement, her family promised a celebration of her life and music in the months to come.
We're starting today, by rounding up just 15 of the very best songs by The Ronettes and some highlights from Ronnie's solo career.
Is This What I Get For Loving You?

Ronettes- Is This What I Get For Loving You

By 1965 The Ronettes imperial phase was over, when it came to chart positions at least.

That didn't mean they weren't still putting out incredible records, and this single written by Phil Spector, Carole King and Gerry Goffin is one of so many examples.

A rare break-up song for the band at the time, the track stalled at 75 in the charts, but love for it has grown over the years – and a fine cover by Marianne Faithful a year after its release certainly didn't hurt.

So Young

Originally written as 'I'm So Young' by William H. 'Prez' Tyus, Jr and recorded by The Students in 1958, The Ronettes were one of many groups to record this fine doo-wop track.

Their version was released on their sole studio album Presenting the Fabulous Ronettes Featuring Veronica in 1964, around about the time The Beach Boys were recording their own version for The Beach Boys Today!.

Paradise

The Ronettes - Paradise (Official Audio)

Written by Harry Nilsson, The Ronettes were apparently the first to record 'Paradise' but their soaring version stayed on the shelf, leaving other girl groups to give it a go.

The Shangri-La's version was popped on to the B-side of 'Past, Present and Future', while The Supremes recorded it for 1972's The Supremes Produced and Arranged by Jimmy Webb.

Baby, Please Don't Go (Ronnie Spector and the E-Street Band)

After the end of The Ronettes, Ronnie didn't hang up her mic.

In 1977, she joined forces with Bruce Springsteen's group The E-Street Band and recorded a version of Billy Joel's Ronettes-inspired 'Say Goodbye To Hollywood', and more than did it justice.

This tender, piano-led B-side, 'Baby, Please Don't Go' was even better though, showing just how good Ronnie could be when she slowed things down.

I Can Hear Music

This classic song by Jeff Barry, Ellie Greenwich and Phil Spector is maybe best known today by The Beach Boys version, which went top 30 in the US and was the standout from 20/20 album in 1969.

Despite stalling at number 100 in 1966, The Ronettes version is every bit as wonderful.

Try Some, By Some (Ronnie Spector solo)

Try Some, Buy Some (Remastered)

After the Ronettes' first split in 1967, Ronnie planned to launch a solo career. The idea was for an album produced by Phil Spector and released on Apple Records, but it didn't happen.

Phil Spector's increasingly erratic behaviour meant the sessions were abandoned, but not before this masterpiece was recorded.

Written by none other than ex-Beatle George Harrison, it was left over from his triple album All Things Must Pass (George later released his own version on his fourth album Living in the Material World).

Inexplicably, the single flopped at number 77, but it had a famous fan in David Bowie, who first heard it in 1974 and recorded an excellent cover for his 2003 album Reality.

She Talks To Rainbows (Ronnie Spector solo)

The Ronettes were a massive inspiration on all the bands that followed, and maybe their greatest (and most superficially surprising) influence was on the Ramones.

The New York punks played at 100mph with noisy guitars, but they were always indebted to those luscious Ronettes melodies and Spector Wall of Sound (they covered the Ronettes 'Baby, I Love You' for the Spector-produced End of a Century in 1980).

So Joey Ramone and Ronnie Spector was a match made in heaven, and their 1999 She Talks To Rainbows EP (sung by Ronnie, produced by Joey) is a late-period highlight for both of them.

The title track was this excellent cover of Joey's song from the last Ramones album ¡Adios Amigos!, which is even better than the original.

I Wish I Never Saw The Sunshine

The Ronettes - I Wish I Never Saw The Sunshine (Official Audio)

Also on the Rainbows EP was a fine live version of 'I Wish I Never Saw the Sunshine'.

Ronnie had originally recorded the song back in 1965, but it was unreleased, and she returned to it when she reformed The Ronettes (with Chip Fields and Denise Edwards replacing Estelle Bennett and Nedra Talley) after her divorce from Phil Spector.

The short-lived reunion ended after a just a couple of singles: 'Lover Lover' and 'I Wish I Never Saw the Sunshine' – neither of which charted sadly, prompting another break-up and Ronnie's second attempt at going solo.

(The Best Part of) Breakin' Up

The Ronettes - (The Best Part Of) Breakin' Up (Official Audio)

Written by Phil Spector, Pete Andreoli and Vince Poncia, this single had to follow in the footsteps of 'Be My Baby' and "Baby, I Love You', which was no small task.

Phil had inexplicably refused to release the group's version of 'Chapel of Love' (The Dixie Cups went on to score a number one with it), and instead they moved on to this rocker, and scored their third top 40 in a row.

Walking in the Rain

The Ronettes - Walking In The Rain (Official Audio)

Written by Barry Mann, Phil Spector, and Cynthia Weil, The Ronettes scored a number 23 hit (and number 3 on the R&B charts) with this classic in late 1964, complete with moody thunder and lightning FX.

It was later covered by Jay and the Americans, The Walker Brothers, The Partridge Family and Erasure.

Sleigh Ride

The Ronettes - Sleigh Ride (Official Music Video)

Despite Phil Spector's horrific actions, A Christmas Gift for You from Phil Spector remains one of the best Xmas albums of all time.

It doesn't hurt that Phil's voice is almost completely absent from proceedings (only audible on the sickly closer 'Silent Night'). Instead, the album presents the sound of Darlene Love, Bob B Soxx, The Crystals and – of course – The Ronettes.

They provided a storming version of 'Frosty the Snowman' but even better was this take on Leroy Anderson's 1948 standard 'Sleigh Ride', which has become a perennial Christmas classic in its own right.

You Can't Put Your Arms Around A Memory (Ronnie Spector solo)

You Can't Put Your Arms Around A Memory

Someone else who knew about emerging from the ashes of a previously successful group was Johnny Thunders.

He had been a key figure in the New York Dolls and then led The Heartbreakers, before going solo in 1978.

Like the Ramones, Thunders was a big fan of '60s girl groups like The Ronettes. The Dolls' 'Looking For a Kiss' referenced The Shangri-La's 'Give Him A Great Big Kiss', which Thunders covered in full on his first album So Alone.

Also on So Alone was the Thunders-written 'You Can't Put Your Arms Around A Memory'. A great song, it sounded even better when Ronnie covered it for the Joey Ramone-produced She Talks To Rainbows EP in 1999.

Baby, I Love You

The Ronettes - Baby, I Love You (Official Audio)

An incredible Barry/Greenwich/Spector song, this follow-up to 'Be My Baby' was a number 24 single in the US in 1963, and did even better in the UK, reaching number 11.

When "The Ronettes" rush-recorded the song, Estelle Bennett and Nedra Talley were actually on the road on a Dick Clark tour, so Ronnie was backed by Darlene Love and The Blossoms, as well as Sonny and Cher. It even had Leon Russell on piano.

Andy Kim's cover went top ten in the US in 1969, and Phil Spector later insisted The Ramones record a version for their End of the Century album in 1980.

Why Don't They Let Us Fall In Love

Why Don't They Let Us Fall in Love

Yet another Barry/Greenwich/Spector classic 'Why Don't They Let Us Fall In Love' was recorded before 'Be My Baby', but Phil Spector held it back for a year.

It didn't chart for The Ronettes when they eventually released it as a single in 1964, but we really don't know why as it's one of their very best songs.

Spector alumni Sonny & Cher recorded a cover to close out their debut album Look At Us in 1965, and Ronettes superfans The Beach Boys recorded a cover in 1980 that eventually came out in 2013 on the Made in California boxset.

Be My Baby

Be My Baby - The Ronettes - 1963 - Stereo - Music Video

What can possibly we say about 'Be My Baby' that hasn't been said already?

Written (of course) by the incredible team of Jeff Barry, Ellie Greenwich, and Phil Spector, it's rightly hailed as one of the greatest (if not the very greatest) pop singles of all time. Brian Wilson says so, and we're not arguing with Brian Wilson.

It opens films as different as Martin Scorsese's Mean Streets and Emile Ardolino's Dirty Dancing. It was The Ronettes' biggest hit, reaching number 2 on the Billboard Hot 100 (kept off the top for three weeks by Jimmy Gilmer And The Fireballs's 'Sugar Shack').

There's that often-imitated but never bettered opening Hal Blaine drum phrase (dum, dum-dum, DAH!). The perfect wailing vocals from Ronnie. The ultimate Wall of Sound full orchestra production. The Jack Nitzsche arrangement. The just-so backing vocals (again from Darlene Love, Sonny and Cher rather than Estelle and Nedra).

And of course that bit on two minutes and five seconds where all the music drops out except the drums. It's one of the greatest moments in music history.