Met Police officer who 'tasered girl, 10,' named - as he faces misconduct hearing
19 September 2023, 15:01 | Updated: 19 September 2023, 16:54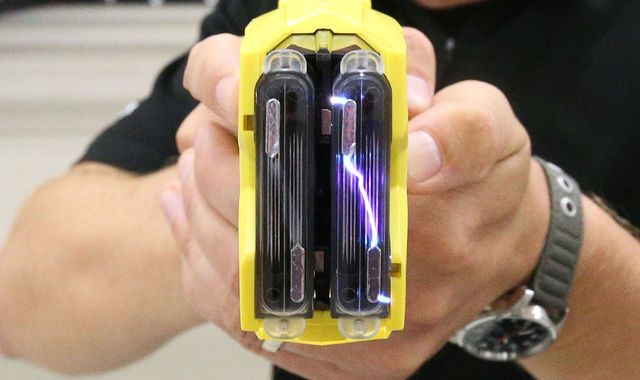 A Metropolitan Police officer accused of tasering a 10-year-old girl has been named as he faces an allegation of gross misconduct.
PC Jonathan Broadhead allegedly twice fired the weapon at the youngster in southwest London following reports she was threatening a woman with garden shears and a hammer.
After the incident in January 2021, the force said it had reviewed what happened and "no misconduct was identified".
But the Independent Office for Police Conduct (IOPC) later found the officer had "a case to answer for gross misconduct".
PC Broadhead now faces a three-day misconduct hearing at the end of November.
He is accused of using force against the child "which was not necessary, reasonable and proportionate," according to a notice posted on the Met's website.
His alleged behaviour in tasering the girl is said to amount to gross misconduct, which - if found proved - could lead to him being sacked.
The officer, who was put on restricted duties, did not face any criminal charges over the incident on 21 January 2021 following an assessment by the Crown Prosecution Service.
But the police watchdog concluded he did have a case to answer for gross misconduct after an investigation.
Read more:
Calls for Met to be abolished
Women arrested at vigil win payouts
The Met previously said officers were called to a property shortly after 5pm following "reports of a girl threatening a woman with garden shears and a hammer".
A force spokesman said at the time: "Officers attended the scene and entered the property. A police Taser was discharged.
"The girl was uninjured but taken to hospital as a precaution.
"The Met's Directorate of Professional Standards carried out a review of the incident and no misconduct was identified."
It comes after the force revealed more than 1,000 officers are currently suspended or on restricted duties, with around 60 officers potentially facing the sack over at least the next two years.
Last week, the IOPC said three Met officers would face a misconduct hearing over the strip-search of a 15-year-old schoolgirl, referred to as Child Q, in 2020.
(c) Sky News 2023: Met Police officer who 'tasered girl, 10,' named - as he faces misconduct hearing