Rishi Sunak will have to answer serious allegations at the COVID inquiry
20 November 2023, 17:06 | Updated: 20 November 2023, 17:35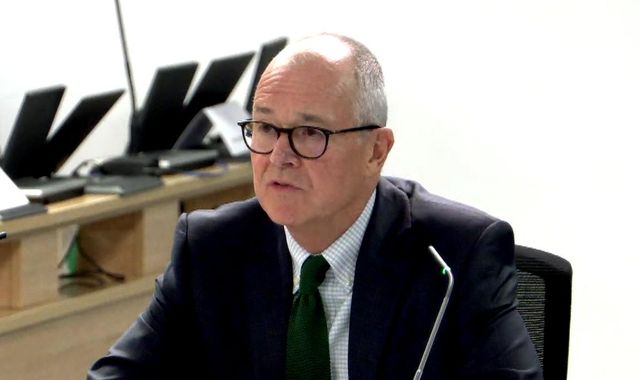 Sir Patrick Vallance today detailed the tug of war in government in the run up to the first and second lockdowns - and in the course of it, made some serious allegations which Rishi Sunak will have to answer when he appears before the inquiry.
Its seriousness is not just that it comes from the chief scientist - who has no political axe to grind - but that much of this evidence is not in hindsight, but from contemporaneous notes in his diary. He says he used it as a "brain dump" which he never expected to see the light of day.
It is well-known now that the then-chancellor, appointed shortly after the first cases of COVID appeared in the UK and architect of the furlough scheme, was sceptical about lockdowns from the very start.
Politics news - latest: Sunak thought government should 'let people die' during pandemic
In early March 2020, when Sir Patrick is telling ministers to lock down the capital because of the spread of COVID, he says the chancellor is "understandably worried about the economy" - and is not to only one to shoot down the idea.
Mr Sunak's scepticism escalates during that year, with Sir Patrick revealing that in July 2020, when Sir Chris Whitty, the chief medical officer, is on a call about economic implications, Mr Sunak - apparently unaware of his presence - says the government needs to focus on "handling the scientists, not the virus".
The Treasury's Eat Out to Help Out Scheme has been much picked over in this inquiry and Sir Patrick confirms the department did not seek any scientific advice before launching it and that it would have increased transmission risk.
That brings us up to the most damaging allegation against Mr Sunak - although it is reported second hand. In the stormy meetings running up to the second national lockdown in late October 20200, Boris Johnson is wobbling about whether to press go on restrictions.
Sir Patrick's diary notes a meeting on 25 October, that the PM "begins to argue for letting it all rip…. They [those who will die] have had a good innings."
Dominic Cummings, Sir Patrick says correctly, is arguing for lockdown, saying it is better to do it sooner rather than later. "DC [Cummings] says 'Rishi thinks just let people die and that's ok'."
Is this what the now prime minister actually thought? Downing Street would not comment. This is the case Mr Sunak will have to answer when he gives evidence later this year.
We know the Treasury was very concerned about the economic impact, especially on sectors like hospitality which employ a lot of young people.
We heard earlier this month from the chancellor's top economic adviser Clare Lombardelli, that Mr Sunak was told by officials to push back hard against a "catastrophic" circuit breaker in September.
Read more from the COVID inquiry:
PM 'asked to be injected with COVID on live TV'
Hancock wanted to decide 'who should live and die'
He was even referred to by Professor Dame Angela McLean - who has now taken over from Sir Patrick as chief scientific adviser - as "Dr Death the Chancellor".
Unlike Mr Johnson, who was described by Sir Patrick today as "bamboozled" by data, and failed to understand concepts like absolute and relative risk - Mr Sunak is a former financier who should know his way around these ideas.
Did he fail to understand transmission could mean a second lockdown was longer, or did he feel the risks were worth taking?
Mr Sunak gave a long pre-emptive interview about his lockdown views to the Spectator magazine last August, saying the negatives - for schoolchildren, other health conditions and the economy were not sufficiently discussed.
Those arguments within government have now been exposed, in all their sweary chaotic detail. Mr Sunak will have to account for what he knew - and whether he has any regrets.
(c) Sky News 2023: Rishi Sunak will have to answer serious allegations at the COVID inquiry