'No Woman No Cry' by Bob Marley: The making of the reggae crossover smash hit
23 March 2023, 10:04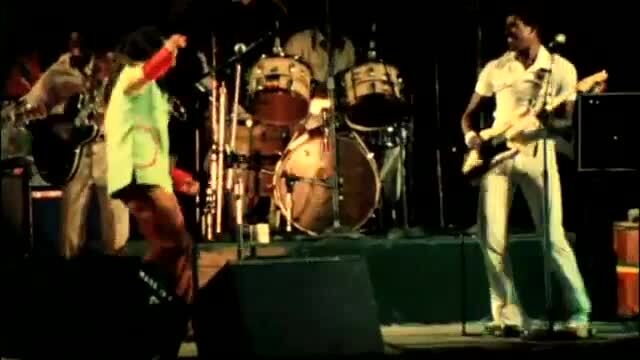 Watch the official trailer for Marley
The story of how a live version of a track credited to someone else became one of Bob Marley's best-loved songs.
Bob Marley was a reggae pioneer who brought the genre to the world when he and The Wailers kicked into the 1970s with their second album Soul Rebels.
He became an international superstar, scoring countless hits with songs like 'Get Up, Stand Up', 'Buffalo Soldier', 'Exodus' and 'Is This Love'.
One of his most enduring songs is 'No Woman No Cry', but how much do you know about Bob Marley's 1975 hit?
Can you remember on which album the original version of the song first appeared and who is credited with writing it – and why that's so controversial?
Read on for everything you ever wanted to know about Bob Marley and the Wailers' crossover smash hit.
Who wrote 'No Woman No Cry'?
Bob Marley - No Woman, No Cry (Official Video)
Straight into a question that's much more complicated than it first appears.
If you look at the label, it says it pretty clearly: Bob Marley Vincent Ford.
Wait, who?
Vincent Ford, known to his friends as "Tata" or "Tartar", ran a soup kitchen in the Trenchtown ghetto of Kingston, Jamaica, where the young Bob Marley grew up.
"Vincent Ford is a bredda from Trenchtown," Marley was quoted as saying in an obituary after Ford died in 2008.
"Me and him used to sing long time. Me and him used to live in the kitchen together long, long time."
Ford also has sole songwriting credit for 'Positive Vibration' and 'Roots Rock Reggae', and co-writing credit for 'Crazy Baldheads' (with Bob's wife Rita) and 'Inna De Red' and 'Jah Bless' (with Bob's son Stephen).
It's widely believed that Bob Marley wrote the song himself. Vincent wasn't a renowned musician or songwriter away from his "work" with Bob, and 'No Woman No Cry' in particular appears to be a personal song to Bob himself (cornmeal porridge was his fave, for example), and the melody feels very Bob.
Bob is even reported to have told the Jamaica Broadcasting Corporation in 1975 that he had written the song himself, while tuning his guitar in Tata's yard.
When Ford was asked outright in the 1970s if he had written the song, he replied not-too-cryptically: "Well, what do you think?"
So what gives?
It's thought that Bob decided to pass over credit to Vincent mainly as a favour to help his friend continue his important social work, and also because he was in the middle of a bust-up with his ex-publishing company Cayman Music.
By passing over songwriting credits to Vincent and other friends and family, he could avoid giving those rights to Cayman and give some financial security to his friends at the same time.
As it goes, Bob's ex-manager Danny Sims sued his widow Rita for royalty and ownership rights to the song, arguing that Marley had written the songs and had dodged his contractual obligations to Sims. In 1987, a court sided with the Marley estate, which took full control of the songs.
What does 'No Woman No Cry' mean?
Bob Marley & The Wailers - No Woman, No Cry (Live At The Rainbow 4th June 1977)
The title and chorus of 'No Woman No Cry' is often misunderstood by those not au fait with Jamaican Patois. What it obviously doesn't mean is that if you don't have a woman, you won't be tearful.
It's pretty clear if you listen to the song what it actually means:
So no, woman, no cry
No, woman, no cry
I say, oh little, oh little, darling, don't shed no tears
No, woman, no cry.
Yup, our narrator is telling his woman not to cry. Simple as that.
"The song is about the strength in the mama of course, strength in the ladies," Wailers bass player Aston 'Family Man' Barrett told the NME in 2012.
"And we love a woman with a backbone. Something like a wishbone! They have to be like a she lion! Woman strong, you know, not depending on the man.
"Of course the man is there to help you, then for every successful man, there is a good woman."
The rest of the song is a personal remembrance of Bob (or Vincent's) time in poverty in the Trenchtown neighbourhood ("And then Georgie would make the fire lights"..."my feet is my only carriage") while drawing strength and optimism from friends and the people who came before ("In this great future, you can't forget your past"... "everything's gonna be alright").
When was 'No Woman No Cry' recorded and released?
No Woman No Cry (Gospel Version) - Bob Marley ft Peter Tosh on piano
An early gospel-tinged demo version of 'No Woman No Cry' was recorded with Peter Tosh on piano back in 1972.
The stripped-back take just features piano and Bob's vocals, with a female voice rounding out the sound. It's believed that it's Bob's wife Rita on backing vocals.
She would soon become an official part of the Wailers setup together with fellow I Threes members Marcia Griffiths and Judy Mowatt.
The proper studio version of 'No Woman No Cry' was recorded a Harry J. Studios, Kingston, Jamaica in 1974 for Bob Marley and The Wailer's seventh album Natty Dread, the first Wailers album without Peter Tosh and Bunny Wailer, who had left the group that year.
No Woman, No Cry (1974) - Bob Marley & The Wailers
As track two on the album, it's not as sparse as the Tosh piano demo, it's still quite stripped back, with the track being built from a drum machine backing and Hammond organ from Jean Roussel. It all clocks in at a restrained three minutes and 46 seconds.
It's nice enough, but it's still a way off the version we all know and love.
On July 17 and 18 1975, Bob Marley and The Wailers played a pair of stunning shows at the Lyceum Theatre, London.
The concerts were recorded for the Live! album released on December 5, 1975, with the bulk of the songs coming from the first set, and opening side two was a very different version of 'No Woman No Cry'.
No Woman, No Cry (Live At The Lyceum, London/July 18,1975)
Backed by a full band (Carlton Barrett on drums, Aston 'Family Man' Barrett on bass, Tyrone Downie on keyboards, Al Anderson on lead guitar and Alvin 'Seeco' Patterson on percussion), 'No Woman No Cry' is stretched out to a leisurely seven minutes and seven seconds, with not a single moment wasted.
It was this live version that was released as a single in 1975, and immediately became the definitive one.
Whether it's 1984's all-conquering Legend best-of, 2001's One Love: The Very Best of Bob Marley & The Wailers or 2005's Gold, all major Bob Marley compilations include the live version of 'No Woman No Cry', rather than its studio predecessor.
Where did 'No Woman No Cry' get in the charts?
On its release, the Natty Dread album peaked at a relatively lowly 43 in the charts in the UK, but it was a slow burner that eventually went Gold, selling over 100,000 copies.
When it was first released as a single in 1975, the 'No Woman No Cry (Live '75) version from Live! – snipped down to a radio-friendly 3:57 with an early fade-out – reached number 22 in the UK. It had 'Kinky Reggae' on the B-side.
A 1981 re-release after Bob's tragic death did even better, going as high as number 8.
The single has gone Platinum, selling over 600,000 copies.
As we've already said, the Live '75 version also appears on Legend, which topped the charts in the UK, went to number 5 in the US, and has sold over 4 million copies in the UK, 15 million copies in the US, and an estimated total of 25 million worldwide.
Who has covered 'No Woman No Cry'?
Fugees - No Woman, No Cry (Official HD Video) ft. Stephen Marley
The Fugees memorably covered 'No Woman No Cry' on their groundbreaking album The Score in 1996, also releasing their version as the fourth single from the album, reaching number 2 in the UK.
Other artists putting their spin on the song over the year have included the likes of Jimmy Cliff, Boney M, Joan Baez, Bunny Wailer, The Reggae Philharmonic Orchestra featuring I-Threes & Courtney Pine, Nina Simone and Billy Ocean.
More recently, Nigerian singer Tems teamed up with Marvel to cover the song for the Black Panther: Wakanda Forever Prologue EP in July 2022.