Barbra Streisand facts: Songs, films, husbands, awards and how the EGOT legend changed her name
24 March 2022, 11:59 | Updated: 11 October 2023, 13:26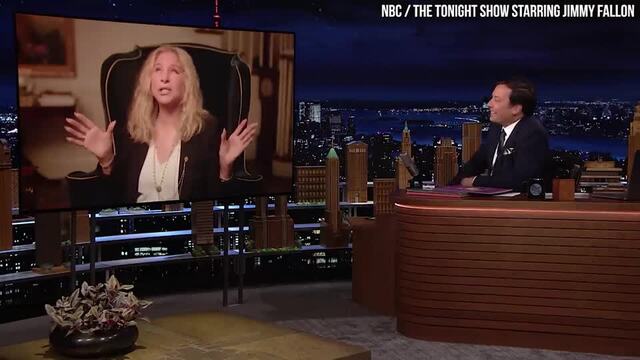 Barbara Streisand says her 'Wet' Album was too sexy for a collaboration with Kermit the Frog
Actress, singer, EGOT and absolute legend.
From her earliest beginnings in the nightclubs, Barbra Streisand has always been a star.
Then came Broadway, telly, the big screen and an absolutely massive movie career.
Just as impressively, Barbra has always been 100% her own woman.
She's always insisted on having creative control and choosing her own projects, and to this day is unafraid to speak out on matters of the day.
As she approaches her 80th birthday, we're taking the time to celebrate the life and career of Ms Barbra Streisand.
What was Barbra Streisand's birth name and where did she grow up?
Barbra Streisand, with a little help from her friends
Babs was born Barbara Joan Streisand on April 24, 1942 in Brooklyn, New York City.
That's right Barbara. So what happened to that "a", ay?
"Well, I was 18 and I wanted to be unique, but I didn't want to change my name because that was too false," she told CBS News in 2009.
"You know, people were saying you could be Joanie Sands, or something like that. And I said, 'No, let's see, if I take out the 'a', it's still 'Barbara', but it's unique."
Barbara is the daughter of school secretary Diana Ida Rosen, whose parents had immigrated from Russia, and high school secretary Emanuel Streisand, whose parents came to America from Poland-Ukraine.
Her father died after an epileptic seizure at the age of 34 when Babs had just turned one, with her mum then having to work as a bookkeeper.
Streisand went to the Jewish Orthodox Yeshiva of Brooklyn when she was five, before going to Public School 89, then on to Erasmus Hall High School (which also counted Neil Diamond and Bobby Fischer among its students).
How did Barbra Streisand get into music and acting?
Barbra Streisand - A sleepin' bee
Like so many superstars, you could say that singing was in Barbra's blood. Her mum was a soprano in her youth who sang semi-professionally, and going back further, her grandad was a chazzan – the cantor who led the services in the synagogue.
Babs started off singing around her apartment building, before graduating to PTA assemblies, summer camps and the like.
She had a failed audition with MGM when she was just nine, but she wasn't going to let that put her off.
When she was 13, Barbra and her mum laid down some tracks together when they were holidaying in the Catskills.
She joined the Freshman Chorus and Choral club, where she sang with fellow future rock icon Neil Diamond.
While she was impressing with her voice, at the time the young Barbra was much more focused on breaking into acting as her way of breaking out of Brooklyn.
Still, she asked her pal Barry Dennen to make some tapes of her singing and he was blown away.
"The moment I heard the first playback I went insane," he said years later. "This nutty little kook had one of the most breathtaking voices I'd ever heard."
He encouraged her to enter a talent competition at gay Manhattan nightclub The Lion, where she sang 'A Sleepin' Bee'.
She won, of course, and sung there for a few weeks, before upgrading a week later to Bon Soir a block over, opening for comedian Phyllis Diller. She later moved on to the Blue Angel, winning yet more rave reviews.
Barbra Streisand - Memory (Official Video)
Babs's plan to break into acting via her incredible singing voice quickly began to work, especially when she incorporated that inimitable Brooklyn banter into her stage shows.
She won a role in the short-lived Another Evening with Harry Stoones, and then I Can Get It for You Wholesale opposite her future husband, a then-unknown Elliot Gould.
Streisand got a Tony Award nomination, and won the New York Drama Critic's prize for Best Supporting Actress. The show was also recorded and made into an album
Barbra was also was becoming a regular fixture on the small screen, with spots on The Tonight Show, The Garry Moore Show and The Ed Sullivan Show.
And with that, a star was born.
How did Barbra Streisand get creative control over her career?
No matter how talented they are, most pop singers struggle to assert themselves when it comes to creative and business decisions in the music industry.
That was probably especially true for female talent in the 1960s and before, when studios and record labels held the means of production in their hands and weren't inclined to trust the actual artists to forge their own path.
But with her burgeoning stage career behind her, Barbra maybe had less need of the labels than most – and she also had a heady combination of obscene talent and sheer willpower that couldn't be ignored or cast aside.
So when she signed for Columbia Records at the age of 21, she agreed to take in less cash in exchange for more creative control.
"Evergreen" from A Star Is Born" (1976)
"It wasn't important to me to know the amount of money I'd get," Barbra told BBC News years later. "All I wanted was to sing any song I wanted to."
Apparently, Columbia wanted to call her debut album as a musician Sweet And Saucy Streisand. She held firm and it was instead released as the delightfully Ronseal The Barbra Streisand Album.
"I said, 'What is the truth of it? It's the Barbra Streisand album'," she said.
"If you saw me on TV, you could just go and ask for The Barbra Streisand Album. It's common sense."
Her second album was called The Second Barbra Streisand Album, and her third? The Third Album.
She's always kept that creative control, which allowed her to release the absolutely massive The Broadway Album – oh, and she owns her own master recordings too.
What are Barbra Streisand's biggest songs?
Barbra Streisand - The Way We Were (Official Video)
Even leaving her cast recordings and soundtrack albums to one side, Barbra Streisand has released over 35 "proper" studio albums in her career, mixing up straightforward classic pop, collections of duets, Broadway classics, and tie-ins with her regular TV specials.
In her first decade, it was her albums, stage shows and theatrical performances that won her the most acclaim, but in the 1970s and 1980s she scored a run of hits and dominated the US Adult Contemporary charts.
Her very biggest songs include:
People
Funny Girl
Second Hand Rose
Stoney End
Where You Lead
Sweet Inspiration
The Way We Were
Evergreen (Love Theme from A Star Is Born)
My Heart Belongs To Me
Songbird
Prisoner
You Don't Bring Me Flowers (with Neil Diamond)
The Main Event/Fight
No More Tears (Enough is Enough) (with Donna Summer)
Woman In Love
Guilty
What Kind of Fool (With Barry Gibb)
Comin' In and Out of Your Life
Till I Loved You (with Don Johnson)
What are Barbra Streisand's most famous films?
It was probably Barbra's turn as Fanny Brice in Funny Girl on Broadway that made her a superstar, and she reprised the role in William Wyler's 1968 movie adaptation for her film debut.
She won the Oscar for Best Actress, and it set her up for an incredibly successful film career.
Barbra was directed by Gene Kelly in another musical adaptation, Hello, Dolly! in 1969, before moving into comedies like What's Up, Doc? For Pete's Sake and The Main Event in the 1970s, as well as 1975's Funny Girl sequel Funny Lady.
She grabbed even more acclaim (and another Oscar nod) starring in The Way We Were in 1973, and A Star Is Born in 1976.
As with her music career, Babs was always looking to control her own artistic destiny.
She set up First Artists Production Company in 1969, and in 1983 after years and years of trying to get it together in the face of Hollywood hostility, she co-wrote (with Brit legend Jack Rosenthal), produced, directed and starred in the incredible Yentl.
After that came a lead role in Nuts, then 1990s movies The Prince of Tides and The Mirror Has Two Faces (both of which she directed and co-produced).
Babs stepped back from the movies after that, but still found time to star as Rozalin' Roz' Focker in the Meet The Parents/Meet The Fockers trilogy, and to co-star as Seth Rogen's mum in road comedy The Guilt Trip in 2012.
How many times has Barbra Streisand been married and does she have any children?
Elliott Gould on Meeting Barbra Streisand
Barbra Streisand was first married in 1963, to fellow actor Elliot Gould – and they had one child together Jason Gould (he played Babs's on-screen son in her movie The Prince of Tides).
They split in February 1969 and finalised their divorce in 1971. Between her breakup from Elliott and the finalisation of their divorce, Streisand dated Prime Minister of Canada Pierre Trudeau, dad of current PM Justin Trudeau.
She later married another actor, James Brolin, in 1998, and the couple are still together. They don't have any kids, but she's step-mum to his three kids, including actor Josh Brolin.
Between her two marriages, Babra had a string of very high-profile relationships, including flings with future manager (and still her friend) Jon Peters, ice-cream heir Richard Baskin, actors Don Johnson, RIchard Gere, Clint Eastwood, Liam Neeson, Jon Voight and Peter Weller, and for a year in the early 1990s, tennis star Andre Agassi.
"We agree that we're good for each other, and so what if she's twenty-eight years older?" Agassi said in his autobiography.
"We're sympatico, and the public outcry only adds spice to our connection. It makes our friendship feel forbidden, taboo – another piece of my overall rebellion. Dating Barbra Streisand is like wearing Hot Lava."
How did Barbra Streisand become an EGOT and what other awards has she won in her career?
Katharine Hepburn and Barbra Streisand Tie for Best Actress: 1969 Oscars
For those not in the know, an EGOT is someone who has won an Emmy, a Grammy, an Oscar and a Tony.
There aren't all that many, but Barbra Streisand is among their number, doing the so-called Showbiz Grand Slam when she was just 28, in a dizzy six-year period.
Here's how she got the first of each of her EGOT wins.
Emmy: 1965: Outstanding Individual Achievements in Entertainment – Actors and Performers – My Name is Barbra
Grammy: 1964: Best Vocal Performance, Female – The Barbra Streisand Album
Oscars: 1968: Best Actress in a Leading Role – Funny Girl
Tony: 1970: Special Tony Award: Star of the Decade (NOT a competitive award, but it still absolutely counts)
It's worth noting that Babs also won a second Oscar for Best Original Song for 'Evergreen' from A Star Is Born, becoming the first woman to get that award.
Barbra has actually won a total of EIGHTEEN Awards across the Big Four – and although ten of them are Grammys they're all pretty significant ones, rather than Best Instrumental Arrangement Accompanying Vocalist featuring The Uilleann Pipes and Bodhran.
President Obama Awards the Presidential Medal of Freedom
We don't nearly have enough space here to rip through the squillions of other awards and honours Barbra has won during her illustrious lifetime, so we'll just pick out the biggest highlights.
The American Civil Liberties Union Bill of Rights Award (1992)
American Film Institute Lifetime Achievement Award (1991)
Ordre des Arts et des Lettres (1984)
Ordre national de la Légion d'honneur (2007)
Hollywood Walk of Fame (1976)
Israel Freedom Medal (1968)
National Medal of Arts (2000)
Presidential Medal of Freedom (2015)