Barry White facts: Songs, children and tragic death soul's deep-voiced legend
10 January 2023, 11:28 | Updated: 10 March 2023, 13:30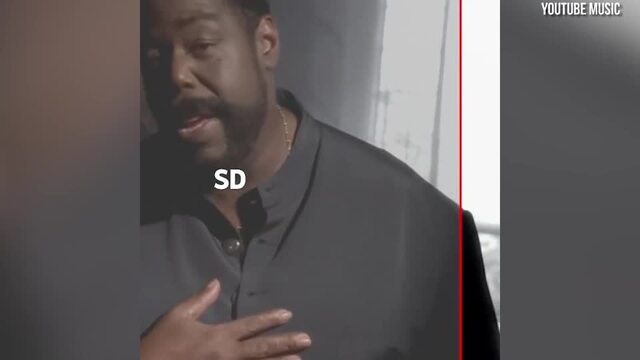 Barry White flaunts HD version of Practice What You Preach video in promo clip
"I woke up one morning when I was 14. I spoke to my mother and I scared both of us."
Few singers have ever had a voice as distinctive and immediately recognisable as Barry White.
Unkindly dubbed The Walrus of Love because of his large frame – as well as that deep-as-the-ocean voice and neatly-trimmed beard – you can tell a Barry White song after just a few syllables of that rumbling timbre.
As a producer, songwriter, the leader of his own Love Unlimited Orchestra and a solo singer, Barry White was a superstar whose music was as joyous as it was influential.
He effortlessly slunk from soul to funk and then disco, and after a quiet 1980s had a resurgence in the 1990s before his untimely death.
Two decades after his passing, we celebrate the life and work of Barry White as he enters our digital Hall of fame.
Where was Barry White born and where did he grow up?
Barry White was born Barry Eugene Carter on September 12, 1944, in Galveston, Texas because his mum had family in the area. He was raised in the Watts area of South Central Los Angeles, California.
His dad was machinist Melvin A White, his mum was actor-turned-piano-teacher Sadie Marie Carter. They weren't married, and Barry was given his mum's surname.
Melvin was only a frequent presence in Barry's early life, and the story goes that when he saw his son's birth certificate, he scribbled out "Carter" and wrote "White" in its place.
You're The First, The Last, My Everything
He attended Jacob A Riis until he was 18 and later claimed to have bunked off the first day back of his graduating year of High School to instead make a pilgrimage to Capitol Records in Hollywood.
"This was my 18th birthday," he told Blank on Blank. "I was getting ready to graduate. I was at an all-boys school. Bad boys.
"But when I got up the next morning, I wasn't going to school... Something said, 'You're going to Hollywood today'.
I was standing there combing my hair in the mirror and I said, 'Mama, I'm not going to school today'. She went crazy, 'Baby, you gotta go to school. This is your last semester. You're going to graduate'. 'I got to go to Hollywood. Today'.
How did Barry White get into music?
Barry White - Let The Music Play (Official Music Video)
Barry's mum Sadie Marie was originally an actress, having appeared in three movies before chronic arthritis put an end to her career.
She later became a piano teacher, and so Barry was surrounded by music from an incredibly young age.
"I stayed glued to the phonograph when Mama played her records—symphonies, sonatas, melodies soaring through me," White later recalled, and he was said to have learned to harmonise when he was only four years old, and taking piano lessons a year later.
He wasn't a child star though, despite apocryphal tales of the 11-year-old Barry playing on Jesse Belvin's 1956 hit single, 'Goodnight My Love'.
Upfronts - It Took Time - 1960 Version (featuring Barry White on Bass)
He did sing in the local church choir and went on to play the organ there and help out the choir director, later joining the rhythm and blues group The Upfronts.
Barry had a troubled youth, being in a two-man gang with his young brother Daryl. Daryl was later killed in a gang dispute in 1983, while Barry himself was jailed for four months when he was 17 for nicking Cadillac tyres apparently worth $30,000.
It was in prison that White had an experience with The King decided where his future lay.
"In jail, I heard 'It's Now or Never' by Elvis Presley," The Independent quotes him as saying.
"It was an awakening, like somebody hitting me with a baseball bat right in the face. When I got out, I swore to myself: never again."
Lee Barry (Barry White) - l Don't Need It / Man Ain't Nothin' '66
After his stint with The Upfronts, Barry worked as a producer and singer, recording a number of tracks in the 1960s backed by groups like The Atlantics and The Majestics.
His debut single 'Man Ain't Nothing' backed with 'I Don't Need It' was released under the name Lee Barry in 1966, and White continued working that decade as a singer, songwriter, session musician, arranger, producer and A&R man, without breaking through as a big-name star just yet.
That all changed in 1972 when White discovered and produced a girl group called Love Unlimited.
Who were Love Unlimited and what was the Love Unlimited Orchestra?
Barry White & Love Unlimited Orchestra - Love's theme (video/audio edited & restored)
Love Unlimited were a girl group made up of Barry White's future wife Glodean James (more on that later), her sister Linda James, and their cousin Diane Taylor.
They formed in 1969, and had their first hit in 1972 with 'Walkin in the Rain with the One I Love', which reached number 14 on both the Billboard Hot 100 and the UK singles chart.
The song was written and produced by Barry White, and his voice even appeared on the track as a voice on the telephone.
WALKING IN THE RAIN WITH THE ONE I LOVE (1972)- LOVE UNLIMITED
Love Unlimited continued to score hits, and early on Barry assembled the 40-strong Love Unlimited Orchestra to back the group on their first album From a Girl's Point of View We Give to You... Love Unlimited.
When White released his own solo debut album I've Got So Much to Give it made sense to enlist the Orchestra on his own work, too.
The following year, the Love Unlimited Orchestra released a whopping THREE albums under that name, the first of which was their most successful, Rhapsody in White.
'Love Unlimited' was also the name of the 1998 Fun Loving Criminals single that paid tribute to Barry.
When did Barry White develop THAT voice?
Barry White - Practice What You Preach (Official Music Video)
Barry White wasn't born with that voice (obviously), but he did develop it at a remarkably young age.
He told the story many times over during his life, but our favourite version is the one he shared with Conan O'Brien in 2000.
"I woke up one morning when I was 14. I spoke to my mother and I scared both of us."
Amazing.
What were Barry White's biggest songs and albums?
Barry White - Just The Way You Are (Official Music Video)
After his early non-charting efforts in the 1960s, Barry White burst onto the scene as a name performer with his 1972 single 'I'm Gonna Love You Just a Little More Baby', which reached number 3 on the Billboard Hot 100 and propelled its parent album I've Got So Much to Give to number 16 on the albums chart.
The same year's Stone Gon' went top 20 and the following year's Can't Get Enough went all the way to number one.
White continued to score hit singles and albums throughout the decade, and while his 1980 tracks weren't quite as successful, he was catapulted back into the mainstream with his 1994 single 'Practice What You Preach' and the comeback album The Icon Is Love.
Barry White's biggest songs included:
I'm Gonna Love You Just a Little More Baby
I've Got So Much to Give
Never, Never Gonna Give Ya Up
Can't Get Enough of Your Love, Babe
You're the First, the Last, My Everything
What Am I Gonna Do with You
Let the Music Play
It's Ecstasy When You Lay Down Next to Me
Practice What You Preach
How many times was Barry White married and how many children did he have?
I'm Gonna Love You Just A Little More Baby
Barry White married his childhood sweetheart – only identified as Mary in his autobiography – and they had four children together by the time they separated in 1969, when Barry was just 25.
In 1974 he married Love Unlimited's Glodean James, and they had four children together They separated in 1988 but remained legally married until Barry's death.
White had a daughter, Denise Donnell, born to Gurtha Allen in 1962 when Barry was a teenager. Barry is known to have had nine children in total.
How and when did Barry White die, and how old was he?
Barry White suffered from health issues throughout his life, partly due to being overweight, and also as a result of smoking a reported 150 cigarettes a day (if true, that's a cigarette every seven waking minutes, on average...).
He suffered a stroke as a result of high blood pressure in October 1995 and was in a coma for four days. In August 1999 he had to cancel a month of tour dates due to his health concerns.
White continued to perform but had difficulty even standing in the early '00s.
He was hospitalised once more in September 2002 following kidney failure, and suffered a serious stroke in May 2003 that prompted his retirement from public life.
White died on July 4, 2003 at Cedars-Sinai Medical Center in Los Angeles after suffering cardiac arrest at the age of just 58.