Little Richard facts: Songs, sexuality and life and death of the Architect of Rock 'n' Roll
21 April 2023, 14:47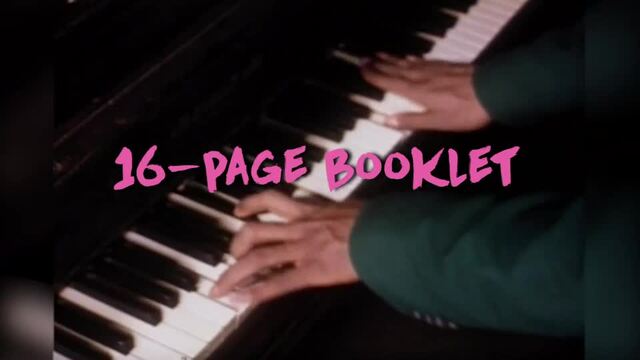 Little Richard albums boxset trailer
Wop-Bop-A-Loo-Bop-A-Lop-Bam-Boom!
Elvis Presley may be known as The King of Rock 'n' Roll, but he didn't create the genre.
As for who actually did, there are a few names in the hat: Chuck Berry, Sister Rosetta Tharpe and Robert Johnson are in with a shout, though one person who is always rightly in the conversation: Little Richard.
"I really feel from the bottom of my heart that I am the inventor [of rock 'n' roll]. If there was somebody else, I didn't know then, didn't hear them, haven't heard them. Not even to this day. So I say I'm the architect," he said firmly.
Richard has been quoted in the past emphasizing his rightful claim to the rock 'n' roll throne: "I am the innovator. I am the originator. I am the emancipator. I am the architect of rock 'n' roll."
"I really feel from the bottom of my heart that I am the inventor," he's quoted as saying.
"If there was somebody else, I didn't know then, didn't hear them, haven't heard them. Not even to this day. So I say I'm the architect."
Another time he was more to the point: "I am the innovator. I am the originator. I am the emancipator. I am the architect of rock 'n' roll."
We're in no position to argue, so as we induct Little Richard into our Gold Hall of Fame we take a look back at the life and work of the rock 'n' roll icon.
When was Little Richard born and what was his birth name?
Little Richard - Tutti Frutti [Screen Test]
Little Richard was born on December 5, 1932 in Macon, Georgia as the third of twelve children of mum Leva Mae (née Stewart) and church deacon/brick mason (and occasional moonshine bootlegger) dad Charles 'Bud' Penniman.
Apparently, he was meant to be called Ricardo, but an error meant that he was born Richard Wayne Penniman.
He was nicknamed Lil' Richard long before his recording days on account of his slight figure.
A slight deformity meant that one of his legs was shorter than the other, which gave him an unusual walk. The young Richard attended Macon's Hudson High School.
How did Little Richard get into music?
LITTLE RICHARD - TAXI BLUES - RCA
Unsurprisingly, Little Richard was into music from a very young age.
As his parents hopped from church to church, Richard favoured the all-singing Pentecostal denomination for its live music, and he also annoyed the locals with his rhythmic banging and clattering on his house steps.
He wasn't the best student at school, but played the alto sax and joined the school's marching band in fifth grade.
Richard's first gig in the industry was as a part-time Coca-Cola seller at the Macon City Auditorium, where he heard some of his heroes, including Sister Rosetta Tharpe.
One day, Tharpe heard Richard singing one of her songs before the show. So impressed with his talent, she then asked the 14-year-old to open for her (and paid him afterwards).
Before he was even in 10th grade he left home and joined Hudson's Medicine Show, playing the R&B hit 'Caldonia' by Louis Jordan.
In 1950 he joined Buster Brown's Orchestra and was formally dubbed Little Richard.
Little Richard - Tutti Frutti (Official Lyric Video)
He soaked up influence after influence, and jump blues singer Billy Wright put him in touch with local DJ Zenas Sears, which in turn won him a contract with RCA Victor.
Richard's recordings flopped, as did his subsequent recordings with the Peacock label, and after several other failed attempts to break through, he returned to Macon in 1954, working as a dishwasher for Greyhound Lines.
He didn't stop performing though, and after disbanding the Tempo Toppers and forming The Upsetters, another label Specialty loaned Richard the money to buy out his contract so they could sign him.
Little Richard got back in the studio – Cosimo Matassa's J&M Studios in New Orleans – with some of Fats Domino's backing band, but it was when Richard let it all hang out and performed 'Tutti Frutti' at the Dew Drop Inn nightclub that everything happened.
Producer Robert 'Bumps' Blackwell got songwriter Dorothy LaBostrie to switch out some of the more sexual lyrics, and they put down the song in just three takes in September 1955.
It changed music forever, and raced up the charts, reaching 21 on the Billboard Top 100 and 29 in the UK. Little Richard had arrived.
What were Little Richard's biggest songs?
Little Richard - Long Tall Sally [Screen Test]
Little Richard had a career that spanned over five decades. He started off with bluesy ballads, before hitting rock 'n' roll full on.
Then came a brief spiritual rebirth and move into gospel, before a return to rock 'n' roll in the 1960s, a flip back to gospel in the late 1970s, and then another return to rock 'n' roll for the rest of his career.
Little Richard's earliest and biggest hits included:
Tutti Frutti
Long Tall Sally
Slippin' and Slidin'
Rip It Up
Ready Teddy
Heeby-Jeebies
She's Got It
The Girl Can't Help It
Lucille
Send Me Some Lovin'
Jenny, Jenny
Miss Ann
Keep A-Knockin'
Good Golly, Miss Molly
Hey-Hey-Hey-Hey!
Baby Face
Kansas City
What were Little Richard's biggest film roles?
Trailer for The Girl Can't Help It – featuring Eddie Cochran
Like many rock 'n' rollers, Little Richard didn't just play his songs on stage or in the studio, but also rocked up to the movies to do the same.
He played 'Ready Teddy' and 'She's Got It' for The Girl Can't Help It in 1956, and 'Long Tall Sally ' and 'Tutti Frutti' for Don't Knock the Rock in the same year.
A year later he did 'Lucille' and 'Keep A-Knockin' on Mister Rock and Roll, and ten years on he did original number 'Scuba Party' for Catalina Caper aka Never Steal Anything Wet.
The rock 'n' roll movie fell out of favour, but Little Richard didn't disappear from the silver screen.
He popped up as Orvis Goodnight in 1986's Down and Out in Beverly Hills, where he also performed 'Great Gosh A-Mighty', and appeared in everything from sci-fi comedy Purple People Eater and thriller Sunset Heat to postmodern Arnie vehicle Last Action Hero.
On the small screen, he starred in episodes of Bill & Ted's Excellent Adventures, Blossom, Baywatch, Columbo, Full House and The Simpsons.
What did Little Richard think of Elvis Presley?
Little Richard Talks About Elvis Presley
As the self-declared Architect of Rock 'n' Roll, you may think that Little Richard had a healthy (or unhealthy) rivalry with the often-proclaimed King of Rock 'n' Roll.
"Rock 'n' roll music is Black music," Richard told Rolling Stone in 1990 when asked if Elvis had opened the door for white audiences to listen to rock 'n' roll. "I think the door opened wider, but the door may have already been opened by 'Tutti Frutti'."
"I think that Elvis was more acceptable being white back in that period. I believe that if Elvis had been Black, he wouldn't have been as big as he was.
"If I was white, do you know how huge I'd be? If I was white, I'd be able to sit on top of the White House! A lot of things they would do for Elvis and Pat Boone, they wouldn't do for me."
That said, he was frequently incredibly generous about Presley.
Little Richard Talks About Elvis
"It took people like Elvis and Pat Boone, Gene Vincent to open the door for this kind of music, and I thank God for Elvis Presley," Richard told Rolling Stone way back in 1970.
"I thank the Lord for sending Elvis to open that door so I could walk down the road, you understand?"
After Elvis died, Richard said: "I love him. That's my buddy, my baby. I love him. We are very good friends, and it was a very great loss to the music world.
"Elvis is one of the greatest performers who ever lived in this world."
One quote that often does the rounds is even more effusive.
"Elvis was God-given, there's no other explanation. A Messiah comes around every few thousand years, and Elvis was it this time," Richard is reported to have once said.
What did Little Richard say about his sexuality and gender expression?
Little Richard - Southbank Show - March 1985
From a young age, Richard was bullied and mocked for his supposedly effeminate appearance, but he shrugged off the jeers and leant into it after befriending openly gay musician Billy Wright in the early 1950s, borrowing his pancake makeup look and pompadour hairstyle.
Even before then, he had borrowed his mum's makeup and clothes – getting beaten by his father who caught his experimentation.
"My daddy put me out of the house," Richard told The South Bank Show in 1985 "He said he wanted seven boys, and I had spoiled it, because I was gay."
He spent three days in jail in 1955, after being cited for sexual misconduct. A female friend had been picking up men and letting Richard watch them have sex in cars, and he continued to have an interest in voyeurism in the years to come – sometimes getting him in trouble.
Little Richard on Late Night, May 4, 1982
Richard's occasional leaps into evangelical Christianity complicated his feelings and statements on his sexuality.
"God gave me the victory. I'm not gay now, but, you know, I was gay all my life," Richard told Late Night with David Letterman in 1982. "I believe I was one of the first gay people to come out. But God let me know that he made Adam be with Eve, not Steve. So, I gave my heart to Christ."
In the 1984 book The Life and Times of Little Richard, he told author Charles White that he was "omnisexual", but also said that homosexuality was "unnatural".
This back-and-forth continued throughout the rest of Richard's life.
In 1995 he told Penthouse: "I've been gay all my life", but in 2017 – a few years before his death – Richard told Christian Three Angels Broadcasting that homosexuality and transgender identity goes against "the way God wants you to live".
How old was Little Richard when he died and how did he die?
Kansas City / Hey Hey Hey Hey !
Little Richard survived addictions to cocaine, PCP and heroin, but struggled with health difficulties towards the end of his life.
Back in 1985 he suffered a serious car accident, leaving him with a broken right leg, broken ribs and head and facial injuries. He couldn't attend the first Rock and Roll Hall of Fame ceremony, and the injuries may have contributed to later medical issues.
In the late '00s, he relies on crutches and a wheelchair, especially after he had hip surgery, and in September 2013 he suffered a heart attack.
Little Richard's last concert was in Murfreesboro, Tennessee in 2014, though he kept singing into his 1980s.
Richard died on May 9, 2020, at his home in Tullahoma, Tennessee from a cause related to bone cancer. He was 87.
What awards did Little Richard win during his lifetime?
Little Richard performs "Tutti Frutti" at the Concert for the Rock & Roll Hall of Fame
Given his influence, it's no surprise that Little Richard racked up the accolades during his life, and there's just too many to list them all here, so we'll stick to the very biggest.
He got a Grammy Lifetime Achievement Award in 1993, while three of his biggest hits – 'Tutti Frutti', 'Lucille' and 'Long Tall Sally' – are in the Grammy Hall of Fame, as is his Here's Little Richard album.
Little Richard was an inaugural inductee into the Rock and Roll Hall of Fame in 1986, and in 1990 he received a star on the Hollywood Walk of Fame.
He was inducted into the NAACP Image Award Hall of Fame in 2002, the Songwriters Hall of Fame the following year, and the Apollo Theater Hall of Fame in 2006.
In the early 1990s, part Mercer University Drive (between Telfair and College Streets) in Macon was renamed Little Richard Penniman Boulevard.