'Bat Out of Hell' by Meat Loaf: The making of the operatic rock epic
21 January 2022, 10:49 | Updated: 15 September 2023, 15:07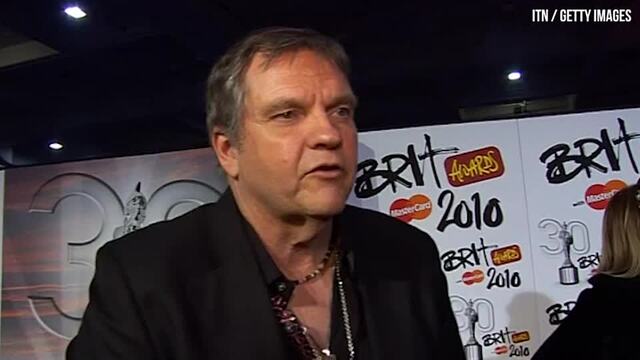 Meat Loaf seen at 2010 Brit Awards in old footage
Inspired by Alfred Hitchock's Psycho and Peter Pan, 'Bat Out of Hell' was Meat Loaf's masterpiece.
Written by Jim Steinman, produced by Todd Rundgren and recorded by Meat Loaf, Bat Out of Hell is one of the biggest selling albums of all time.
It's all kicked off by its epic opener and title track, which clocks in at just under ten minutes of full-throttle rock 'n' roll.
Jim Steinman sadly passed away in 2021 at the age of 73. And yesterday (January 20), it was announced that Meat Loaf had died at the age of 74, with his wife Deborah by his side.
He'll be remembered for so much – the remarkable Bat out of Hell album trilogy, his stage performances in Hair and The Rocky Horror Show, and his on-screen performances in Fight Club, The Rocky Horror Picture Show.
So to celebrate his life and work, we're taking a look at the making of 'Bat Out of Hell', one of the biggest songs in rock history.
Who wrote 'Bat Out of Hell'?
Meat Loaf on Working with Jim Steinman
Jim Steinman wrote all of the Bat out of Hell album – all the music AND all the words.
Steinman went on to write all of Meat's Dead Ringer (1981) and Bat Out of Hell II: Back into Hell (1993), and Meat Loaf's 2016 swansong Braver Than We Are (2016).
Meat Loaf and Jim Steinman were in the midst of a legal battle over the Bat Out of Hell name in 2006 when Meat released Bat Out of Hell III: The Monster Is Loose, and although Jim wasn't directly involved in that project, it still included seven of his songs.
When was 'Bat Out of Hell' released and where did it get in the charts?
Meat Loaf - Bat Out of Hell (PCM Stereo)
'Bat Out of Hell' was first released on the Bat Out of Hell album on October 21, 1977.
That version is the 9:52 epic, with all the bells and whistles. Apparently, Meat Loaf and producer Todd Rundgren were miffed that Steinman kept on writing past the six-minute mark, but he knew he had to get to that big motorbike crash.
It was also released as the FIFTH single from the album, coming out in the UK on January 26, 1979, with 'Heaven Can Wait' on the B-side.
A shorter 7:19 edit was made, as well as a much snappier 4:53 single edit.
Despite being available on the massive-selling album for over a year, the song still went to number 15 in the UK charts – Meat Loaf's first Top 20 single.
After the massive success of Bat Out of Hell II's lead single 'I'd Do Anything For Love (But I Won't Do That)' in 1993, 'Bat Out of Hell' was re-released in December 1993.
This time it did even better, reaching number 8 in the charts. The song has gone platinum in both the UK and Australia.
Was 'Bat Out of Hell' inspired by Bruce Springsteen's 'Born to Run'?
Bruce Springsteen - Born to Run (Official Video)
A couple of years before 'Bat Out of Hell', Bruce Springsteen had built on the critical acclaim of his first two albums to burst into the mainstream with Born to Run, and especially its title track.
With its runaway theme and pounding rhythms, more than a few people have spotted some similarities between the tracks, and the album's opener 'Thunder Road' too.
Part of that may be the use of a couple of E Street Band regulars on 'Bat Out of Hell'.
"We use Max Weinberg and Roy Bittan, his drummer and keyboard player," Meat Loaf told Gallery magazine in 1978.
"Max, because he happens to be a great drummer, and Roy, because he and Jim have very similar styles of piano playing."
Del Shannon - Runaway (HQ STUDIO/1961)
Steinman added: "We come from the same influences. One of my favourite songs of all time is Del Shannon's 'Runaway', and that's a real influence on Springsteen.
"Phil Spector, the early Sixties, that's where the influence comes from. Springsteen was more an inspiration than an influence.
"But the main difference between us is that his songs are much more realistic and street-oriented, whereas mine are much more mythic and fantastic."
Meat Loaf later said on a 2006 DVD commentary the song was inspired by a scene in Alfred Hitchock's Psycho where the clients in the Bates Motel "wish they would have left like a bat out of hell".
"It had nothing to do, believe it or not, with Bruce Springsteen," he added. "It had to do with Alfred Hitchcock and Psycho."
What else inspired 'Bat Out of Hell'?
Psycho Official Trailer 1960 HD
So we know Psycho was part of the mix. So was JM Barrie's Peter Pan and the story of Neverland.
"When I start writing, I always start with a visual image, and the visual image I had in mind when I started this album was very much connected with an idea for a film I've had floating around for a couple of years called Neverland, a rock 'n roll sci-fi version of Peter Pan," Steinman said in 1981.
"Half the songs on this album were written with that in mind. And now I'm taking it one stage further and working on the screenplay... it's a trip to Neverland, but most of the songs may not end up in the film at all, it's just that I can't write without a visual and that was the visual."
Peter Pan Blu Ray Trailer
Neverland was finally finished in 2017 as a stage production, though it was renamed Bat Out of Hell: The Musical.
Beyond Neverland, there was the influence of classic Death Discs, like the Shangri-La's 'Leader of the Pack', growling motorbikes and all.
"There is something so thrilling to me about that operatic narrative that involves a cataclysmic event, especially one so perfectly in tune with a teenager's world, and rock and roll, as a car or motorcycle crash," Steinman said on a making-of the album DVD in 1999.
How did producer Todd Rundgren make a guitar sound like a motorcycle on 'Bat Out of Hell'?
Bat Out of Hell Motorcycle Guitar Track RIP Jim Steinman and Meatloaf!
Jim Steinman was the writer mastermind behind 'Bat Out of Hell' (and also played keyboards and percussion). Meat Loaf the virtuoso singer. Max Weinberg and Roy Bittan were there giving a flavour of the E Street Band.
Also playing on the track were Kasim Sulton (bass and backing vocals), Roger Powell (synths) and Rory Dodd and Ellen Foley (more backing vocals).
Stitching at all together was producer Todd Rundgren, who filled out the sound with electric guitar, keyboards, percussion and yet more backing vocals.
And virtuoso Todd played a key part in making 'Bat Out of Hell' the incredible epic it became.
In lieu of a real motorcycle, Todd got out his guitar and plugged in and improvised a lead solo in 15 minutes, then chucked on the harmony guitars too.
"I guarantee the whole thing didn't take him more than forty-five minutes," said Meat Loaf in his autobiography, "and the song itself is ten minutes long. The most astounding thing I have ever seen in my life."
Todd also vetoed Steinman's OTT plan for a real boy's choir on the softer part of the song. He thought he could get the same effect with some technical wizardry, but it didn't work out.
Tonight at the London Palladium | Bat Out of Hell (Musical)
"Anyone who thinks the album is over-produced should hear what I had to leave out," Steinman told Sound magazine in 1978.
"I said that we needed a real boy's choir... I'd heard this symphony by Mahler and I really wanted a boy's choir. There's nothing more beautiful than the sound of 20 boy sopranos singing."
Inspired by 2001: A Space Odyssey, Jim also wanted a choir in the end motorcycle section, and that's not all.
"I wanted to use an entire orchestra, and I wanted to use them viciously," he said. But Todd had to draw the line somewhere.
Has anyone ever covered 'Bat Out of Hell'?
Given how epic it is, relatively few artists have been brave enough to conquer 'Bat Out of Hell'.
It's obviously been performed by the musical cast, while Cosmic Noise did a version for A Monstrous Halloween.
The Bob's Burgers team did a minute or so for their Music Album Vol 2, but the only cover to do it real justice was the Royal Philharmonic Orchestra's version from their ... Plays the Music of Meat Loaf album.