Bruce Springsteen facts: Songs, albums, age, family, and why he's called The Boss revealed
30 March 2023, 10:47 | Updated: 6 October 2023, 10:10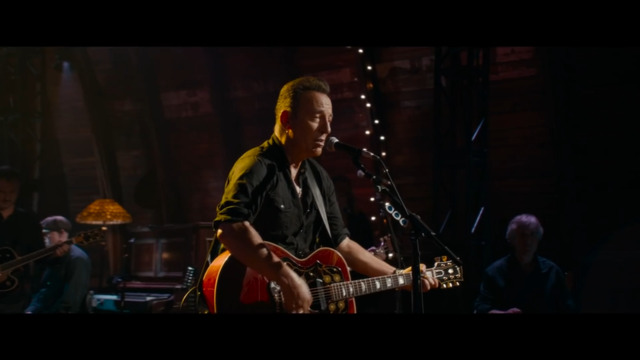 Bruce Springsteen Western Stars movie trailer
For over five decades, Bruce Sprinsteen has been a towering presence over American rock.
Fashions come and fashions go, but over the last half a century plus, we've always had Bruce Springsteen.
Whether he's mashing up Bob Dylan-lyricism with funked-up R&B, embracing more acoustic sounds or being a trailblazer of heartland rock, The Boss has been putting out classic albums decade after decade after decade.
How much do you really know about Bruce Springsteen, though?
From his earliest days in New Jersey to his globe-conquering 1980s album and beyond, we're taking a closer look at his life and work as he enters our digital Hall of Fame.
When was Bruce Springsteen born and where did he grow up?
Bruce Springsteen - Growin' Up (from In Concert/MTV Plugged)
Given how large it looms in his story, it won't be any surprise to learn that Bruce Springsteen was born and grew up in New Jersey.
To be more precise, Bruce Frederick Joseph Springsteen was born at Monmouth Medical Center in Long Branch, New Jersey on September 23, 1949, making him 73 years old.
He was born to legal secretary mum Adele Ann Zerilli and dad and sometime bus driver Douglas Frederick 'Dutch' Springsteen.
Bruce grew up in Freehold, New Jersey and attended the St. Rose of Lima Catholic School and then the local Freehold High School.
He didn't get on particularly well at either, nor at Ocean County College which he briefly attended before dropping out.
How did Bruce Springsteen get into music?
As a boy, the young Bruce Springsteen heard Frank Sinatra – also a New Jersey native – on the radio. Then came Elvis Presely's era-defining appearances on The Ed Sullivan Show in 1956 and 1957.
His mum rented him a guitar from local store Diehl's Music for the princely sum of six bucks a week.
"I took it home," Bruce remembered in his memoir Born to Run. "Opened its case. Smelled its wood (still one of the sweetest and most promising smells in the world), felt its magic, sensed its hidden power. I held it in my arms, ran my fingers over its strings, held the real tortoiseshell guitar pick in between my teeth, tasted it, took a few weeks of music lessons… and quit. It was TOO F***IN' HARD!"
Bruce Springsteen - Born to Run (Official Video)
He never really got to grips with it before he had to return it ("I held the guitar...I shook it...I shouted at it...I banged on it...I sang voodoo nonsense...I did everything but play it") but added of his impromptu performance in his backyard: "For a moment, just a moment, in front of those kids in my backyard...I smelled blood."
It was The Ed Sullivan Show once more that re-sparked his musical desires. This time it was 1964 and it was The Beatles wowing audiences.
He bought his own guitar for $18.95 at Western Auto appliance store and formed the band The Rogues who played local venues.
The Wish (Studio Outtake - 1987)
Soon after his mum took out a loan to help Bruce upgrade to a $60 Kent guitar... a story that inspired 1987 Tunnel of Love outtake 'The Wish' 20 years later ("That night on top of a Christmas tree shines one beautiful star / And lying underneath a brand-new Japanese guitar").
With the help of patrons Tex and Marion Vinyard, Bruce joined The Castilles who recorded two songs. He went on to play with bands called Earth, Child/Steel Mill, Dr Zoom & the Sonic Boom and the Bruce Springsteen Band.
It was in May 1972 when he auditioned for John Hammond of Columbia Records.
They snapped him up, an in Octobe that year he got a new gang together (not yet called the E Street Band) to record his debut album Greetings from Asbury Park, NJ.
Why is Bruce Springsteen called The Boss?
You'll often hear Bruce Springsteen referred to as The Boss by his fans, critics and even his bandmates.
The story goes that he got that name early on in the days of the E Street Band, because he was the one who got the band's cash payment from promoters every night and divvied it up among his bandmates.
It's suggested that the nickname stuck when Bruce himself jokingly adopted it during his games of Monopoly with other musicians on the New Jersey scene.
Bruce Springsteen - Born in the U.S.A. (Official Video)
Given his towering presence on stage, the name escaped his colleagues and started being used by pretty much everyone.
It's not a name that Bruce, very much a union man, has always enjoyed.
"I hate bosses. I hate being called The Boss," he's quoted as saying in It Ain't No Sin to Be Glad You're Alive: The Promise of Bruce Springsteen.
Less a nickname, more a booming drone at live shows, fans tend to just call him BRUUUUUUUUUUUUUUUUUUUUUCE at live shows.
What are Bruce Springsteens biggest albums and songs?
Bruce Springsteen - The River (The River Tour, Tempe 1980)
Bruce's first two albums Greetings from Asbury Park, N.J. and The Wild, the Innocent & the E Street Shuffle – both released in 1973 – have gone double platinum, but they were very much slow burners, charting only at 60 and 59.
It was his third album Born to Run that really broke through reaching number 3 and eventually going seven times platinum. Then came the ambitious Darkness on the Edge of Town and The River albums, before the stripped-back Nebraska was followed up by the era-defining Born in the USA, a global chart topper and 17 (SEVENTEEN!) times platinum album.
That was Bruce's commercial peak, but he's continued to rack up gold and platinum discs, with highlights including the divorce and drum machine-powered Tunnel of Love, mainly acoustic The Ghost of Tom Joad, post-September 11 The Rising and mortality-bothering Letter To You, among others.
As well as the traditional live albums like Live/1975–85, Live in New York City and Live in Dublin among others, Bruce has released around 100 official live archive releases.
Over his half-century in pop, Bruce Springsteen's biggest songs include:
Blinded by the Light
Spirit in the Night
For You
Lost in the Flood
Rosalita (Come Out Tonight)
Tenth Avenue Freeze-Out
Thunder Road
Badlands
Hungry Heart
The River
Atlantic City
Dancing in the Dark
Cover Me
Born in the USA
Santa Claus Is Comin' to Town
Brilliant Disguise
Tunnel of Love
Human Touch
Streets of Philadelphia
The Ghost of Tom Joad
The Rising
Radio Nowhere
The Wrestler
Letter to You
How many times has Bruce Springsteen been married and how many children does he have?
Bruce Springsteen had a few high profile relationships in his famous years, dating photographer Lynn Goldsmith, model Karen Darvin and actress Joyce Hyser.
He was rumoured to be getting close with Patti Scialfa, who had joined the E Street Band for the Born in the USA tour in 1984, when he married actor Julianne Phillips on May 13, 1985.
Things didn't really work out, with Bruce basically living on the road, and much of his Tunnel of Love tour is informed by their relationship struggles.
After some cajoling (she wanted to work on a solo album), Patti rejoined Bruce's touring band in February and 1988, and after Bruce and Julianne split in spring of that year, he and Patti got together.
Phillips filed for divorce in August 1988, with it all being finalised in March of the following year.
Bruce and Patti moved in together and in July 1990 they had their first child, Evan James Springsteen.
The couple married in a private ceremony at their Los Angeles home in June 1991, and they had their second child Jessica Rae Springsteen in December 1991.
Bruce and Patti had a third child, Samuel Ryan Springsteen, in January 1994, and Patti and Bruce became grandparents when Sam's fiancée had a daughter in July 2022.
Why did Bruce Springsteen not play Live Aid?
Bruce Springsteen - Dancing In the Dark (Official Video)
Live Aid took place on Saturday, July 13, 1985, when Bruce Springsteen was arguably the biggest rock star in the world.
But while the likes of Paul McCartney, Led Zeppelin, Mick Jagger, Phil Collins, Neil Young, Madonna and many more superstars played the iconic event, Bruce was not one of them.
Why not?
Well, Bruce had just come off his own massive Born in the USA tour, had just married Julianne Phillips and was utterly shattered and in need of a break.
So despite having played Wembley Stadium a week earlier (some of the Live Aid stage set-up was borrowed from Bruce's gigs in fact), recording Jimmy Cliff's 'Trapped' for the Live Aid album and appearing on 'We Are The World', he gave it a miss.
While a full band show wasn't going to happen, Bruce is said to have regretted not turning up with an acoustic guitar to do couple of quick numbers.
What is Bruce Springsteen's net worth and how much did he sell his back catalogue for?
Despite being a famous rock star for over half a century now, Bruce Springsteen very much still feels like one of us, with his songs and style still capturing that blue collar world in which he grew up.
With that said, he's certainly not short of a few quid.
Celebrity Net Worth and TheRichest estimate his net worth at $650 million (530 million).
With his legendary live shows (he plays for up to four hours to stadiums full of adoring fans) around the world, Bruce rakes in a fair bit of money from his concert tours, and even shifts a fair few units of albums old and new despite the world moving to streaming.
Bruce Springsteen - Atlantic City
He's reported to have sold over 140 MILLION records worldwide, and while plenty of artists struggle to earn much from streaming, his biggest songs have 530 million ('Dancing in the Dark') and 378 million ('Born in the USA'), we're sure Bruce was getting a decent amount there.
The biggest bump to Bruce's income though came in December 2021, when he sold his back catalogue to Sony Music for a reported $500 million.
"I am one artist who can truly say that when I signed with Columbia Records in 1972, I came to the right place," Springsteen said at the time.
"During the last 50 years, the men and women of Sony Music have treated me with the greatest respect as an artist and as a person. I'm thrilled that my legacy will continue to be cared for by the Company and people I know and trust."