Billy Ocean reveals he 'still gets nervous' as he releases first new music in a decade
20 April 2020, 11:32 | Updated: 22 September 2023, 13:24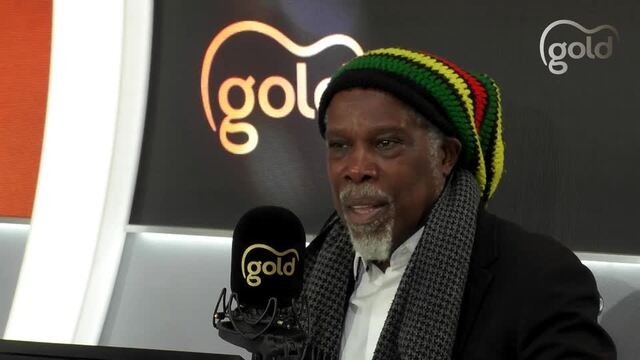 Billy Ocean interview: Pop icon in conversation with Gold's James Bassam
Billy Ocean released his brand new single 'All Over The World' today, his first new music in 10 years.
The 70-year-old star visited the Gold radio studios at the start of the year to reveal what fans could expect from his upcoming album... and to reveal the secrets of his success.
Speaking exclusively to Gold's James Bassam, Billy explained: "Enjoying life. Enjoying life. When you get older, you appreciate the opportunities that come your way. You realise how blessed you are to be getting certain things that other people love to have, and to have got certain things and to still retain it, one way or the other.
"You're still writing songs and singing, and still enjoying working, and still enjoying doing gigs. You're understanding now what you're doing more than when you were younger. I know what I'm doing. I'm making people happy. And it makes me happy, making people happy."
Over the years, Billy has found success with several songs he turned into hits, including 'Suddenly', 'When the Going Gets Tough, the Tough Get Going', 'Love Really Hurts Without You', 'Get Outta My Dreams, Get Into My Car' and 'Caribbean Queen'.
Watch Billy Ocean's full interview with Gold's James Bassam above.
Billy Ocean - All Over the World (Official Audio)
Billy noted: "The songs that were written are still serving me really good now. They stood the test of time. I go out to do them, and people enjoy them. I sing them now without even thinking. Those songs, when they first started, I used to be so nervous singing them.
"Of course, I was petrified. When you first start out, there's about 12 people in the audience. It's a big room with only a few people. You build up your fanbase over the years.
"I'm now doing sell-out shows. That wasn't happening then. Whether it's 12 people or 20 people, you're nervous, because you're going out there to perform."
Billy, who was awarded an MBE in the New Year's honours list, went on to explain how he has managed to sustain longevity in the music industry.
He continued: "You realise as well, it requires a lot of discipline to stay… to keep on the right track. There are so many diversions you can get into. The one thing that's never changed is, I've never really done it for money.
Billy Ocean - When the Going Gets Tough, the Tough Get Going (Official Video)
"That's a terrible mistake, because sometimes you can be getting the money, but you lose the motivation, because you're doing what you're doing for the wrong reason.
"I think that's very important because, you know, have I made any mistakes? I don't think... I might have made one or two, but nothing that I regret. There's nothing I've done in the past that I regret. Nothing really, in truth. I've always been brave enough to make a decision and take chances. And once I've made that decision, I just go with it. And it tends to work out."
Billy went on to tell Gold listeners what it was like to move to the UK at the height of The Beatles and The Rolling Stones.
He said: "Ever since I was small, ever since I was a little boy in Trinidad – my area was very musical. My father was a musician. I came out of the culture of calypso music. It was very happy music.
"I came to this country, and had people like The Beatles and The Rolling Stones, which was another sort of genre of music. Everything was just like a learning period, basically. American music started coming over. There was so much to learn from, basically.
Billy Ocean - Love Really Hurts Without You (Official Audio)
"And one of the main things is that there weren't so many radio stations. You had one radio station playing everything. So you'd learn from everything. Now, you have a selection of choices.
"There's too much choice, and too many bags – things are put into so many different bags. I make music. I don't see bags. I see songs. I see songs that I write and that I can sing. Don't ask me what bag it's in. I don't care."
On releasing his first new material after 10 years, Billy smiled: "This time, there's no stopping. Once the engine's started up – I've had my sabbatical already. That's done."
Billy was initially set to release his full album on April 17, but due to the coronavirus pandemic, has moved the release date of One World back to September 4, 2020.