Gerry Marsden gets 'You'll Never Walk Alone' memorial at Liverpool's Anfield Stadium
26 April 2022, 10:42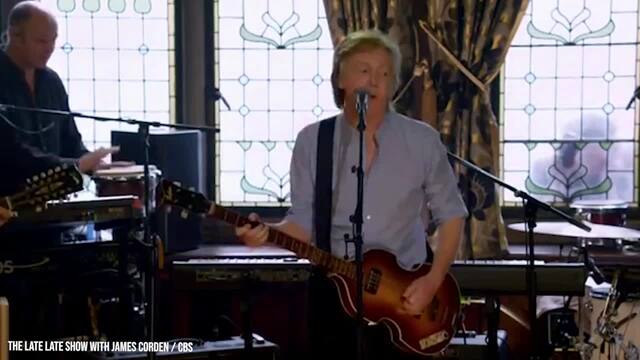 Watch Paul McCartney Surprise Punters with a Performance at Liverpool Pub
Gerry Marsden wasn't just a pop icon, but a hero of Liverpool Football Club.
To fans of Liverpool Football Club, 'You'll Never Walk Alone' is much more than just a pop song or terrace chant.
It's a mantra that encapsulates the spirit of the team and its history, though all its dizzying highs and tragic lows.
The song dates back to the Rodgers & Hammerstein musical Carousel, but it was Gerry and the Pacemakers who made it a massive pop hit in 1963.
It went to number one, and swiftly became Liverpool's anthem, not just sung at every game by their fans, but also being printed on Liverpool scarves and merchandise.
At Anfield Stadium, the words are emblazoned above the Shankly Gates entrance, and now a new memorial features that iconic phrase.
Gerry and the Pacemakers frontman Gerry Marsden died in January 2021, and this week Marsden's wife Pauline officially unveiled a special tribute, featuring a photograph of Marsden wearing a Liverpool tie given to him by Bill Shankly.
The picture is accompanied with the words: "With Gerry's unique interpretation and soulful rendition, those simple words and notes on the page acquired extraordinary meaning, becoming not just a message for our times... but an anthem for the world. YNWA."
Below is a plaque of a bronze Liverpool Football Club scarf reading "YOU'LL NEVER WALK ALONE", and a stave featuring the music from the song.
Gerry & The Pacemakers - You'll Never Walk Alone [Official Video]
The memorial is placed between the stadium's Sir Kenny Dalglish Stand and the Kop.
The memorial was unveiled on Sunday, shortly before Liverpool's 2-0 victory over Merseyside rivals Everton.
That result kept the Reds in the race for the Premier League Title, just a point behind leaders Manchester City.