How Harry Belafonte's music was crucial to Tim Burton's twisted Beetlejuice
28 April 2023, 13:43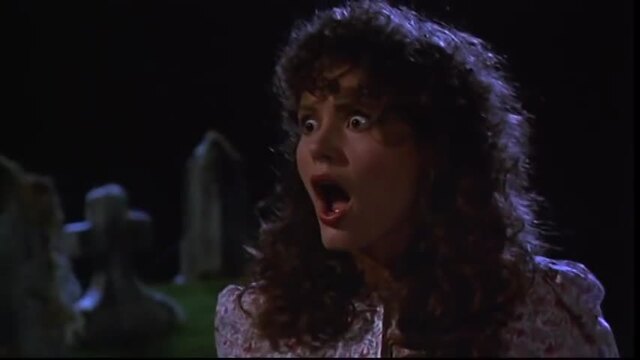 Beetlejuice original theatrical trailer
Music legend. Civil Rights icon. And a key inspiration for one of the weirdest blockbusters in cinema history.
When Harry Belafonte died earlier this week at the age of 96, his fans all over the world were quick to celebrate his work and life.
He was a true polymath. An actor, singer and civil rights activist and rare EGOT (Emmys, Grammys, Oscars and Tonys winner).
So Belafonte meant many different things to different people, and among all his accomplishments was his massive influence on Tim Burton's twisted horror comedy masterpiece Beetlejuice.
Belafonte's music appears several times in the film as a leitmotif to some of the crazy antics, and he's even credited alongside score composer Danny Elfman on the film's soundtrack.
The film features 'Day-O (The Banana Boat Song) – previously released by Belafonte back in 1956 – memorably lip-synched by Catherine O'Hara as a possessed Delia Deetz backed by the cast in a ghostly dinner party scene.
Beetlejuice - Day-o (Banana Boat Song)
It also includes 'Jump in the Line (Shake, Senora)', which Belafonte had previously released in 1961, soundtracking an especially-impressive final scene featuring Winona Ryder as Lydia Deetz, also playing over the end credits.
Beetlejuice also had snippets of Belafonte's 1961 hit 'Sweetheart from Venezuela' which Alec Baldwin's Adam Maitland is listening to in his attic, while the same character is later seen dancing to Belafonte's 1956 song 'Man Smart, Woman Smarter'.
To mark its inclusion in the movie, 'Day-O' even got plenty of radio play between the theatrical run of the movie and the home video release, helping the soundtrack into the Billboard 200 albums chart.
Beetlejuice - Jump In The Line
Watching Beetlejuice, it's impossible to imagine the film without Belafonte's music, but it wasn't always in line to appear in the film.
Firstly, the original much darker, less comedic and frankly problematic screenplay from Michael McDowell certainly wouldn't have featured upbeat calypso music.
And even early versions of the hefty reworking by Warren Skaaren didn't specify Belafonte's songs.
Ink Spots - If I Didn't Care
Instead, he favoured classic R&B, with The Ink Spots' 1939 hit 'If I Didn't Care' for the dinner party, while the final scene would have seen Lydia dancing and miming along to Percy Sledge's classic 'When a Man Loves a Woman'.
Both classic songs, for sure, but Catherine O'Hara had the idea of using calypso instead to bring something a little extra.
Co-star Jeffrey Jones told Pitchfork in 2018 that he suggested a few, including Lord Invader's 'Yankee Dollar' or 'Rum and Coca Cola', as well as 'Day-O', with Burton going for Belafonte's hit.
Percy Sledge - When A Man Loves A Woman (Live)
But how did a calypso star, a mentee of Paul Robeson and close pal of Martin Luther King Jr end up being the special ingredient in a film like Beetlejuice, of all things?
Well, it turns out that music boss David Geffen got on the telephone and just asked him
"I never had a request like that before," Belafonte told Pitchfork. "We talked briefly. I liked the idea of Beetlejuice. I liked him. And I agreed to do it."
Harry Belafonte - Sweetheart From Venezuela (Official Audio)
'Day-O' in particular was a much-covered song, dating back to Jamaican banana workers in the early 1900s and recorded by Edric Connor as 'Day Dah Light' in 1952.
It was Belafonte who made it a hit with his version in the middle of the decade, and Burton and co wanted his inimitable version in their movie.
"What was particularly attractive was that he wanted to use my voice," Belafonte said.
Harry Belafonte - Man Smart (Woman Smarter) (Official Audio)
And that voice struck a chord with a whole new generation of fans.
"Everywhere I went, for about a year, I had kids all over me, 'Oh! The guy from Beetlejuice!'," Belafonte said.
"Wiping their hands full of tomato ketchup and mustard on my clothes. I never worked for such a young audience. And I enjoyed the whole excursion."