Watch The Who's stunning acoustic version of 'Behind Blue Eyes' from the Royal Albert Hall
22 April 2022, 13:31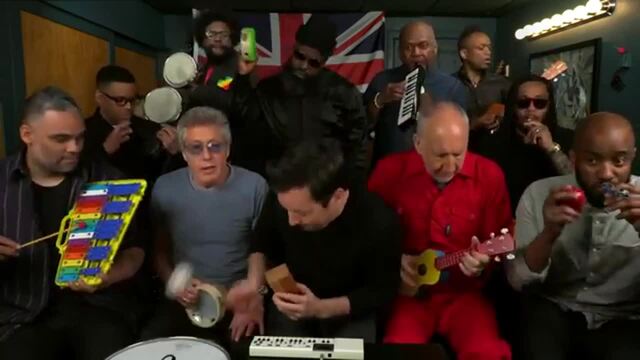 The Who, Jimmy Fallon and The Roots sing Wont Get Fooled Again with classroom instruments
'Behind Blue Eyes' like you've never heard it before.
The Who are 20 years into their latest reunion – longer than their original run – and are still wowing crowds with their classic back catalogue and new music alike.
The group recently played an extra-special show at London's Royal Albert Hall in support of the Teenage Cancer Trust.
The (mainly) acoustic set saw the founding members Roger Daltrey and Pete Townshend backed by an orchestra, and a performance of 'Behind Blue Eyes' was screened this week on The Late Show with Stephen Colbert in the US.
Daltrey and Townshend played the stripped-down show at the iconic venue on Friday, March 25, 2022.
They were backed by Simon Townshend, Phil Spalding, Jodie Linscott, Billy Nicholls, Geraint Watkins, Charlie Hart and Andy Cutting.
The Who "Behind Blue Eyes"
Roger Daltrey is a patron of the Teenage Cancer Trust, and as well as a couple of solo Daltrey slots, The Who played sets in support of the charity in 2000, 2002, 2004, 2007 and 2010.
Daltrey played a number of solo performances from last year, in part to get match-fit ahead of the 2022 North American The Who Hits Back! Tour, which will see the band backed by a full orchestra.
Daltrey said: "Pete and I said we'd be back, but we didn't think we'd have to wait for two years for the privilege. This is making the chance to perform feel even more special this time around."