Pete Townshend says Woodstock changed Roger Daltrey from "short-haired singer" to a "rock god"
12 September 2023, 13:59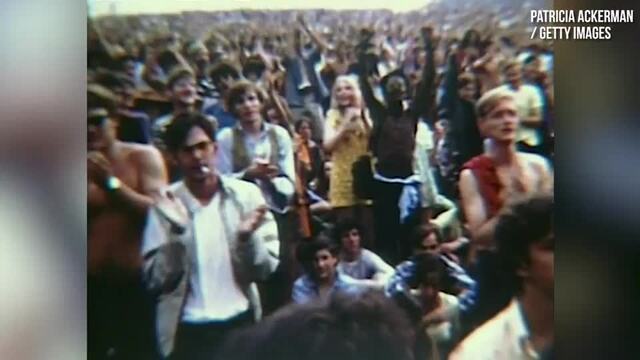 Huge crowds gather for Woodstock in 1969
Woodstock and its movie weren't just important for The Who, but absolutely vital for their frontman.
Roger Daltrey is rightly acknowledged as one of the greatest rock frontmen of all time, but Pete Townshend has claimed that it wasn't always so.
In a recent interview, The Who's guitarist suggested that it was the band's early-hours performance at Woodstock and its immortalisation in Woodstock: The Movie changed everything for his singer.
"At Woodstock we were on at five o'clock in the morning when everybody was asleep, stoned, exhausted," Townshend told Uncut (via Guitar.com).
"We began playing 'Listening To You I Get The Music ['See Me, Feel Me'] and the sun started to come up. Eventually the whole audience stood up.
"I think it's because it's a prayer, a dedication to the human spirit. That's kind of magical. It's not about power. We're just playing this f**king song; the song is doing it."
He added: "Roger may have thought he was doing it, I don't know. I'm often a bit disparaging about Roger in that era, but he came out of that Woodstock movie a rock god.
"[Before that he was ] a short-haired singer in a band where Keith Moon and John Entwistle and Pete Townshend were probably a bit more important than him."
"Maybe we got less birds, but we were more important than him. Suddenly he was not only equal to us, he was a central figurehead. It was a change in the system."
The Who -- See Me, Feel Me -- Live at Woodstock 1969
It's been a busy year for The Who, with the band playing a massive UK greatest hits tour, while they're reading a dizzyingly exhaustive re-release of Who's Next as Who's Next | Life House, the band's classic 1971 album that featured 'Won't Get Fooled Again', 'Baba O'Riley' and 'Behind Blue Eyes'.
Guitarist Townshend has also released his first solo single in nearly 30 years, a song about lockdown.
'Can't Outrun The Truth' was written and produced by Charlie Pepper – a pseudonym for his partner Rachel Fuller.