David Jason interview: TV legend recalls classic Only Fools moments and meeting the Queen
7 September 2021, 16:35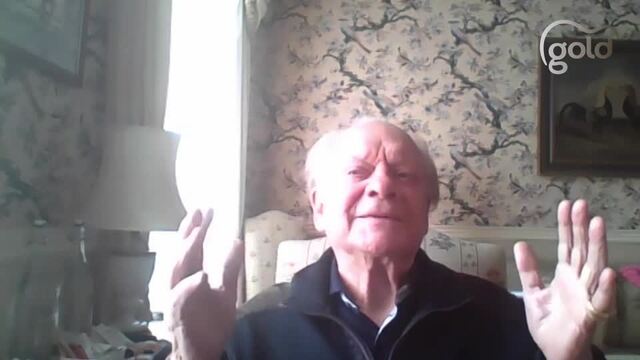 Gold's David Jason full interview
Sir David Jason is a true legend of TV, and the Only Fools and Horses actor caught up with Gold's James Bassam for a new interview.
With Only Fools and Horses turning 40 in 2021, James caught up with Sir David about his brand new book of life lessons, plus looked back at his favourite Only Fools moments, and revealed why meeting the Queen was a bit of a disappointment.
Watch the interview in full above.
David Jason's new book A Del of a Life sees the legendary actor give some lessons of wisdom he's gathered over the years.
When James asked what lessons he may have learned himself from his most famous character Del Boy Trotter, David said: "Well, I suppose he did in one way which was 'to thine own self be true'.
"And what that is, that the more you watch Derek Trotter, his heart is in the right place. Ok, yeah, he tries to wheel and deal a bit and a bit fell off the back of a lorry, but his heart is in the right place.
"His friends and family are paramount to him and people like him. And so I always had such an endearment towards him because that is Del, he wears his heart on his sleeve and he's not a very good businessman, he's terrible, but he's just a loveable idiot."
The actor also looked back at when he was knighted by the Queen in 2005. He revealed how proud he was of the accolade, but also why it was something of a disappointment.
"It was a very, very special and unbelievable day," he said. "Because not many people get that close to the Royal Family, and the Queen, particularly.
"She's the sort of person that you see all the time on television and in newspapers and all of this, and then to actually see Her Majesty, it's really quite exciting and moving.
"The only slight disappointment that I felt about the whole thing because the expectancy is so high when you've read about things like the knights of the round table, Sir Galahad, King Arthur and his knights, that you often read about someone being knighted and you expect that when she places the sword upon your shoulders she says, 'You go on your knees as David Jason and you arise as Sir David Jason.'
"And the sword is placed on either of your shoulders, 'Arise, Sir David Jason.' And that is the moment of extreme pleasure and the biggest and best thing that has ever happened to you in your entire life.
"But unfortunately, I was expecting this and I'm there on one knee, pausing as the Queen takes her sword up and goes 'dum dum'. 'Right, there you are.' And I was, 'Where's the bit about 'Arise Sir David' and all that?', and that didn't come, so I was disappointed!"
A Del of a Life by Sir David Jason is out now.