Bee Gees legend Barry Gibb gets a special set of Isle of Man stamps in his honour
3 November 2021, 11:57 | Updated: 16 November 2023, 12:26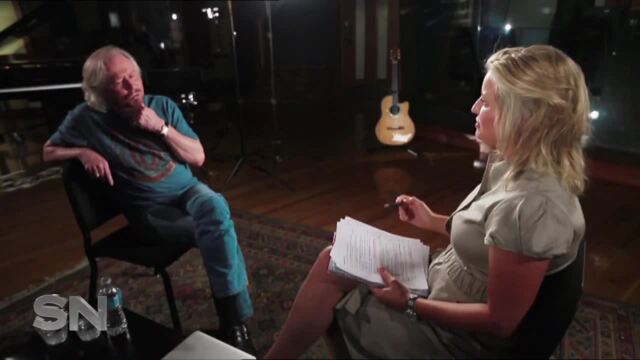 Barry Gibb emotionally reflects on losing his brothers
The Isle of Man recognises one of its most famous Manxmen with a special set of seven stamps.
Bee Gees legend Barry Gibb is one of the most famous people to ever come from the Isle of Man.
So it's entirely fitting that the island's Post Office has chosen to recognise the musical career and charity work of its talented son with a special set of seven stamps in his honour.
"I'm very proud of my Manx roots," Barry Gibb said. "I was born and bred on the ancient, mystical, magical Isle of Man, and I have very fond memories of growing up there.
"So to appear on a set of its stamps is not only a wonderful surprise, but also an honour and a privilege."
Gold's Hall of Fame: Bee Gees
The Honourable Laurence D Skelly, President of Tynwald - Eaghtyrane dy Tinvaal added: "May I offer my sincere congratulations to Isle of Man Post Office for this special edition stamp issue in honour of Sir Barry Gibb. 
"The Gibb brothers (Bee Gees) are arguably the most famous Manx export.
"Throughout their careers they have all been outstanding ambassadors of the Isle of Man and so proud of their birthplace and I believe this issue and commemoration is fitting for the last surviving brother, Sir Barry Gibb."
Barry was born at the Jane Crookall Maternity Home in the Isle of Man's capital Douglas on September 1, 1946.
He and his brothers moed to Manchester in 1955, then on to Australia in 1958. They returned to the UK in 1967, though barry now lives in Miami in the US.
As well as being a rock and disco superstar, Barry has given his time to UNICEF, Princes Trust, Nordoff Robbins, the Diabetes Research Institute, the National Association of Police Athletic/Activities League, and Whatever It Takes.
At Barry's request, the stamp issue will help raise awareness for Nordoff Robbins, a charity that explores the use of music therapy for those affected by isolation, disability or life-limiting illness.
The full details of the Isle of Man stamps are as follows:
Stamp 1: during the filming of the Bee Gees 1969 TV Special Cucumber Castle (photograph by Mike Randolph /Paul Popper/Popperfoto via Getty Images).
Stamp 2: a portrait in the late 1970s at his home in Miami, Florida USA (photograph by Ed Caraeff).
Stamp 3: On the set of the film Sgt. Pepper's Lonely Hearts Club Band, Los Angeles, October 1977 (photograph by Michael Putland/Getty Images).
Stamp 4: All For One Tour of Europe, 1989 (photograph by Denis O'Regan).
Stamp 5: in concert at The Ahoy in Rotterdam, 1989 (photographer unknown).
Stamp 6: Glastonbury Festival, England - June 25, 2017: Barry Gibb performs the 'Legends' slot at Worthy Farm, Pilton (photograph by Samir Hussein - Redferns).
Stamp 7: performing at his home studio, 2019 (photograph by Desiree Prieto).