The Million Dollar Quartet: The story of rock 'n' roll's ultimate supergroup
31 October 2022, 13:04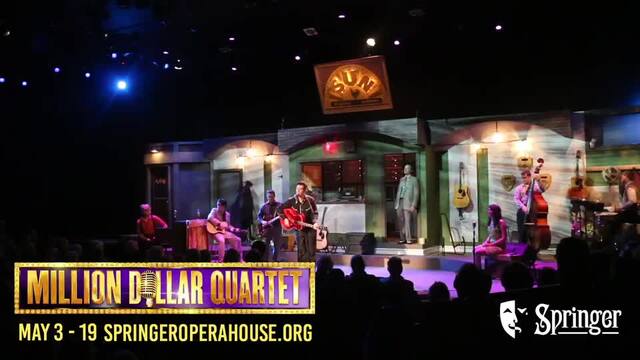 Million Dollar Quartet - Theatre trailer
How an impromptu jam session captured an incredible moment in rock 'n' roll history.
When Jerry Lee Lewis died last week, it wasn't just the death of one of the last rock 'n' rollers.
Before his passing, Lewis was the last surviving member of rock 'n' roll's greatest supergroup.
Okay, the foursome of Jerry Lee Lewis, Elvis Presley, Carl Perkins and Johnny Cash weren't a "proper" touring or recording band.
But on December 4, 1956, purely by chance, this incredible collection of performers – dubbed the Million Dollar Quartet – did get together in the studio and have a jam.
Fortunately, a man named Jack Clement had the presence of mind to press record, and this incredible moment was captured forever. Here's the story of how it all happened.
In January 1956, Carl Perkins released 'Blue Suede Shoes' on Sun Records, scaling the country, rhythm and blues and Hot 100 charts and becoming a superstar in the process.
Quick off the mark, Perkins' ex-labelmate Elvis Presley recorded his own cover the very same month, performed it live in February, and released his studio version in September.
Meanwhile, Johnny Cash had launched his career with his debut 'Cry! Cry! Cry!' in June 1955, cementing his position with further country hits, including 'I Walk The Line'.
For his part, Jerry Lee Lewis was a relative unknown outside of Memphis in late 1956, with 'Whole Lotta Shakin' Going on' and 'Great Balls of Fire' still a few months away.
Here's how they all got together.
It was Carl Perkins who had a session booked at the Sun Record Studios in Memphis, Tennessee to record some new songs, including his own 'Matchbox', which riffed on some old blues lyrics by Ma Rainey and Blind Lemon Jefferson.
Joining him were his brothers Clayton and Jay Perkins, as well as drummer WS Holland.
Looking to fill out the sound, Sun Records boss Sam Phillips brought along his new signing Jerry Lee Lewis – at that point yet to release a record for Sun – to add some tinkles on his Wurlitzer Spinet.
So that's half the quartet there already.
As they played, history was knocking on the door.
Elvis Presley had left Sun Records a year earlier, with RCA Victor buying out his contract for $40,000. That may not sound like a lot, but it was a record at the time, and equivalent to $440,000 today.
But he was still on good terms with Sam and Sun, and he swung by the studio for a visit with his then-girlfriend Marilyn Evans.
He had a natter with Phillips before listening to a playback of the session – there are clearly perks of being an ex-label star and the current King of Rock and Roll.
Then, Elvis popped into the studio and Presley and Perkins started to jam, with Lewis still there on the piano.
That's three out of four and counting...
Elvis Presley - That's All Right (Official Music Video)
According to Cash himself, he too was eager to listen to Perkins in the studio and swung by for that reason.
Of all four, it's hardest to make Cash out on the final recordings. There's a bit of debate about when Cash turned up, in fact.
"I was the first to arrive and the last to leave, contrary to what has been written," he claimed in his 1997 autobiography Cash.
"I was just there to watch Carl record, which he did until mid-afternoon, when Elvis came in with his girlfriend.
"At that point the session stopped and we all started laughing and cutting up together."
Don't Be Cruel (Version 1)
He added: "Then Elvis sat down at the piano, and we started singing gospel songs we all knew, then some Bill Monroe songs.
"Elvis wanted to hear songs Bill had written besides 'Blue Moon of Kentucky', and I knew the whole repertoire.
"So, again contrary to what some people have written, my voice is on the tape.
"It's not obvious, because I was farthest away from the mic and I was singing a lot higher than I usually did in order to stay in key with Elvis, but I guarantee you, I'm there."
I Hear A Sweet Voice Calling
Whenever the foursome was complete, engineer Jack Clement thought to himself "I think I'd be remiss not to record this".
That was quite an understatement. The Million Dollar Quartet sped through nearly fifty songs – mainly gospel but also country and rockabilly standards – in just over an hour and a quarter, before Elvis bid goodbye.
Sam Phillips knew publicity as well as he knew pop, and got on the phone to the local Memphis Press-Scimitar newspaper to tell them what was going down.
You're The Only Star In My Blue Heaven
The paper's entertainment editor Bob Johnson witness proceedings and wrote it up for the following day's paper under the headline Million Dollar Quartet.
His piece was accompanied by the picture by George Pierce showing all four men around a piano.
The iconic image was actually a crop of a larger image, which showed Marilyn Evans perched on the edge of the piano being played by her beau.
The full list of songs performed by the Million Dollar Quartet is as follows:
Instrumental
Love Me Tender - Instrumental
Jingle Bells - Instrumental
White Christmas - Instrumental
Reconsider Baby
Don't Be Cruel
Don't Be Cruel
Paralyzed
Don't Be Cruel
There's No Place Like Home
When The Saints Go Marchin' In
Softly and Tenderly
When God Dips His Love in My Heart
Just a Little Talk with Jesus
Jesus Walked That Lonesome Valley
I Shall Not Be Moved
Peace In The Valley
Down By the Riverside
I'm with a Crowd But So Alone
Farther Along
Blessed Jesus
On the Jericho Road
I Just Can't Make It By Myself
Little Cabin Home on the Hill
Summertime Is Past and Gone
I Hear a Sweet Voice Calling
Sweetheart You Done Me Wrong
Keeper of the Key
Crazy Arms
Don't Forbid Me
Too Much Monkey Business
Brown Eyed Handsome Man
Out of Sight, Out of Mind
Brown Eyed Handsome Man
Don't Forbid Me
You Belong to My Heart
Is It So Strange
That's When Your Heartaches Begin
Brown Eyed Handsome Man
Rip It Up
I'm Gonna Bid My Blues Goodbye
Crazy Arms
That's My Desire
End of the Road
Black Bottom Stomp
You're the Only Star in My Blue Heaven
Elvis Says Goodbye
As for what happened to that tape that Clement recorded, originally it was absolutely nothing.
While all four men's celebrity grew in the years that followed, it was likely thought that there wasn't much point in releasing a tape of them messing about together to the general public.
That changed in 1969 when Shelby Singleton bought Sun Records and slowly scoured the archives.
It took a while, but a chunk of the sessions – 17 tracks – were first released in 1981 under the title The Million Dollar Quartet.
In the years that followed, more and more of the songs slowly came to light, with a double album The Complete Million Dollar Session being released in 1987.
A 50th-anniversary edition released in 2006 was based on three reels found in Elvis's own collection, which put everything back in the right order and popped back in 12 minutes of previously-unreleased material.
It's thought that this ultimate version is 95% of the entire session featuring all four men.
Johnny Cash later claimed that they had laid down versions of Elvis singing 'This Train is Bound for Glory' and 'Vacation in Heaven', but even if they exist, neither recording has been found.
Class of 55 - This Train Is Bound For Glory (Cash Christmas Special)
Before the songs were released, there was the myth. Incredibly, the tapes actually delivered.
Since then, the legend and legacy has only grown.
Sadly, the quartet never again united, but after Elvis's death, the remaining trio got together on several occasions.
First was Cash, Perkins and Lewis performing 'This Train is Bound for Glory' on the Johnny Cash Christmas Special in 1977, along with special guest Roy Orbison – another Sun Records artist.
Rock And Roll (Fais-Do-Do)
Then in 1982, Cash, Lewis and Perkins released The Survivors Live, a document recorded during Cash's 1981 European tour.
Finally, in 1986 the Mark II quartet of Cash, Lewis, Perkins and Orbison went to the original Memphis Recording Service Building to record the Class of '55: Memphis Rock & Roll Homecoming album and an accompanying chatter/interviews collection.
The original sessions were immortalised in a stage musical Million Dollar Quartet, which premiered at Florida's Seaside Music Theatre in 2007, before making its way to the Nederlander Theatre on Broadway in 2010 and moving to the Noël Coward Theatre in London's West End the following year.