Remembering when Johnny Cash stormed the Glastonbury Festival
21 June 2023, 16:29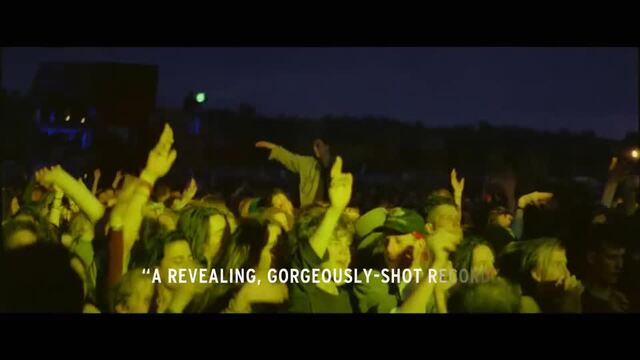 Watch the trailer for Glastonbury – The Movie
The time The Man in Black rolled up to Pilton and blew away the youngsters with a career-spanning set.
The so-called Legend's Slot has become a Glastonbury Festival tradition in recent years.
Everyone from Dolly Parton, Neil Diamond and Leonard Cohen to Kylie Minogue and Diana Ross has rocked up on Sunday afternoon in the past couple of decades.
As a dedicated slot, it's a relatively recent thing, but older artists have always had a place on the ever-eclectic Glastonbury lineup.
It was the stunning performances across the weekend from veteran acts that led to the idea of Sunday afternoon Legend's Slot, and one of the key sets came in 1994.
Johnny Cash was nestled on the Pyramid Stage bill on Sunday, June 26, between Jackson Browne and James – a stage headlined by Peter Gabriel later that evening.
The stage itself had been provided last minute after the original structure burned down earlier in the month. Tickets were priced at a reasonable-sounding £59.
Oasis - Live Forever (Glastonbury 1994)
The key factor in a perfect festival set is timing.
There are countless amazing artists out there who have played amazing festivals over the years, but the trick is to play the right place at exactly the right time.
Oasis were one such example in 1994, having broken through that year with the release of their debut single 'Supersonic' and album Definitely Maybe.
Despite his intriguing Johnny 99 album in 1983 and his triumphant Highwaymen supergroup in the middle of the decade, many fans had dismissed Cash as a still-viable artist by the start of the 1990s.
Then in 1993, Cash hooked up with producer Rick Rubin, who stripped everything back down and took Cash back to basics for the American Recordings album.
It made Johnny an artist reborn, sparking a late-career phase that featured six albums packed with heartfelt covers mingled with Cash originals.
American Recordings was released in April 1994, but despite universal critical acclaim, it hadn't set the charts alight.
So a couple of months later as a head of steam was building was the perfect time for Cash to reconnect with a live audience and show that he absolutely, positively still had it.
Rubin had encouraged Cash to play gigs to younger audiences who may not have been long-standing fans of his, which is how he ended up at a muddy farm in Somerset that afternoon.
After a short talk by the Bishop if Bath and Wells (Glastonbury simply isn't like other festivals), on came Johnny Cash with his immortal words: "Hello, I'm Johnny Cash."
Cash played a career-spanning set, including a number of his own songs, mixed up with covers of other songs he'd long made his own on record.
Johnny Cash (Glastonbury 1994) [01]. Folson Prison Blues
He kicked off with 'Folsom Prison Blues' backed by his band of Bob Wootton on guitar, WS Holland on drums, Dave Roe on bass, and his son John Carter Cash on backing vocals and rhythm guitar.
The band took five for a solo acoustic segment featuring a quartet of songs from the American Recordings album – 'Delia's Gone', 'The Beast in Me', 'Let the Train Blow the Whistle', and 'Bird on the Wire' – before the band returned to see out the set.
Johnny's wife June Carter Cash joined him for duets on 'Jackson' and 'If I Were a Carpenter' later in the set, which was closed with 'Orange Blossom Special' before an encore of 'A Boy Named Sue'.
Johnny Cash (Glastonbury 1994) [03]. Ring of Fire
The full Johnny Cash setlist at Glastonbury 1994 was as follows:
Folsom Prison Blues
Get Rhythm
Sunday Mornin' Comin' Down (originally by Kris Kristofferson)
Ring of Fire (originally by Merle Kilgore)
Riders in the Sky (originally by Stan Jones and his Death Valley Rangers)
Guess Things Happen That Way
Delia's Gone (traditional)
The Beast in Me (originally by Nick Lowe)
Let the Train Blow the Whistle
Tennessee Stud (originally by Jimmy Driftwood)
Bird on the Wire (originally by Leonard Cohen)
The Man Who Couldn't Cry (originally by Loudon Wainwright III)
Redemption
Big River
Jackson (originally by Billy Edd Wheeler)
If I Were a Carpenter (originally by Tim Hardin)
Orange Blossom Special (originally by Rouse Brothers)
A Boy Named Sue (originally by Shel Silverstein)
Johnny Cash (Glastonbury 1994) [15]. A Boy Named Sue
"I found acceptance and appreciation in different places," Cash said in his 1997 autobiography. "At the Glastonbury Festival in England I sat on my stool and played my songs for an audience of a hundred thousand people who really listened, and that night I realised I'd come full circle, back to the bare bones of my music, pre-stardom, pre-electric, pre-Memphis.
"I could have been back in Dyes, singing with just Moma to hear me on the front porch under the clear night sky of Arkansas in the 1940s with the panthers screaming in the bush, and it seemed, finally and almost miraculously, that the audience enjoyed that feeling almost as much as I did."
At the close, Cash even went and yoinked the Bishop who had been watching backstage to join him for a bow.
Melody Maker called the show "absolutely brilliant", while Paul Moody wrote in the NME: "Here's a man so capable of putting on a show that we simply fall into the palm of his hand and let him take control... it's a legend come to life before our eyes.
A decade after Cash's death, Glastonbury founder Michael Eavis told the NME: "I booked Johnny Cash to play at Glastonbury in 1994. He was spellbinding, bloody brilliant.
"That was one of my best bookings of all time. This was when Johnny wasn't nearly as fashionable as he was after 'Hurt'."
He added: "Some of the youngsters thought I'd gone crazy, as they believed I should be booking new stuff all the time.
"They thought he was just a daft old country singer. But he was so good. I can't choose one song as my favourite, I'd have a shortlist of 100."
During the set, a visibly emotional Cash had told the crowd that he hadn't expected the glorious reception they had given him. By the end of the set, Glastonbury was his.