Adam Ant facts: Age, songs, relationships and real name of the new wave superstar
29 June 2023, 14:00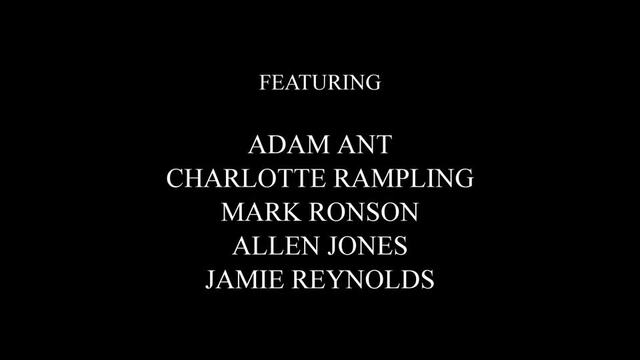 Adam Ant – The Blueback Hussar documentary trailer
He's the dandy highwayman but we're definitely not scared to mention him... it's Adam Ant!
Of all the bands who straddled that line between new wave and New Romantic, Adam and the Ants were among the very biggest and best.
Fronted by Adam Ant (gettit?) they lasted for just five dizzying years before breaking apart, but they left a massive legacy.
Since then, Adam Ant has continued to tour and record, while you can increasingly hear his old band as an influence on modern groups.
But do you know what Adam Ant's real name is, or which cheeky manager stole his band right out from under him?
Read on for everything you might want to know about Adam and the Ants.
How old is Adam Ant and what's his real name?
Adam Ant was born Stuart Leslie Goddard on November 3, 1954, in Marylebone, London. He celebrated his 68th birthday in 2022.
"I really knew I wanted to be Adam, because Adam was the first man," he said in 2011 of his stage name.
"Ant I chose because, if there's a nuclear explosion, the ants will survive."
Plus, Adamant! A great pun.
ADAM AND THE ANTS - DEUTSCHER GIRLS (Jubliee Soundtrack Version)
He was the only child of ex-RAF man and chauffeur Leslie Alfred Goddard and embroiderer mum Betty Kathleen Smith, who once also worked as a cleaner for Paul McCartney. Adam also had Romani heritage on his mum's side.
Adam went to Robinsfield Infants School, where he caused quite a bit of trouble after throwing a brick through the headteacher's office window two days in a row.
He went on to Barrow Hill Junior School and St Marylebone Grammar School, before later dropping out of Hornsey College of Art to focus on music.
When did Adam and the Ants form and who was in all their lineups?
The one ever-present in all the Adam and the Ants lineups has been Adam himself.
Before the Ants, Goddard played bass in a group called Bazooka Joe, but his world turned upside down when he saw the fledgling Sex Pistols play their first-ever gig in 1975.
He picked his stage name, and formed a band called The B-Sides with guitarist Lester Square and bass player Andy Warren, with drummer Paul Flanagan joining soon after.
They soon changed their name to The Ants and played a set supporting Siouxsie and the Banshees at the Roxy in April 1977.
After then the band underwent a number of lineup changes. Square quit to finish up at art school and was replaced by Mark Ryan.
Then Flannagan was replaced by Dave Barbarossa, before Ryan was replaced by Johnny Bivouac, and it was around this time they formally became Adam and the Ants.
Adam & The Ants - Kings of the Wild Frontier
This lineup scored a record deal with Decca, and around this time were often featuring their manager and punk icon Jordan on vocals.
After a while though Jordan parted ways with the Ants, as did Bivouac, who was replaced by Matthew Ashman.
The Adam Ant - Matthew Ashman - Dave Barbe - Andrew Warren lineup recorded the group's debut album Dirk Wears White Sox.
Ashman was briefly sacked but returned, while Warren was sacked for good, being replaced by Leigh Gorman.
Then came the biggest lineup change of all, and it happened in an incredibly awkward way.
An old associate of Malcolm McLaren, Adam asked the controversial former Sex Pistols manager if he'd be interested in managing his group.
McLaren being McLaren, he instead convinced all the then-Ants – Matthew Ashman, Leigh Gorman and Dave Barbe – to quit the band.
He signed them up for his new group Bow Wow Wow, fronted by Annabella Lwin, a 13-year-old girl who had been overheard singing in a dry cleaners.
Not going to be put off, Adam formed a new backing band, made up of Chris 'Merrick' Hughs and Terry Lee Miall on drums, Kevin Mooney on bass and Marco Pirroni on guitar. After about a year, Mooney was replaced by Gary Tibbs.
What were Adam and the Ants' biggest songs?
Adam & The Ants - Stand And Deliver (Video)
After all that turmoil, it was actually the later incarnation of Adam and the Ants that scored the biggest hits.
The group's second album Kings of the Wild Frontier wasn't just a number one record, but ended up as the biggest selling album of 1981.
It spawned a clutch of hit singles, as did its follow-up Prince Charming.
Adam and the Ants biggest songs were:
Young Parisians
Kings of the Wild Frontier
Dog Eat Dog
Antmusic
Stand and Deliver
Prince Charming
Ant Rap
Deutscher Girls
After the break-up (more on that soon) Adam Ant continued to have solo success, and had hits including:
Goody Two Shoes
Friend or Foe
Puss 'n Boots
Strop
Apollo 9
Room at the Top
Cool Zombie
When did Adam and the Ants break up and what did Adam Ant do after the Ants broke up?
Adam & The Ants - Prince Charming
Adam and the Ants' end was if anything more sudden and explosive than their meteoric rise.
All of a sudden in March 1982, Adam Ant disbanded the group with little explanation.
It later emerged that Adam felt some of the band weren't pulling their weight, saying: "The interest just wasn't there any more. It might have been Adam and the Ants on the billboards but not on stage."
It was rumoured that Pirroni no longer wanted to tour, but Adam retained him as a co-writer as he went headlong into his solo career.
Initially, he was every bit as successful on his own, with 'Goody Two Shoes' going to number one.
Follow-up 'Friend or Foe' went top 10, while a later single 'Puss 'N Boots' reached number 5.
Adam released three charting albums in the 1980s and another couple in the 1990s before taking an extended break after his 1995 album Wonderful.
Adam Ant - Goody Two Shoes
Over the years, Adam has been very open about his mental health struggles and battles with anorexia, depression and bipolar disorder, with his condition and medication being a key reason for his music career taking a back seat for a couple of decades.
He returned in 2010 and released the comeback album Adam Ant Is the Blueblack Hussar in Marrying the Gunner's Daughter in 2013, which went to number 25 in the charts, while he continues to tour to this day.
Have Adam and the Ants ever had a reunion?
Adam & The Ants - Antmusic
The Ant/Pirroni/Hughes/Miall/Mooney/Tibbs lineup has never reformed.
Adam did reform with Barbe and Gorman to play their debut Dirk Wears White Sox in full at a one-off show at the Hammersmith Apollo in 2014, with only Ashman – who died in 1995 – absent.
Is Adam Ant married and does he have any children?
Adam Ant got married for the first time in 1975 to Carol Mills, when they were both studying at Hornsey College of Art.
They divorced in 1982, and Adam married PR assistant Lorraine Gibson in 1997. They had a daughter Lily Caitlin Goddard a year later, but were divorced in 2002.
Over the years he is reported to have had romantic relationships with Amanda Donohoe, Jamie Lee Curtis and Heather Graham.