'Heart of Glass' by Blondie: The making of the genre-defying new wave disco smash
19 June 2023, 13:54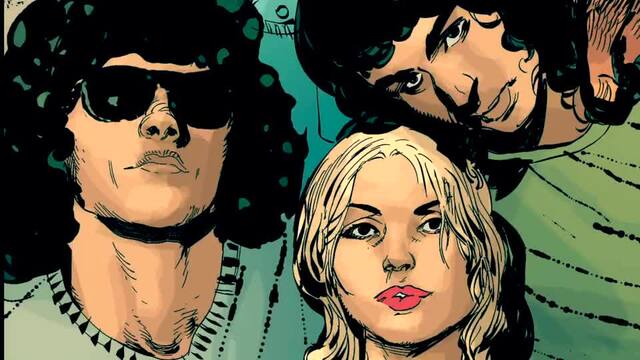 Blondie Against All Odds box set graphic novel trailer
Blondie took a long while to get 'Heart of Glass' right, but it was definitely worth the wait.
Both in their original run and since their triumphant 1990s reunion, Blondie have released album after album of incredible music.
Whether it's old-school classics like 'Hanging on the Telephone', 'One Way Or Another' and 'Atomic' or post-comeback material like 'Maria' and 'Fun', it's hard to pick out their very best song.
Without a doubt though, their 1979 single 'Heart of Glass' is one of their finest moments.
But do you know how long the band had the song up their sleeves, or how many times they tried to record it before they finally got it right?
Ahead of their upcoming Glastonbury performance, we tell you everything you ever wanted to know about their punk-pop-new-wave-disco smash hit.
Who wrote 'Heart of Glass'?
Blondie's back catalogue is a carefree mix of mainly original material and covers of existing hits (Buddy Holly's 'I'm Gonna Love You Too', The Nerves' 'Hanging on the Telephone', The Paragons 'The Tide is High' and Randy & the Rainbows' 'Denis(e)'.
There were also songs written especially for the group, with Jack Lee of The Nerves' giving the band 'Will Anything Happen?' for their Parallel Lines album.
'Heart of Glass' was written in-house, and like so many of their very biggest hits, it came from the romantic/writing partnership of Debbie Harry and Chris Stein.
The Disco Song (1974 Session)
Blondie's first single was 1976's 'X Offender', but despite not coming out until their third album 'Heart of Glass' actually predates that.
Debbie and Chris wrote an early version of the song in the band's very earliest days, back in 1974, laying it down as a demo in 1975.
Back then though, the song had a different name and a slightly different style, too.
Once I Had A Love (AKA The Disco Song)
With its working title taken from the opening lyric, 'Once I Had A Love' was inspired by Hues Corporation's disco hit 'Rock the Boat' and was informally known as 'The Disco Song'.
It had a slower sound than the version that was eventually released, but still had that disco beat that would make it sound unlike anything else in the new wave sphere.
In 1978, the band gave it another go, re-recording a new demo with the same title, but popping it up a bit. It still wasn't quite there.
Once I Had A Love (AKA The Disco Song)
'Heart of Glass' was one of the first songs Blondie wrote, but it was years before we recorded it properly," Debbie Harry told The Guardian.
"We'd tried it as a ballad, as reggae, but it never quite worked. At that point, it had no title. We just called it 'the disco song'."
So the song went back on the shelf, while Blondie carried on writing, recording and releasing smash after smash after smash.
When it came to recording Parallel Lines, the band's masterpiece, producer Mike Chapman asked the band to hit him with everything they had.
They ripped through their repertoire of unrecorded material, when he asked if they had anything else knocking about.
"We sheepishly said, 'Well, there is this old one'," Debbie remembered. "He liked it – he thought it was fascinating and started to pull it into focus."
As for how a punky, poppy new wave band ended up releasing a song that had such a glittery disco spirit, there were plenty of controversies ("Clem Burke, our drummer, refused to play the song live at first," said Stein) and still a bit of debate.
Of course, you can hear the disco influence on the very first demos of the song – they didn't nickname it 'The Disco Song' for nothing,
Meanwhile, Blondie were known to cover disco hits like Labelle's 'Lady Marmalade' and even Donna Summer's 'I Feel Love' in concert, but Mike Chapman has occasionally claimed that he pushed for the band to make it even more discofied.
"The original arrangement of 'Heart of Glass'—as on the [1975] Betrock demos—had doubles on the high-hat cymbals, a more straight-ahead disco beat," Chris Stein told Trouser Press in 1982.
"When we recorded it for Parallel Lines we were really into Kraftwerk, and we wanted to make it more electronic. We weren't thinking disco as we were doing it; we thought it was more electro-European."
So you could argue that 'Heart of Glass' didn't really come together until keyboard player Jimmy Destri brought a Roland drum machine and synth.
Blondie - Heart of Glass 1999 "NYC" Live Video HQ
Back then synchronisation was tricky, with everything having to be recorded in real time.
"On old disco tracks, the bass drum was always recorded separately, so Clem had to pound away on a foot-pedal for three hours until they got a take they were happy with,' Stein recalled.
And it's fair to say that Mike Chapman's single remixed is the most disco the sound ever sounded, with that bass drum being double-tracked to make it even more dancefloor friendly.
What is 'Heart of Glass' actually about?
While some Blondie songs were based on real life ('One Way Or Another' was inspired by Debbie having an actual stalker), that wasn't the case for 'Heart of Glass'.
"The lyrics weren't about anyone," Debbie said. "They were just a plaintive moan about lost love."
"Once I had a love and it was a gas / Soon turned out had a heart of glass" pretty much says it all.
Blondie Heart Of Glass Live Midnight Special
We can't talk about the lyrics for 'Heart of Glass' without making special mention of a couple of lines, though.
Firstly, we have to congratulate that gloriously cheeky twist from "heart of glass" to " pain in the ass" in the final verse.
And apparently, at one point in the song's gestation, it was non-stop "ass".
"At first, the song kept saying, 'Once I had a love, it was a gas. Soon turned out, it was a pain in the ass'," Debbie revealed.
"We couldn't keep saying that, so we came up with, 'Soon turned out, had a heart of glass'. We kept one 'pain in the ass' in – and the BBC bleeped it out for radio."
Secondly, we can celebrate the introduction of the often-misheard Spanglish phrase "mucho mistrust" (i.e. a lot of mistrust) into the vernacular.
Blondie - Heart of Glass (Live in Havana, 2019) (Official Audio)
"I came up with the phrase 'heart of glass' without knowing anything about Werner Herzog or his movie of the same name, which is a great, weird film," Chris Stein told The Guardian.
"It's nice people now use the song to identify the period in films and documentaries."
He added: "I never had an inkling it would be such a big hit, or become the song we'd be most remembered for. It's very gratifying."
When was 'Heart of Glass' released and where did it get in the charts?
After they finally got it right 'Heart of Glass' was first found on the band's Parallel Lines album in September 1978.
The album went all the way to number one in the UK, the same as its predecessor Plastic Letters.
It was also their breakthrough in their native US, going all the way to number 6 (Plastic Letters had only scraped to 72, by comparison).
Parallel Lines has gone platinum on both sides of the Atlantic, shifting over a million and a half copies in each country.
'Heart of Glass' was also released as a single in January 1979, with 'Rifle Range' on the B-side in the UK, and '11:59' on the flip in the US.
It went to number one in both the UK and the US – their first number one in either country.
Previously, 'Denis' had stalled at number 2 in the UK for three weeks, being kept off the top by Kate Bush's 'Wuthering Heights' for a fortnight and Brian and Michael's 'Matchstalk Men and Matchstalk Cats and Dogs'.
It went Gold in the US and Platinum in the UK, with a million copies sold in each.
Who has covered 'Heart of Glass'?
You might think that 'Heart of Glass' would be covered loads and loads, given it's such an enduring, catchy hit, but we bet its tricky rhythms have likely turned off many big name artists, too.
One of the most high-profile takes on the song included an instrumental version by The Shadows as early as 1979.
Gisele Bündchen - Heart of Glass (Official Video) ft. Bob Sinclar
There was also a single cover by The Associates in 1988 and the supermodel Gisele Bündchen's, er, interesting recording with DJ Bob Sinclar for H&M.
One of the very best covers came from Miley Cyrus, who performed 'Heart of Glass' in concert in 2020.
Miley Cyrus - Heart Of Glass (Live from the iHeart Festival)
Such was the response to the performance, the song was released as a single and was even praised by Blondie themselves.
"We think @MileyCyrus nailed it 🖤," said the group on Twitter. "Check it out"