Aretha Franklin: The Queen of Soul's songs, children, awards, Civil Rights work and death
22 March 2022, 11:17 | Updated: 10 March 2023, 13:20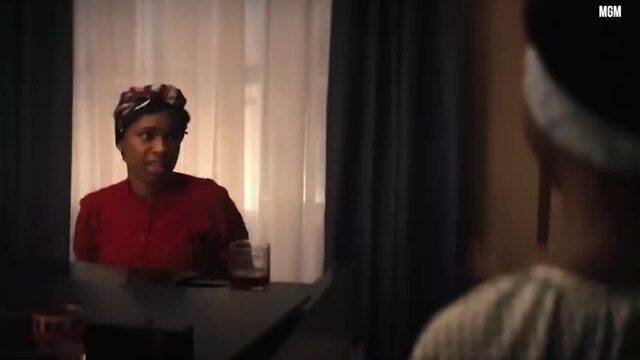 Trailer for Aretha Franklin biopic 'Respect'
The Queen of Soul was an era-straddling superstar with over a hundred singles across the decades.
A singer, a songwriter, a pianist, activist, and the undisputed Queen of Soul, Aretha Frankin was one of the greatest performers in history and an absolute force of nature.
From her earliest gospel beginnings, through jazz and R&B, Aretha was a soul pioneer who changed the face of music.
Director Liesl Tommy's Aretha biopic Respect starring Jennifer Hudson in the lead role launched in 2021, which makes it the perfect time to look back at the singer's life and work.
Where and when was Aretha Franklin born?
Aretha Louise Franklin was born on March 25, 1942, to piano player/singer mum Barbara and Baptist minister dad Clarence LaVaughn 'CL' Franklin.
She was one of four children the couple had, though she also had step-siblings from both her parents' previous relationships.
Aretha was born at her family home at 406 Lucy Avenue, Memphis, Tennessee, but the family moved to Buffalo, New York when Aretha was two, and then Detroit by the time she was five.
Her parents split up a year later, and Aretha lived with her dad but saw her mother often. Her mum died in 1952, before Aretha had turned 10.
How did Aretha Franklin get into music?
Aretha had music in her blood. As well as her mother's singing and piano playing, her dad's job as a circuit preacher won him praise for his strong voice.
Soon after her mother's death, Aretha began singing solos at the New Bethel Baptist Church where her dad was pastor.
Her first performance was the hymn 'Jesus, Be a Fence Around Me'. Her dad began managing her when she was 12, taking her on the road to perform in churches and helping her sign with JVB Records.
In 1956, when Aretha was just 14 years old, she recorded nine tracks for JVB on recording equipment set up at her dad's church.
Aretha Franklin - (You Make Me Feel Like) A Natural Woman (Official Lyric Video)
The label released 'Never Grow Old' backed with 'You Grow Closer', followed by 'Precious Lord' (Parts One and Two). The four tracks were joined by 'There Is a Fountain Filled with Blood', released as side one of the 1956 Spirituals album.
A 1965 re-release called Songs of Faith added the other five songs recorded at the church sessions.
From then, Aretha moved in soul circles, mixing with the likes of The Soul Stirrers, Marvin Gaye, Jackie Wilson, Sam Cooke, Mavis Staples, and Ray Charles and James Cleveland, among others.
When she was 18, she told her dad she wanted to move into secular pop, and moved to New York, getting signed to Columbia Records.
She had some success, but it was with her move to Atlantic Records in 1966 that Aretha's career really took flight.
What songs did Aretha Franklin sing?
Aretha Franklin - Think (Official Audio)
Way, way too many to mention them all here.
During her 60+ year career, Aretha released 38 studio albums and well over 100 singles, moving through gospel, R&B, soul and rock 'n' roll.
Her biggest hits include:
I Never Loved a Man (The Way I Love You)
Respect
Baby I Love You
(You Make Me Feel Like) A Natural Woman
Chain of Fools
(Sweet Sweet Baby) Since You've Been Gone
Think
The House That Jack Built
I Say A Little Prayer
The Weight
Share Your Love with Me
Eleanor Rigby
Call Me
Don't Play That Song (You Lied)
Bridge Over Troubled Water
Spanish Harlem
Something He Can Feel
Freeway of Love
I Knew You Were Waiting (For Me) (with George Michael)
It Isn't, It Wasn't, It Ain't Never Gonna Be (with Whitney Houston)
Willing To Forgive
Who was Aretha Franklin married to, and how many children did she have?
Aretha Franklin was married twice. She wed Ted White in 1961 when she was 18, and they got divorced in 1969.
She married Glynn Turman in 1978, and the couple got divorced in 1984.
Aretha had four sons. She had her first son, Clarence, when she was 12 years old in 1955. She had her second son, Edward, two years later.
Aretha Franklin - I Never Loved a Man (The Way I Love You) (Official Audio)
With Aretha being so young, her grandmother Rachel and older sister Erma took the lead in raising the children.
She had a third son, Ted White Jr, with her first husband in 1964. Ted went on to play guitar as part of his mum's backing band.
Aretha had her fourth son, Kecalf Cunningham, in April 1970 with her road manager Ken Cunningham.
How was Aretha Franklin involved in the Civil Rights movement?
Aretha Franklin - Respect Official Video Winner
Arguably, any African-American artist in the middle of the 20th Century had an impact on the Civil Rights movement.
That goes double for those like Franklin who performed a revolutionary fusion of gospel, soul, R&B and rock 'n' roll, and even more so when their songs had the lyrical power of 'Respect' ("That little girl done took my song away from me," said original writer/performer Otis Redding).
But beyond being a groundbreaking and socially aware musician, Aretha Franklin was also a bona fide Civil Rights, Native American rights and women's rights activist.
Her dad's fame as a preacher saw the likes of Martin Luther King Jr visit his home, and Aretha toured with King when she was just 16.
Aretha Franklin | Precious Lord | Martin Luther King Memorial | 1968
Later on, she gave money to rights groups, housed activists and performed at free benefit concerts and protests.
"Angela Davis must go free," Franklin spoke out when the activist was jailed in 1970.
"Black people will be free. I've been locked up and I know you got to disturb the peace when you can't get no peace.
"Jail is hell to be in. I'm going to see her free if there is any justice in our courts, not because I believe in communism, but because she's a Black woman and she wants freedom for Black people."
When Martin Luther King Jr was assassinated in 1968, Aretha sang one of his favourite hymns, 'Precious Lord, Take My Hand', at the funeral.
What awards did Aretha Franklin win?
Aretha Franklin Performs at the Inauguration of President Obama
Like her songs, we just don't have the space here to go through every single award that Aretha Franklin won during her remarkable life.
She picked up a whopping 18 Grammy Awards (from 44 nominations), with the first being 'Best Rhythm & Blues Recording' for 'Respect' back in 1968 and the last being Best Gospel Performance for her duet of 'Never Gonna Break My Faith' with Mary J Blige in 2008.
On top of that, she won three special Grammys: The Legend Award in 1991, the Lifetime Achievement Award in 1994 and the MusiCares Person of the Year Award in 2008.
Aretha Franklin is First Woman Ever Inducted into Rock Hall
Beyond that, there were wins at the American Music Awards and TV Land Awards, and she was also the very first woman to be inducted into the Rock and Roll Hall of Fame, picking up that accolade in 1987.
Aretha Franklin didn't just win normal pop awards though.
She was given a star on the Hollywood Walk of Fame in 1981, was given a Kennedy Center Honor in 1994, a National Arts Medal from the President in 1999, and the Presidential Medal of Freedom in 2005.
A nationwide US poll in 2018 named her The Most Popular Female Artist in America.
How did Aretha Franklin die and how old was she?
Aretha Franklin - Bridge Over Troubled Water (Official Lyric Video)
Aretha had various health problems during her lifetime, struggling with weight issues, alcoholism and smoking addiction.
She had surgery on a tumour in 2010, but returned to performing not long after.
Aretha played several live shows in 2017 and had further dates booked for the following year, but cancelled them on her doctor's advice.
By August 2018, she was being given hospice care at her Riverfront Towers home in Detroit, and she died on August 16, 2018 from a malignant pancreatic neuroendocrine tumor. She was 76.