Bay City Rollers facts: Name, songs, break-ups and reunions of the tartan-clad pop superstars
10 March 2023, 13:07 | Updated: 10 March 2023, 13:08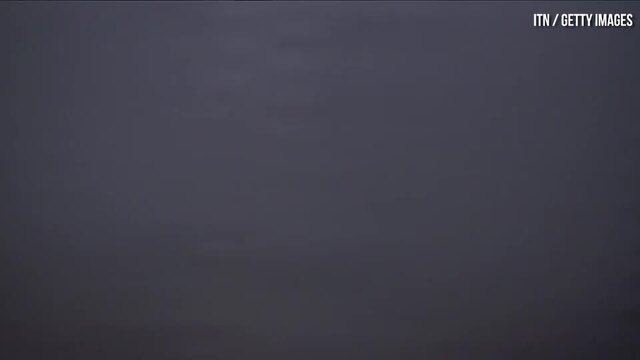 2015: Bay City Rollers stars pose outside Glasgow hotel after announcing return
The tartan teen sensations from Edinburgh were one of the biggest pop groups since The Beatles.
After The Beatles broke up at the end of the 1960s, there were plenty of pretenders to their crown as the ultimate pop heartthrobs.
One group most definitely in the conversation were Edinburgh's Bay City Rollers.
The Scottish pop superstars are reported to have sold over 120 million records, most of those in their 1970s heyday.
But do you know how far back the band's roots go? How they got their name? Or who was in their most successful lineup?
Read on for everything you ever wanted to know about Bay City Rollers.
When did the Bay City Rollers form and who was in their first recording lineup?
The Bay City Rollers were one of the great 1970s bands, but their roots stretch back all the way to the mid-1960s.
Here's how they got together.
Back in 1964 in Edinburgh, 16-year-old Alan Longmuir picked up an acoustic guitar and formed a band with his younger brother Derek on drums, with older cousin Neil Porteous also playing guitar.
Calling themselves The Ambassadors, they only ever played one live show – covering 'Wake Up Little Susie', a song made famous by The Everly Brothers in 1957.
Bay City Rollers - Summerlove Sensation • TopPop
Over the next decade, things slowly came together as members came and went and their name changed to The Saxons, briefly The Deadbeats, and then Rollers.
During this period Gordon 'Nobby' Clark became the lead singer, Alan Longmuir switched to bass, Porteous was replaced by Dave Pettigrew before Gregory Ellison joined on guitar and Dave switched to keyboards.
Gregory's brother Mike joined as a second lead singer to add harmonies. Briefly joining the band were bassist David Paton and keyboard player Billy Lyall, who went on to form Pilot.
In 1971, the Bay City Rollers released their debut single, a cover of The Gentry's 'Keep on Dancing' becoming an instant hit, peaking at number 9 in the UK charts.
How did the Bay City Rollers get their name?
Once they decided on Rollers, the group wanted to add a little more punch. The Edinburgh Rollers was probably way too parochial for a global audience. America was still the home of pop, after all.
Derek Longmuir threw a dart at map of the US and hit... Arkansas.
Well, the Arkansas Rollers just doesn't sound right at all, does it? Everyone present agreed, and Derek had another throw.
The second dart landed close enough to Bay City, Michigan for everyone to notice, and the Bay City Rollers were born.
When did Les McKeown join the Bay City Rollers?
Bay City Rollers - We Can Make Music (slide show)
Despite that top-ten hit, the Rollers failed to progress. 1972's 'We Can Make Music' and 'Mañana' stalled, as did the original version of 'Saturday Night'.
It as around this time when Clark decided to leave the group, apparently unhappy with their musical direction.
This was just around the time when the original recording of 'Remember (Sha-La-La-La)' started to scale the charts, peaking at number 6.
Back in the top ten, the Rollers needed a new singer fast. Up stepped Les McKeown, despite later admitting in his autobiography that the band was not "high on my list of bands I'd have wanted to join".
Bay City Rollers Remember Original UK Single Version Nobby Clark 1975
Nevertheless, he was in, and he soon recorded new vocals for both 'Saturday Night' and 'Remember'.
Not long after, Stuart 'Woody' Wood joined the band, replacing John Devine on guitar - and the classic line-up of the Bay City Rollers was complete.
It was the band fronted by Les McKeown, backed by the rhythm section of Alan and Derek Longmuir, and guitarists Eric Faulkner and Stuart Wood who had the biggest hits as the Bay City Rollers.
It was also around this time the Rollers swiftly changed up their image to incorporate that classic tartan and platform shoes look.
What were the Bay City Rollers' biggest songs and albums?
"SHANG-A-LANG" Bay City Rollers
While they were best known for their massive hit singles, the Bay City Rollers were also a successful albums group.
In the UK their debut Rollin' and follow-up Once Upon A Star topped the charts, while third album, Wouldn't You Like It? peaked at number three and fourth Dedication at number four – all in less than two years.
The North American albums Bay City Rollers and Rock n' Roll Love Letter topped the charts in Canada, with the first going top 20 in the US, too.
The Bay City Rollers biggest songs across their career included:
Keep on Dancing
Remember (Sha-La-La-La)
Shang-a-Lang
Summerlove Sensation
All of Me Loves All of You
Bye, Bye, Baby
Give a Little Love
Love Me Like I Love You
Saturday Night
Money Honey
Rock and Roll Love Letter
I Only Want to Be with You
It's a Game
You Made Me Believe in Magic
The Way I Feel Tonight
When did the Bay City Rollers split and reunite (and split and reunite) and how many versions of the Bay City Rollers were there at the same time?
Bay City Rollers - All Of Me Loves All Of You - 1974
With a few short gaps, at least one band called Bay City Rollers has been performing somewhere since the group formed, but it's not as straightforward as that.
Bass player Alan Longmuir left for two years from 1976, being replaced by Ian Mitchell. Mitchell himself was swiftly replaced by Pat McGlynn, who only lasted a couple of years before Alan returned as a multi-instrumentalist in 1978.
It was in 1978 when McKeown left the group, who changed their name to The Rollers and were fronted by Duncan Faure. This lineup released a trio of new wave albums before calling it a day in 1981.
Over the next couple of decades there were more reunions and break-ups than anyone could really keep track of properly, with varying numbers of original or classic Rollers actually playing in each band.
Bay City Rollers - Saturday Night (1976) • TopPop
A group of SEVEN past Rollers played in Japan in 1982 and 1983, and Les and Eric were on the Breakout album in 1985.
Less "official" was the Faulkner and Karen Prosser-fronted New Rollers who toured in the late 1980s and even released an EP called Party Harty in 1990.
Alan Longmuir and Stuart Wood joined Faulkner in 1990 for a tour as Bay City Rollers and even re-recorded some past Rollers songs.
A proper classic lineup reunion happened in 1996, when Les McKeown, Alan and Derek Longmuir, Eric Faulkner and Stuart Wood celebrated the 20th anniversary of Rollermania by playing 'Saturday Night' on Japanese telly.
Bay City Rollers (in Japan 1996) - SATURDAY Night -
Without Derek on sticks, the group reunited again for the last "official" Bay City Rollers gig at Edinburgh Castle on New Year's Eve into the new millennium in 1999.
After that the official Bay City Rollers were on pause, but that didn't stop various lineups with one or two members using the name – or at least some variation on it – for live shows.
You could see two or three completely different bands calling themselves the Bay City Rollers/Rollers/Something-Roller-Related.
All the while there were countless financial disputes between various record labels and members due to issues over the years.
In 2015, there was another proper reunion. McKeown, Wood and Longmuir reunited, while Faulkner's health issues prevented his participation.
Bay City Rollers - Bye Bye Baby (1975)• TopPop
The group even released a new single 'Boomerang', but things fell apart over various squabbles over bookings. Les bookended this short reunion by playing his own shows as Les McKeown's Bay City Rollers.
Alan Longmuir died in July 2018, while Ian Mitchell died in September 2020 and Les McKeown passed away in April 2021.
Since 2018, longstanding member Stuart 'Woody' Wood has effectively led a new generation of Bay City Rollers, with newcomers Ian Thomson on lead vocals and guitar, Marcus Cordock on bass and vocals and Jamie McGroy on drums.
That group released the Rollers' first Christmas single in 2021, while the Rollers' original singer Nobby Clark even played some of his old band's songs for the first time in half a century the following year.