Billy Joel facts: Songs, marriages, age, and why the Piano Man retired from recording
25 April 2022, 11:59 | Updated: 10 March 2023, 13:23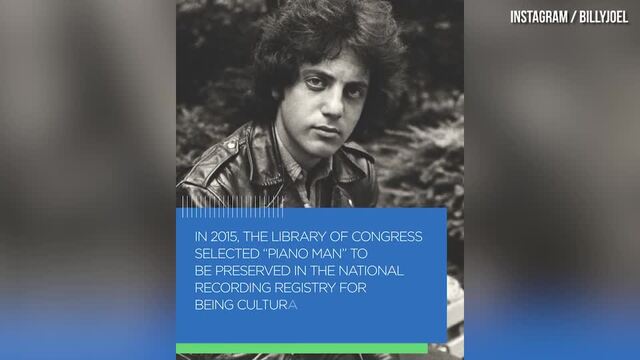 Billy Joel shares information clip on Piano Man as it enters National Recording Registry in 50 years of Billy clip
After kicking off his career in the early 1970s, Billy Joel became one of the biggest selling artists of all time.
Despite stepping back from the recording studio, Billy Joel is still one of the biggest names in music.
The Piano Man's last proper album was 1993's River of Dreams but as well as his back catalogue still getting regular radio play, he's still happy to go out on the road – especially to play his spiritual home of Madison Square Garden.
From his early days in late 1960s rock bands to his emergence as a superstar singer-songwriter in the 1970s and 1980s, Joel has had a massive influence on the world of rock.
He's sold over 160 million albums and scored countless hits and massive awards during his stellar career.
Billy Joel turns 73 next month (May 9) so it feels like as good a time as any to take a look back at his remarkable life and work.
When was Billy Joel born and where did he grow up?
Billy Joel was born William Martin Joel in the Bronx, in New York City on May 9, 1949 in a Jewish family to classical pianist-turned-engineer dad Howard (Helmut) Joel and mum Rosalind.
Joel's dad was born in Nuremberg, Germany but fled the country to escape the Nazis, moving first to Switzerland, then to the US via Cuba.
The family moved to Long Island suburb Hicksville in Oyster Bay when Billy was just one, where he grew up with his younger sister Judy
Joel attended Hicksville High School, but his focus on music rather than turning up for a key English exam meant that he never graduated... until 1992 when he submitted some essays to the schoolboard and eventually got his High School Diploma.
Despite his parents' religion, Billy wasn't given a Jewish upbringing and was actually baptised at the Church of Christ in Hicksville when he was 11, before eventually deciding to be an atheist.
How did Billy Joel get into music?
My Journey's End - The Lost Souls (Billy Joel)
With his dad's background in music, it was probably inevitable that Billy would follow that path.
He had his first piano lessons when he was just four years old, with his teachers including Morton Estrin and Timothy Ford.
Growing up in the rock 'n' roll era meant that he wasn't going to be a classical player.
"That one performance changed my life," he said of seeing The Beatles on The Ed Sullivan Show. "Up to that moment I'd never considered playing rock as a career."
Billy was actually playing a gig at a piano bar when he missed that all-important English exam.
He joined The Echoes when he was 16, and played session music for Shadow Morton productions, including the demo of The Shangri-Las classics 'Leader of the Pack' and '(Remember) Walking in the Sand').
The Echoes changed their name to The Emeralds, then The Lost Souls.
Billy Joel The Hassles I Hear Voices
"Our recordings weren't hit records. They were pretty bad," Joel told Howard Stern years later. "We were just another garage band playing at school dances.
"In those days, in the '60s after the Beatles came out, they were signing everybody. They would sign the janitor if he could sing."
So Billy quit to join Long Island Group The Hassles, who released a clutch of flop singles and couple of albums that also didn't sell.
Then Joel and The Hassles drummer Jon Small quit the band and formed spinoff group Attila, who released one album before they too split. Billy actually had an affair with Jon's wife Elizabeth (Billy and Liz would eventually marry for almost a decade before their own breakup).
In 1971, Billy finally went solo, signing with Family Productions and releasing his debut album Cold Spring Harbor. It didn't chart on its initial release, but Billy was finally on his way.
When did Billy Joel become The Piano Man?
Billy Joel - Piano Man (Official HD Video)
Part of the reason for Cold Spring Harbor being a flop was a problem with its mastering, with everything being a smidge too fast (and so unnaturally high-pitched). The album was eventually remixed over a decade on, but Billy has still never been keen on it.
The problem caused a riff between Joel and producer Artie Ripp, pushing Billy to Columbia Records (though Artie and Family Productions would continue to make money from Joel's recordings for years to come).
At the second time of asking, everything fell into place for Billy Joel.
He released the album Piano Man in 1973, led by the title track that gave him his nickname.
The song itself is a part-autobiographical, part-fictional telling of Billy's experiences as a Los Angeles lounge singer ("Now John at the bar is a friend of mine / He gets me my drinks for free") when he escaped New York after the Cold Spring Harbor debacle.
The album only just made the top 30 in the US, but eventually went Gold, turning Billy Joel into a superstar in the process.
What are Billy Joel's biggest albums and songs?
Billy Joel - We Didn't Start the Fire (Official Video)
Despite clocking up hundreds of millions of sales, Billy Joel has only released 12 studio albums in his career, the first being the flop Cold Spring Harbour in 1971 and the last being River of Dreams in 1993
His fame reached a new level in 1977 with his fifth album The Stranger, which went to number two. Follow-ups 52nd Street and Glass Houses did even better, both topping the US album charts, as did his 11th album Storm Front in 1989.
Billy Joel - Uptown Girl (Official Video)
And then there are his compilation albums, with Greatest Hits – Volume I & Volume II being certified double-diamond, selling a combined 23 million copies and being one of the biggest selling releases in pop history.
Billy Joel's biggest songs include:
'Piano Man'
'Just the Way You Are'
'Movin' Out (Anthony's Song)'
'She's Always a Woman'
'New York State of Mind'
'My Life'
'Big Shot'
'You May Be Right'
'It's Still Rock and Roll to Me'
'Don't Ask Me Why'
'Pressure'
'Allentown'
'Tell Her About It'
'Uptown Girl'
'An Innocent Man'
'The Longest Time'
'Keeping the Faith'
'You're Only Human (Second Wind)'
'Modern Woman'
'A Matter of Trust'
'This Is the Time'
'We Didn't Start the Fire'
'I Go to Extremes'
'The River of Dreams'
Why didn't Billy Joel play Live Aid?
Billy Joel - It's Still Rock and Roll to Me (Official Video)
Given just how big a star Billy Joel was when Live Aid took place, it feels like he should have been a shoe-in for the lineup.
In fact, Billy was actually on the running order for the event, but it wasn't to be.
"I was going to participate in Live Aid," he said in an interview that year.
"I couldn't get all the guys in my band together. And I'll tell you, to go out in a stadium and just play the piano is a little bit rough.
"Maybe in a room this size with a piano sure, but not in front of a paying audience."
When and why did Billy Joel retire from making new music?
Billy Joel - Honesty (Official Video)
Some rock icons hang up their touring boots while still continuing to make music in the studio, which makes sense as you get older and the rigours of life on the road become less attractive.
Billy Joel has done the exact opposite though, releasing his last studio album three decades ago, while he continues to play live.
"I stopped writing songs because I couldn't be as good as I wanted to be," Billy explained in 2021.
Billy Joel, Hyung-ki Joo - Invention In C minor (Audio)
"It became too aggravating, it became too frustrating, so I stopped. I just haven't had a desire to do it.
"I love music, so I never stopped writing instrumental music, but I stopped writing lyrics because I got tired of that particular format. I became more comfortable with abstract form."
In 2001, he composed the classic album Fantasies & Delusions, which was played by British-Korean pianist Richard Hyung-ki Joo.
How many times has Billy Joel been married, and how many children does he have?
Billy Joel has been married four times.
He married his first wife, Elizabeth Weber Small in 1973, and they stayed together until their divorce in 1982.
Billy then married model Christie Brinkley – who had appeared in a number of his music videos, including 'Uptown Girl' – in 1985, and they divorced in 1994. They had a daughter. singer Alexa Ray Joel, together in 1985.
Then Billy married chef and food writer Katie Lee in 2004, and they divorced in 2009.
Billy married equestrian and former Morgan Stanley executive Alexis Roderick in 2015, and the couple are still together. They have had two daughters together: Della Rose Joel born in 2015, and Remy Anne Joel, born in 2017.
What awards has Billy Joel won?
Billy Joel & Guests - Piano Man (Gershwin Prize - November 19, 2014)
As well as belatedly earning his High School Diploma, Billy Joel has racked up a load of honorary doctorates in Music, Humane Letters and Fine Arts from the likes of Fairfield University, Berklee College of Music, Syracuse University and the Manhattan School of Music, among others.
He was inducted into the Rock and Roll Hall of Fame in 1999, being inducted by Ray Charles, and earned a star on the Hollywood Walk of Fame in 2004.
Billy Joel has won a clutch of Grammys and was only the sixth recipient of the Gershwin Prize for Popular Song, which he received in 2014.