30 massive artists who DIDN'T play Live Aid and why: Michael Jackson, Stevie Wonder, Rod Stewart and more
20 January 2022, 10:31 | Updated: 30 December 2022, 11:49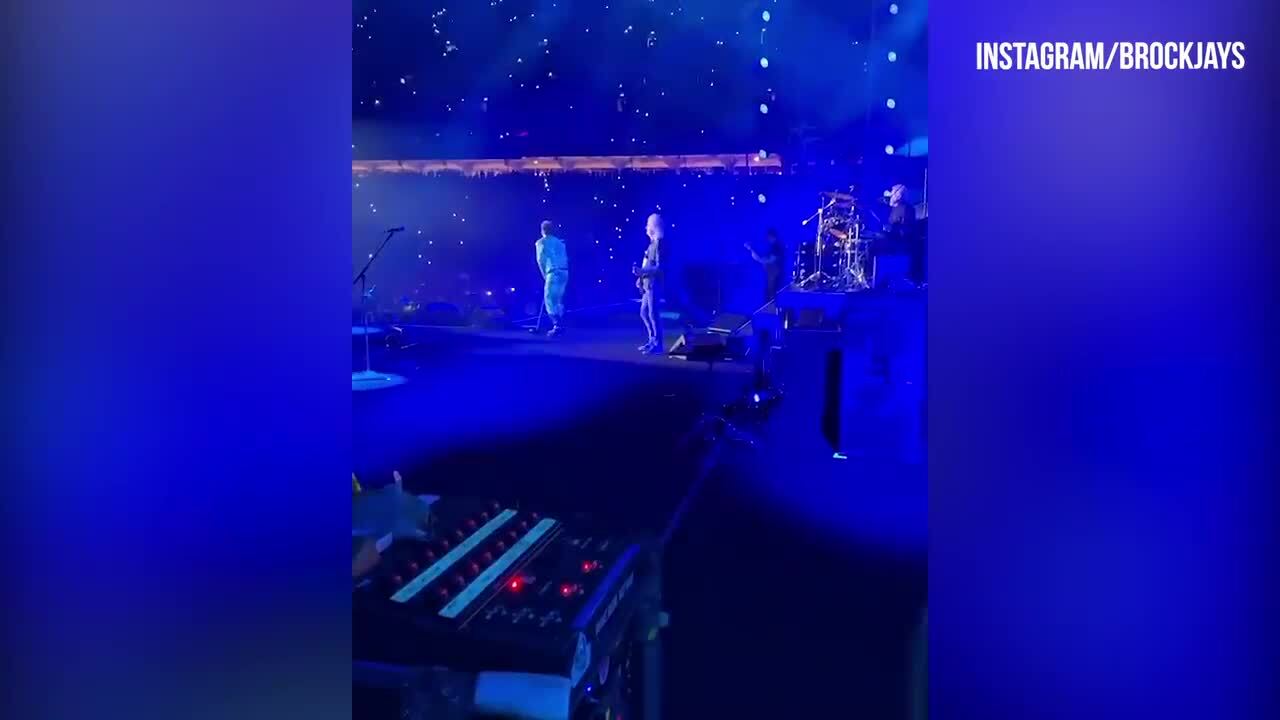 Queen and Adam Lambert re-enact Band's iconic Live Aid set at Austraila Wildfire Concert
Why weren't Bruce Springsteen, Michael Jackson, Prince and Stevie Wonder at Live Aid?
Live Aid was a game-changer in pop history.
That's not just because of its sheer scale – an estimated 1.9 billion people across 150 countries watched the broadcast.
Even more impressive was the sight of so many massive artists putting aside their even more massive egos to share a stage for a good cause.
The running order for the shows at Wembley Stadium in London and John F Kennedy Stadium in Philadelphia are a who's who of the greatest rock and pop stars of the moment.
David Bowie, Queen, The Who, Elton John, Paul McCartney, Sting, Mick Jagger, CSN(Y), The Beach Boys, Madonna, Bryan Ferry, U2, Black Sabbath, Run DMC, Duran Duran, and Phil Collins even played both venues.
Queen - We Are The Champions (Live Aid 1985)
But looking at the list of artists, there are some pretty significant names that are missing. Classic rock acts that were still performing at the time, or 1980s stars you'd have imagined would have been there.
So why weren't they? Well, some were busy, some pulled out for various reasons – and some just weren't asked.
We've rounded up the biggest missing names and done some digging on why they weren't at either Philly or Wembley on July 13, 1985.
George Harrison and Ringo Starr (and Julian Lennon)

Ringo Starr and George Harrison.

Picture: Alamy

Paul McCartney's set was a major highlight, but George Harrison (whose Concert for Bangla Desh surely set the template for Live Aid) and Ringo Starr weren't there.

Word is they were worried about being tricked into a "Beatles reunion", either as a threesome or with John Lennon's son Julian filling in for his late father.

Some reports claim that Paul, Ringo and George had even discussed the possibility of a reunion, but pulled the plug as soon as the story leaked.

That's also why Julian Lennon, who was originally on the lineup with Sting and Phil Collins, pulled out of the show.

Michael Jackson

Michael Jackson.

Picture: Alamy

Michael Jackson co-wrote USA For Africa's 'We Are The World' which closed the US show, and was maybe the biggest star on the planet at the time, but he wasn't at Live Aid.

"Michael is just about living in the studio, rehearsing and recording," his press agent Norman Winter told the New York Times.

"I know, what could be more major than Live Aid, but Michael couldn't turn his back on his responsibility to the people he's working with.

"This affected employment for a lot of people... The project will be announced formally in a few weeks."

The project in question? Most likely the squillion-selling Bad album.

Prince

Prince.

Picture: Alamy

Ever enigmatic, Prince had apparently retired from live performances when Live Aid was happening.

It's claimed that he was fearful of being assassinated, just a few years after John Lennon was murdered in public.

He also pulled out of singing the "but if you just believe, there's no way we can fall" line on 'We Are The World', despite a pleading phone call from Lionel Richie.

Prince did end up contributing '4 The Tears In Your Eyes' to the album project, and appeared via video on the actual day of Live Aid.

Bruce Springsteen

Bruce Springsteen.

Picture: Alamy

Another megastar, and one who had just played Wembley Stadium with his own band a week or so before Live Aid – in fact, some of the stage set up was borrowed from Bruce's gigs.

Bruce was on 'We Are The World' and covered Jimmy Cliff's 'Trapped' for the album too, but he was shattered after his own Born in the USA tour, and had only just got married that May.

He is said to have regretted not rocking up and doing a few acoustic numbers.

Stevie Wonder

Stevie Wonder.

Picture: Alamy

Stevie Wonder was invited to play Live Aid, but refused – he apparently thought there weren't enough African-American artists on the bill.

Co-organiser Harvey Goldsmith later said: "Stevie Wonder eventually agreed to appear, but then he phoned me up and said, 'I am not going to be the token black on the show'."

Pink Floyd

Pink Floyd.

Picture: Alamy

While they were technically still a going concern, Pink Floyd were having a legal bust-up at the time.

Roger Waters was in the process of leaving the band, and it wouldn't be until 1987 that Pink Floyd (without Waters) would release their next album.

David Gilmour was at Live Aid, though, as an unannounced guest with Bryan Ferry.

The Waters/Gilmour/Wright/Mason lineup of Pink Floyd would eventually play Live 8, in 2005, their first show together in 24 years.

Diana Ross

Diana Ross.

Picture: Alamy

Diana Ross was busy on the road during Live Aid. It's also been suggested that she wasn't too keen on performing on a bill with other artists.

Rod Stewart

Rod Stewart.

Picture: Alamy

Rod Stewart only recently found out the strange reason he didn't play Live Aid.

"We actually were supposed to do it, but a few guys in the band told me that our ex-manager turned it down because I wasn't getting the right news coverage," Rod said.

"He only wanted me to do it if I got on the CBS news at 10 o'clock. He said, 'If not, he's not doing it'.

"And that's not what it was all about. It was to raise money for kids. It wasn't about what news channel you were going to be on in America."

Culture Club

Culture Club.

Picture: Alamy

Live Aid was actually Boy George's idea – he came up with the concept during the recording of Band Aid's 'Do They Know It's Christmas?'.

But while he was a standout on that single, neither Culture Club nor he played the Live Aid show.

"I messed it up," he explained in 2020 to Louis Theroux's Grounded podcast.

"I was otherwise engaged chemicall. I mean, I think it was a stroke of luck that we didn't do it because I wasn't in a fit state to do it.

"We were originally asked but then I think everyone was just looking at the state of me and going, 'This might be more harmful than good'. So, they basically didn't follow up on it."

Tears For Fears

Tears For Fears.

Picture: Alamy

Tears For Fears were one of the (many!) acts Bob Geldof tried to bully into playing Live Aid by announcing them before they even played the show.

In the end they pulled out because the show was "bad timing".

"Initially, I was pissed off because Bob had announced we were doing it without even asking us and it was smack in the middle of a year-long tour," Curt Smith explained in 2022.

"It was the first week off we had."We kissed and made up with Bob and did 'Everybody Wants to Run the World' for him [for Sport Aid] afterwards.

"We didn't think us not performing would affect the amount of money they were raising in any way, so we didn't do it so we could have that break."

Eurythmics

Eurythmics.

Picture: Alamy

The Eurythmics were meant to play Live Aid, but poor Annie Lennox developed throat nodules and couldn't sing.

"We were asked if we could perform at Live Aid and we had just rounded off a massive 62-date tour," Annie told BBC Radio Scotland in 2007.

"My voice was shot and I was starting to develop what they call nodules on my vocal cords.

"So we said, 'I'd love to do it Bob but I just can't'."

Frankie Goes to Hollywood

Frankie Goes To Hollywood.

Picture: Alamy

Frontman Holly Johnson was very much up for playing Live Aid, but unfortunately he was the only one in the camp.

"We were invited and I wanted to do it but all of the other members of the group and our so-called manager didn't want to do it," Holly said years later.

"This was the biggest management mistake of Frankie's career."

Bananarama

Bananarama.

Picture: Alamy

Despite appearing on the Band Aid single, they weren't at the live show.

An unattributed quote doing the rounds is that "We hadn't done any touring, so we didn't have a band".

That adds up, as the group didn't properly get on the road till 1988.

The Smiths

Morrissey in concert.

Picture: Alamy

The Smiths were indie superstars in 1985, having released the number one album Meat is Murder in February and top ten single 'Heaven Knows I'm Miserable Now' a year earlier.

They may not have been big enough for Live Aid, and we don't think Morrissey would have said yes even if they had been asked.

"I'm not afraid to say that I think Band Aid was diabolical," he told Time Out.

"Or to say that I think Bob Geldof is a nauseating character. Many people find that very unsettling, but I'll say it as loud as anyone wants me to."

He added: "In the first instance the record itself was absolutely tuneless. One can have great concern for the people of Ethiopia, but it's another thing to inflict daily torture on the people of England.

"It was an awful record considering the mass of talent involved. And it wasn't done shyly it was the most self-righteous platform ever in the history of popular music."

And he wasn't done there!

"The whole implication was to save these people in Ethiopia, but who were they asking to save them? Some 13-year-old girl in Wigan!

"People like Thatcher and the royals could solve the Ethiopian problem within ten seconds. But Band Aid shied away from saying that — for heaven's sake, it was almost directly aimed at unemployed people."

Depeche Mode

Depeche Mode.

Picture: Alamy

Like The Smiths, they weren't invited and wouldn't have played anyway.

"I doubt very much that we would have accepted the invitation, had we been asked," said keyboard player Alan Wilder.

"My personal view is that giving to 'chariddy' should be a totally private gesture, out of which no personal gain should be made.

"Inevitably, nearly all the artists who took part in Live Aid achieved a considerable rise in record sales and being the cynic I am, I wonder just how much of the profit gained from those sales actually ended up going to Ethiopia."

Cyndi Lauper

Cyndi Lauper.

Picture: Alamy

Cyndi Lauper was meant to be at the Philly leg of Live Aid to sing a duet with Patti LaBelle, but didn't make it.

For what it's worth, Joan Baez, who did play the show, writes in her memoir that Cyndi underwent "a mysterious abdominal surgery that she never discusses".

Foreigner

Foreigner in the snow.

Picture: Alamy

Foreigner are one of the groups who were apparently quite eager to appear at Live Aid but were turned down.

It's said that Philadelphia show organiser Bill Graham said there wasn't any room on the bill.

Kinks

Ray Davies of The Kinks.

Picture: Alamy

One of the few 1960s bands who just kept going through the 1970s and 1980s (they would eventually split in 1996), the Kinks apparently wanted to play the Wembley Stadium show but were deemed "not famous enough".

Donna Summer

Donna Summer. Picture: Getty

Donna Summer was unfortunately busy in the studio when Live Aid was happening.

Paul Simon

Paul Simon.

Picture: Alamy

"I rang Paul Simon, whom I'd met and had an enjoyable argument with before," Bob Geldof said in his Is That It memoir.

"He said yes. Better than that, he said he'd try to persuade Dylan and maybe the two of them would do something together."

So far, so good, but then..

"Paul Simon rang. He was being messed about and he was upset. Every time he phoned anyone over there to get things organised he met a blank wall.

"He thought the whole thing was a mess. He felt that people were being deliberately obstructive to him and, as he and Bill Graham don't get on, had decided to pull out."

Huey Lewis and the News

Huey Lewis and The News.

Picture: Alamy

Originally booked to play Philadelphia, Huey Lewis and the News (who had appeared on 'We Are The World') pulled out just two weeks before the show.

The group were worried that the money raised by the USA for Africa single hadn't been proper spent supporting those affected by the famine in Ethiopia – concerns that actually ended up being pretty well-founded according to later news reports.

Billy Joel

Billy Joel.

Picture: Alamy

Another artist whose name was on the official poster who didn't end up playing.

"I was going to participate in Live Aid," he said in an interview that year.

"I couldn't get all the guys in my band together. And I'll tell you, to go out in a stadium and just play the piano is a little bit rough

"Maybe in a room this size with a piano sure, but not in front of a paying audience."

Yes

Yes.

Picture: Alamy

Like Foreigner, Yes apparently wanted to play the show but were told No by Bill Graham because the bill was already too packed.

Van Halen

Van Halen.

Picture: Alamy

Van Halen were massive in 1985, but Live Aid came just as the band were falling apart, with singer David Lee Roth in the process of leaving the group and his replacement Sammy Hagar was yet to join.

Peter, Paul and Mary

Peter, Paul and Mary.

Picture: Alamy

The folk trio of Peter, Paul and Mary were keen to play at Live Aid and were originally in the frame to join Bob Dylan to play 'Blowin' in the Wind'.

But Bob changed his mind late in the day, and enlisted Rolling Stones stars Keith Richard and Ronnie Wood as his backing band instead.

The Rolling Stones

The Rolling Stones.

Picture: Alamy

So Keith Richards and Ronnie Wood were with Bob Dylan, and Mick Jagger played a set just before – so why didn't The Rolling Stones play together?

Word was that Mick and Keith were in the middle of one of their regular bustups so they played separately instead.

Stones bassist Bill Wyman had apparently warned Geldof off approaching the Stones in the first place because "Keith doesn't give a f**k".

Deep Purple

Deep Purple.

Picture: Alamy

While they were never actually booked to appear in London or Philadelphia, Deep Purple were meant to join the broadcast via a satellite linkup from a show at the Hallenstadion in Switzerland.

Singer Ian Gillan is quoted as saying that guitarist Richie Blackmore pulled the plug on the idea.

The Grateful Dead

The Grateful Dead.

Picture: Alamy

Put simply, the never-ending touring Grateful Dead were perhaps unsurprisingly on tour when Live Aid happened, playing a set at Ventura, California.

Def Leppard

Def Leppard.

Picture: Alamy

"We were initially asked to do the original one 20 years ago," lead singer Joe Elliott told Launch Radio head of Def Leppard's Live 8 show.

""Unfortunately, it fell about four months after Rick lost his arm.

So we, we – his recovery hadn't happened, and we weren't... no way were we gonna to do it with a, a different drummer, you know, so we had to pass on it."

The Thunder God Rick Allen survived a car accident in 1985 and after his recovery uses custom built kit to drum one-handed.

Johnny Cash, Waylon Jennings, Willie Nelson and Kris Kristofferson

The Highwaymen (Johnny Cash, Waylon Jennings, Willie Nelson and Kris Kristofferson).

Picture: Alamy

These four outlaw country music icons had joined forces in 1984 to form the supergroup The Highwaymen.

Their debut album came out just a few months before Live Aid, and none of the quartet appeared at either show..

Kris Kristofferson was on the poster, but didn't perform. The same was true of Waylon Jennings. Willie Nelson and Johnny Cash weren't even in the running

What's striking is that all four men appeared at the first Farm Aid concert a couple of months later. All would go on to appear at future Farm Aids, and The Highwaymen also appeared in 1992 and 1993.

So what was Farm Aid?

"I hope that some of the money... maybe they can just take a little bit of it, maybe ... one or two million, maybe ... and use it, say, to pay the mortgages on some of the farms and, the farmers here, owe to the banks," said Bob Dylan controversially during his closing Live Aid set in Philadelphia.

The comment attracted plenty of criticism, but it also inspired Willie Nelson, John Mellencamp and Neil Young to establish Farm Aid, which has run every year since.