Blondie facts: Members, songs, break-up and reunion of the Debbie Harry-fronted band
1 April 2022, 13:57 | Updated: 10 March 2023, 13:34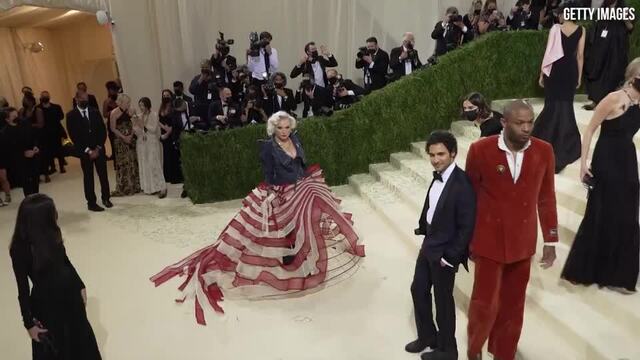 Blondie's Debbie Harry attends 2021 Met Gala
Born in New York City, the genre-hopping Blondie are one of the greatest bands of all time.
Formed as the punk scene was taking off in NYC, Blondie were always a little bit different.
More than just new wave pioneers, they incorporated disco, reggae, power pop, rap and rock 'n' roll into their sound.
Blondie released a string of incredible albums in the 1970s and early 1980s before they called it a day.
They reformed in the 1990s and haven't stopped since – they've been reunited for 25 years, over three times as long as their first run.
They're going out on the road in the UK this spring with support from Johnny Marr, so to celebrate, we're celebrating the life and work of Blondie and inducting them into our digital Hall of Fame.
When did Blondie form and who has been in all their lineups?
Blondie formed from the ashes of The Stilettoes when Debbie Harry and Chris Stein left the group.
They joined forces with Fred Smith and Billy O'Connor to form Angel and the Snake, who renamed themselves Blondie in 1974 after just a couple of shows.
So, the first Blondie lineup was: Debbie Harry, Chris Stein, Fred Smith and Billy O'Connor.
Ivan Kral came and left on guitar very quickly, while Fred and Billy left the band almost as swiftly.
Everything came together when Clem Burke joined on drums and Gary Valentine picked up the bass, while Jimmy Destri joined the group on keyboards in 1975.
Valentine left the group in 1977, and was briefly replaced on bass by Frank Infante. Soon after, Nigel Harrison joined on bass and Frank moved to guitar.
When the band reformed in 1997, they had the lineup of Debbie Harry, Chris Stein, Clem Burke, Jimmy Destri, Gary Valentine, Nigel Harrison and newbie Paul Carbonara.
Harrison and Valentine were forced from the band before they recorded comeback album No Exit, with Leigh Foxx joining on bass
Jimmy Destri left the group in 2004, being replaced on keyboards first by Kevin Patrick and then in 2008 by Matt Katz-Bohen.
Jim Bones joined on guitar for a heartbeat in 2003 but didn't stick around. Paul Carbonara left the group in 2010, being replaced on guitar by Tommy Kessler.
The current Blondie lineup is: Debbie Harry, Chris Stein, Clem Burke, Leigh Foxx, Matt Katz-Bohen and Tommy Kessler.
How did Blondie get their name?
Despite what you may have read (and the unsavoury way some punk bands of the time played with Nazi imagery) Blondie have absolutely NOTHING to do with Aldoph Hitler's German Shepherd, who was called Blondi.
"Chris and I tried out a few names," Debbie Harry told the New York Post in 2016.
"One was Angel and the Snake, but I wasn't sure it was easy to remember. One day, I was walking across Houston Street and someone yelled 'Blondie' at me. I thought, 'Jeez, that's quite easy to remember'."
And Chris Stein backs up this story.
"It was just from what people yelled at Debbie," he said in 2017. "Debbie came home one day with her hair dyed blonde and then told me within a week or so truck drivers were yelling, 'Hey, Blondie!' at her all the time."
So despite deriving from a catcall aimed at Debbie Harry, Blondie was the name of the group, not its frontwoman.
In fact, the band were so miffed about people thinking Blondie was Debbie's name that they even gave out badges, posters and other merch in 1979 reading BLONDIE IS A GROUP!
Is Debbie Harry a natural blonde?
Blondie - Atomic (Official Video)
Wait, if Chris Stein says "Debbie came home one day with her hair dyed blonde..." does this mean that the Queen of Blondie isn't actually blonde?
Well, she always was, though maybe not quite as blonde as we know he to be.
"Back in the '40s and '50s blond silverscreen sirens were everything," Debbie told InStyle.
"Their platinum hair coupled childish innocence with the neon 'look at me' business of being a star – and the effect was intoxicating. As a kid, I was fascinated by Marilyn Monroe, Marlene Dietrich, and Carole Lombard."
She added: "My own hair was strawberry blonde with a lot of red in it. In the summer my highlights would really come out.
"I hung around with older girls at the municipal pool in Hawthorne, NJ, where I grew up. There was one girl in particular whose blonde hair I really liked.
"Her mother was a beautician, so I asked her about accelerating the highlight process. She said to mix two-thirds peroxide with one-third ammonia and comb it through your hair and it would react in the sun to bring out the blonde. It worked."
What are Blondie's most famous songs (and albums)?
Blondie - Hanging On The Telephone
Blondie released six albums in their original run, and the first four of those (Blondie, Plastic Letters, Parallel Lines and Eat to the Beat) were all absolute classics - especially 1978's Parallel Lines.
They've released five albums since their 1990s comeback, all of which have their standouts and their first post-reformation album No Exit really impressing.
They've released more amazing singles than we can list here, but these are the very biggest and best:
X Offender
In the Flesh
Rip Her to Shreds
Denis
(I'm Always Touched by Your) Presence, Dear
Picture This
Hanging on the Telephone
Heart of Glass
Sunday Girl
One Way or Another
Dreaming
Union City Blue
Call Me
Atomic
The Tide Is High
Rapture
Maria
Nothing Is Real but the Girl
Fun
Who writes Blondie's songs?
Blondie - (I'm Always Touched By Your) Presence, Dear
Blondie aren't too strict when it comes to who writes their music. Their hit singles have featured a mix of in-house compositions by various members of the band, unlikely covers, and songs written especially for them.
The core partnership of Debbie Harry and Chris Stein wrote songs including 'In The Flesh', 'Rip Her To Shreds', 'Heart of Glass', 'Dreaming' and 'Rapture' and, together with Jimmy Destri, wrote 'Picture This'.
Jimmy also co-wrote 'Atomic' with Debbie, and was the sole writer of massive comeback songs 'Maria' and 'Nothing Is Real But The Girl'.
Chris wrote 'Sunday Girl', while early member Gary Valentine wrote '(I'm Always Touched by Your) Presence, Dear' and co-wrote 'X Offender' with Debbie.
Nigel Harrison and Debbie Harry wrote 'One Way Or Another' and 'Union City Blue', while 'Call Me' was written by Debbie Harry with Giorgio Moroder.
'Denis', 'Hanging on the Telephone', 'I'm Gonna Love You Too' and 'The Tide Is High', were covers of Randy & the Rainbows, The Nerves, Buddy Holly and The Paragons, respectively
Why did Blondie split up?
Blondie - The Tide Is High
Blondie's Autoamerican album in 1980 featured the hit singles 'Rapture' and 'The Tide Is High' and was only the second album by the group to get into the top ten, but the middling reception from critics possibly marked the beginning of the end of the group.
They took a bit of time out with Debbie Harry and Jimmy Destri releasing solo albums, before reconvening in 1982 for The Hunter.
That album spawned the Calypso-tinged 'Island of Lost Souls' which was a hit, but things were clearly winding down. The album also featured would-be Bond theme 'For Your Eyes Only', whose rejection by producers probably didn't help matters.
"I knew that we were in a different and far less accessible artistic space," said producer Mike Chapman years later.
Blondie - Island Of Lost Souls
"And that worried me. I could tell that things were different now, and I knew that this would be the last Blondie album."
There were minor lineup shuffles for a less-than-successful tour in the summer of 1982, while tensions rose within the band.
Then, Stein was diagnosed with the life-threatening illness pemphigus – a group of blistering autoimmune diseases.
Blondie cancelled a planned tour for August 1982 and the group disintegrated, with members quitting and lawsuits flying around. The band formally announced the split in November 1982.
When did Blondie reform and who is currently in the band?
Blondie - Maria (Official Video)
After the split, Harry and Stein remained together as a couple for a while, with Debbie taking time out to look after Chris.
As Chris's health improved, Debbie continued her solo career, releasing Rockbird in 1986 before changing her solo stage name to Deborah Harry and following it up with Def, Dumb & Blonde and Debravation, the latter featuring several collaborations with Stein.
Destri and Burke did high-profile session work, and in 1990, Harry, Stein and Burke joined forces for the Escape From New York tour that also featured the Ramones.
Blondie - Fun (Official Video)
A few years on, the trio decided it was time for a real comeback and by 1997, we had a proper reunion of Debbie Harry, Chris Stein, Clem Burke, Jimmy Destri and Gary Valentine – Nigel Harrison and Frank Infante tried and failed to stop the band using the Blondie name.
The massive No Exit and hit single 'Maria' put the band on top, and they've continued recording new music and touring the world to this day.
The current Blondie lineup is: Debbie Harry, Chris Stein, Clem Burke, Leigh Foxx, Matt Katz-Bohen and Tommy Kessler.