Buddy Holly facts: Real name, songs, the real-life Peggy Sue and The Day the Music Died
21 March 2022, 13:00 | Updated: 26 September 2023, 13:09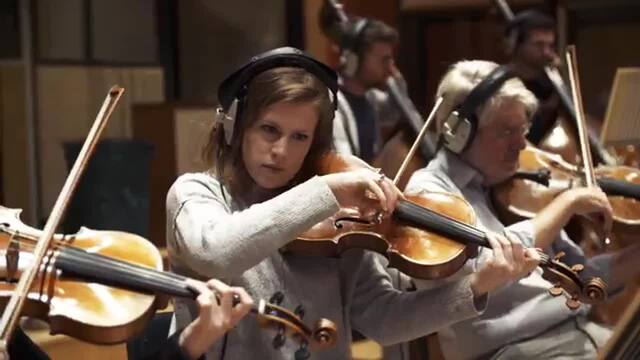 Buddy Holly with the Royal Philharmonic Orchestra album trailer
Buddy Holly was a rock 'n' roll pioneer who changed music forever in just a few years before his tragic death aged only 22.
He only released three albums in his short life, but that didn't stop Buddy Holly from becoming a rock 'n' roll icon and one of the most important musicians of the 1950s.
With The Crickets and as a solo star, Holly paved the way for the everything that followed, with everyone from The Beatles to The Rolling Stones to Bob Dylan seeing him in concert and counting him as a key influence.
His are known the world over: 'That'll Be The Day', 'Words of Love', 'Peggy Sue', 'Everyday', 'Oh, Boy!', 'Not Fade Away', 'Maybe Baybe', 'Rave On', 'True Love Ways' and more.
But who was Buddy Holly, and how did one young man in thick glasses change music forever?
Where was Buddy Holly born and what was his real name?
Buddy Holly & The Crickets "That'll Be The Day" on The Ed Sullivan Show
Buddy Holly was born in Lubbock, Texas on September 7, 1936, to Lawrence Odell 'LO' Holley (1901–1985) and Ella Pauline Drake (1902–1990).
He was the fourth Holley child and the whole family (except dad LO) played or sung. Buddy won his first talent competition when he was just 5 years old.
His real name was Charles Hardin Holley, but he was nicknamed Buddy early on in life. He lost the "e" from his surname when it was misspelled on his Decca record contract, and it stuck.
At his school only two types of music were allowed. Classical or country. Unsurprisingly, Buddy chose country. Already a guitarist, he also got piano lessons when he turns 12, which probably came in handy.
He and his pal Bob Montgomery formed the duo Buddy and Bob in 1953, getting their own local show and open for visiting stars in Lubbock, including Elvis Presley and Bill Haley.
Bob and Buddy's recordings were later released as Hollies fifth posthumous album Holly in the Hills 1965, with overdubs by The Fireballs.
What songs did Buddy Holly sing?
Buddy Holly - Oh Boy ( Ed Sullivan 1958 )
Buddy Holly only released three albums in his lifetime. First was The "Chirping" Crickets with The Crickets in 1957, followed by his self-titled solo debut Buddy Holly in early 1958.
A couple of months later and looking to cash in on his recent success, Decca released a collection of Buddy's 1956 pre-Crickets recordings as That'll Be The Day.
Buddy Holly-Crying Waiting Hoping
Buddy Holly's singles included:
'Love Me'
'That'll Be The Day'
'Words of Love'
'Peggy Sue'
'Everyday'
'Oh, Boy!'
'Not Fade Away'
'I'm Gonna Love You Too'
"Maybe Baby'
'Rave On'
'Think It Over'
'It's So Easy'
'Heartbeat'
'Peggy Sue Got Married'
'Crying, Waiting, Hoping'
'True Love Ways'
Who were The Crickets?
Buddy Holly's first major recording sessions were with Decca, produced by Owen Bradley and backed by a band eventually known as The Three Tunes.
A couple of singles came out without much fanfare, and Holly left the label in search of more creative control, hooking up with Norman Petty.
As well as long-time drummer Jerry Allison, Holly joined forces with Joe B Mauldin (bass) and Niki Sullivan (guitar). The terms of his Decca deal meant he wasn't initially able to release music under the Buddy Holly banner, so they needed a name and The Crickets were born.
"True Love Ways" Buddy Holly
Petty and the group re-recorded 'That'll Be The Day' and the demo got released unaltered, eventually selling a million copies and topping the charts in both the UK and US.
Encouraged by Petty, Holly started releasing music as one of The Crickets and as a "solo" artist, still backed by the band.
After Buddy Holly's death, The Crickets continued with newcomer Earl Sinks, then Jerry Naylor, and then Holly's old teenage pal Sonny Curtis (the guy who wrote 'I Fought The Law') taking over on lead vocals.
Who was Peggy Sue?
Buddy Holly & The Crickets "Peggy Sue" on The Ed Sullivan Show
Yes, Peggy Sue was a real person. No, she wasn't Buddy Holly's girlfriend.
Buddy's girlfriend was Maria Elena Santiago, and they got married and moved to New York in the autumn of 1958.
Written by Cricket Jerry Allison with producer Norman Petty, 'Peggy Sue' was originally called 'Cindy Lou' after Holly's niece but Jerry retitled it after his then-ex girlfriend Peggy Sue Gerron.
"I was just delighted, I thought it was a fascinating song," said Peggy herself about hearing the song for the first time. "It's really hard to stand still when you're listening to Peggy Sue."
Jerry and Peggy soon got back together, got married, and moved to California. With Buddy and Maria in NYC, it meant a 3,000 mile distance and the end of Allison and Holly's musical partnership.
Buddy went on to write a sequel song, 'Peggy Sue Got Married', which was home recorded and released after his death.
What was 'The Day The Music Died' and what happened in Buddy Holly's plane crash?
Buddy Holly formed a new band in early 1959 with Carl Bunch on drums, Tommy Allsup on guitar and future country outlaw icon Waylon Jennings on bass.
They went on the Winter Dance Party tour across the Midwest along with Ritchie Valens, JP Richardson (aka The Big Bopper) and Dion and the Belmonts.
The distances between venues was long and cold, and with tour buses breaking down and the musicians getting sick of it in every sense, Buddy Holly made the fateful decision to charter a small Beechcraft Bonanza aircraft to get from Clear Lake, Iowa to Moorhead, Minnesota.
According to one version of the story, Bopper was struggling with flu, so he took the seat originally meant for Waylon Jennings. Meanwhile. Ritchie Valens won a coin-toss with guitarist Allsup and nabbed his seat. (For what it's worth, Dion claims that he actually won a coin-toss with Valens, but gave up the seat because it was too expensive).
Buddy Holly Plane Crash News And Footage
In the end, it was Buddy Holly, The Big Bopper, Ritchie Valens and young pilot Roger Peterson who were on board the flight on February 3, 1959.
Soon after takeoff in terrible weather conditions, Peterson lost control of the plane which crashed, killing all four men instantly.
Don McLean performs American Pie live at BBC in 1972 - Newsnight archives
Later investigations blamed inadequate weather briefings and Peterson's relative lack of experience of flying in such wretched conditions.
The tragic crash inspired Don McLean's epic 'American Pie' (its parent album would be dedicated to Holly), and the story would be told over and over again in other songs, stories and biopics.
Who has covered Buddy Holly's songs?
Not Fade Away LIVE - Stones - June 1964
Pretty much everyone who picked up a guitar after Buddy Holly died has directly or indirectly been influenced by his music.
The proof of that's in just how many major stars have covered his songs.
The Beatles bandname was partially a riff on The Crickets, and the band covered 'Words of Love' for their 1964 album Beatles for Sale. Lennon releasing his version of 'Peggy Sue' on his 1975 covers album Rock 'n' Roll.
The Beatles - Words Of Love
The Rolling Stones had one of their first hits with their take on 'Not Fade Away' in 1964, a song also later covered by The Grateful Dead.
Elvis Costello attempted 'True Love Ways' on the road in the 1980s, while in the late 1970s, Bruce Springsteen covered not one, not two, but THREE Holly songs on tour, doing versions of 'Not Fade Away', Rave On' and 'Oh, Boy!'
Linda Ronstadt also had three goes at doing Buddy, with covers of 'It Doesn't Matter Anymore', 'That'll Be the Day' and 'It's So Easy'.