Dusty Springfield: Real name, songs, sexuality, collaborations and death of the Queen of Blue-Eyed Soul
22 March 2022, 11:43 | Updated: 26 September 2023, 13:13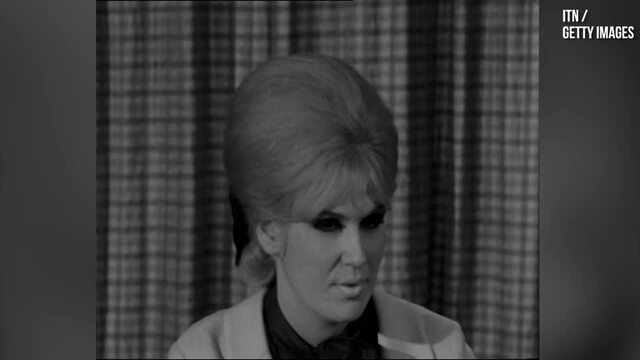 Dusty Springfield departs plane after premature ending to 1964 South Africa tour
A celebration of the life and work of one of the greatest British stars of the 1960s.
Dusty Springfield was the undisputed Queen of Blue Eyed-Soul.
After a string of winning hits in the 1960s she went to Memphis to record her masterpiece Dusty in Memphis, but that was far from the end of her story.
While she continued to put out some incredible music, Dusty was absent from the charts for 15 years before superfans the Pet Shop Boys enlisted her on 'What Have I Done to Deserve This?'.
That sparked an incredible second act of her career that was cruelly cut short in 1999, when she died just weeks before her 60th birthday after two bouts of breast cancer.
In celebration of her work and life, here's everything you always wanted to know about Dusty Springfield.
Where did Dusty Springfield grow up and what was her real name?
Dusty Springfield - Live at the NME Poll Winners Concert (1966)
Dusty Springfield was born Mary Isobel Catherine Bernadette O'Brien on April 16, 1939 in West Hampstead to dad Gerard Anthony 'OB' O'Brien and mum Catherine Anne 'Kay' O'Brien.
She grew up in High Wycombe, Buckinghamshire before moving to Ealing in West London in the early 1950s.
Dusty attended all-girl St Anne's Convent School, Northfields.
As for how she got the nickname – Mary Isobel Catherine Bernadette O'Brien liked to play football with the lads in the street, inevitably got a bit mucky, hence: Dusty.
How did Dusty Springfield get into music and how did she join The Lana Sisters?
Dusty was a fan of music from a very young age, being a big fan of the golden era of American composers including George Gershwin, Cole Porter, Rodgers and Hammerstein (and Rodgers and Hart), and Cole Porter, and jazz musicians like Count Basie, Duke Ellington and Glenn Miller.
Vocals wise, she listened to the likes of Peggy Lee and Jo Stafford.
Her first recording? Dusty popped to a local record shop in Ealing and recorded herself singing Irving Berlin's 'When the Midnight Choo-Choo Leaves for Alabam''.
After she left school, Dusty hooked up with her older brother Dionysius PA O'Brien, aka Dion O'Brien, aka Tom, to sing in local folk clubs and holiday camps.
Responding to an ad in The Stage, Dusty then joined The Lana Sisters (the not-actually-sister duo of Iris 'Riss' Long and Lynne Abrams) in 1958.
That meant Dusty coming up with her own stage name "Shan" and trying out new hairstyles and makeups to become one of the not-actually-sisters sister act.
Dusty toured the UK with the group and polished the singing skills that would soon make her a superstar.
Who were The Springfields?
So we know how Mary Isobel Catherine Bernadette O'Brien got known as 'Dusty', but where did the Springfield come from?
Well, Dusty left The Lana Sisters and formed a new band with her brother Tom and his Kensington Squares bandmate Tim Feild (later replaced by Mike Hurst).
Needing a name, they apparently noticed that they were rehearsing in field in Somerset in the spring, and well, you get the picture.
The Springfields - Island Of Dreams
They released the albums Kinda Folksy and Folk Songs from the Hills (and Silver Threads and Golden Needles in the US), and had a run of hit singles.
'Island of Dreams' and 'Say I Won't Be There' went top 5 in the UK, and their take on Wanda Jackson hit 'Silver Threads and Golden Needles' made them the first-ever British group to score a top 20 single on the Billboard Hot 100 in 1962.
The group played their final show in October 1963 and Dusty left the group to go solo.
Why did Dusty Springfield get deported from South Africa?
Dusty Springfield - I Just Don't Know What To Do
Everyone knows the story of The Beatles refusing to play for a racially segregated audience at the Gator Bowl in Jacksonville, Florida in 1964 – with officials eventually allowing the audience to merge before the band took to the stage.
The same year, Dusty Springfield was also very much on the right side of history.
She was touring South Africa at the time with her group The Echoes, who played to an integrated audience at a show near Cape Town – her contract explicitly excluded segregated performances.
The apartheid regime was not best pleased, and the tour was cut short and Dusty was deported.
How did Dusty Springfield help Motown in the UK?
Dusty Springfield and Martha Reeves with the Vandellas "Wishin' and Hopin'" (RSG Motown Special)
Motown was always going to be a massive international success, but Dusty Springfield helped give the sound a leg up in the UK.
Like The Beatles, she covered a number of Motown hits, and she also played a part in the first ever TV appearance on these shores for The Temptations, The Supremes, The Miracles and Stevie Wonder.
Dusty hosted Ready Steady Go! spinoff The Sound of Motown on April 28, 1965, and opened each half of the show, backed by Motown's Funk Brothers backing band and accompanied by Martha and the Vandellas.
Who was mysterious backing vocalist Gladys Thong and what did she have to do with Dusty Springfield?
Dusty Springfield Inducted into the Rock and Roll Hall Of Fame 1999.
From the mid-1960s, an odd name kept popping up on various recording credits.
There singing backing vocals on records by Elton John (who went on to posthumously induct Dusty into the Rock and Roll Hall of Fame), Kiki Dee, Madeline Bell, Wee Willie Harris, Chris Curtis and Anne Murray was the mysterious Gladys Thong.
Who was Gladys? Well, none other than Dusty Springfield.
"I'm very strong-willed and I do backing voices just for a laugh and because I enjoy it, so why shouldn't I?" she told Disc & Music Echo in 1966.
"It all started when I made some demo records for Doris Troy when she was here and then I started to sing on Madeline Bell, Lesley Duncan and Kiki Dee's records.
"I don't see why I shouldn't. They sing on mine and we're all friends."
She added: "People have said I'm looning around and I shouldn't be, but believe me, if I thought these jolly sessions would interfere with my own recordings or weaken my voice I wouldn't do them.
"But it takes a lot less effort doing 'yeah yeahs' than a proper session for yourself."
How did Dusty Springfield help Led Zeppelin get a record contract?
Pop-Art & Psychedelic Soul - Dusty Springfield - 1968
Looking for a mid-career boost at the end of the 1960s, Dusty signed to Atlantic Records in the US and ended up recording the career-highlight Dusty in Memphis album which included the tracks 'Son of a Preacher Man' and Just a Little Lovin''.
During the recording, she urged producer and Atlantic Records co-head Jerry Wexler to sign Led Zeppelin, having worked with John Paul Jones from his session days on her earlier records.
Wexler took her advice, and went on to sign the band on a massive $200,000 deal.
How did Dusty Springfield and up collaborating with the Pet Shop Boys?
Pet Shop Boys - What Have I Done To Deserve This (Official Video) [HD REMASTERED]
After her incredible success in the 1960s, Dusty went on recording during the 1970s and 1980s.
Despite making some wonderful music, she failed to have a chart hit in the UK or US between 1971 and 1986.
Some great work like her Longing and Faithful albums didn't even get released at the time, which was a crime against music, frankly.
Dusty Springfield & Pet Shop Boys - Nothing has been proved (HD)
Thankfully, she still had her fans, and among them were 1980s superstars the Pet Shop Boys.
Neil Tennant and Chris Lowe enlisted Dusty to sing on their 'What Have I Done to Deserve This?' in 1987, and the song stormed all the way to number 2 in the UK and US, kicking off a brilliant final act in Dusty's career.
Dusty took lead billing on her next two singles 'Nothing Has Been Proved' and 'In Private', both written and produced by the Pets, who also helmed Springfield's 1990 album Reputation.
What were Dusty Springfield's biggest songs?
Dusty Springfield - Son of a Preacher Man (Official Audio)
Dusty Springfield released 21 studio album and over 60 singles during her career.
Her very biggest hits include:
I Only Want to Be with You
Stay Awhile
I Just Don't Know What to Do with Myself
Some of Your Lovin'
Little by Little
You Don't Have to Say You Love Me
Goin' Back"
All I See Is You
Son of a Preacher Man
Spooky
What Have I Done to Deserve This?" (with Pet Shop Boys)
Nothing Has Been Proved
In Private
Did Dusty Springfield ever get married?
Dusty (True Stereo) I Only Want To Be With You HD
Dusty never got married, and was never reported to have been in a heterosexual relationship during her lifetime, which led to plenty of speculation about her sexuality.
"Many other people say I'm bent, and I've heard it so many times that I've almost learned to accept it," she told the Evening Standard in 1970.
"I know I'm perfectly as capable of being swayed by a girl as by a boy. More and more people feel that way and I don't see why I shouldn't."
She added to the Los Angeles Free Press three years later: "I mean, people say that I'm gay, gay, gay, gay, gay, gay, gay, gay.
"I'm not anything," I'm just... People are people... I basically want to be straight... I go from men to women; I don't give a s**t."
Dusty Springfield You Don't Have To Say You Love
Her relationships with other women. were no secret among the LGBT community, and she had long-term partnerships with Norma Tanega, Faye Harris and Carole Pope.
In April 1983, she exchanged vows with Teda Bracci, though the marriage was not recognised under law.
Sadly, that partnership was ill-fated and marred by violent physical altercations, and the pair soon split.
Over the years, Dusty has become an undisputed LGBT icon.
When did Dusty Springfield die and how old was she?
After feeling ill during the recording of her A Very Fine Love album in Nashville, Tennessee in early 1994, Dusty was diagnosed with breast cancer that year.
She underwent treatment with chemotherapy and radiotherapy, and by the following year the cancer was in remission – but it returned in 1996.
She died in Henley-on-Thames, Oxfordshire on March 2, 1999. She was only 59.
Hundreds of people attended her Catholic funeral, including famous fans Lulu and Elvis Costello, as well as the Pet Shop Boys.