Stevie Wonder facts: Songs, marriages, children and how the child pop prodigy went blind
10 May 2022, 11:52 | Updated: 16 November 2023, 14:43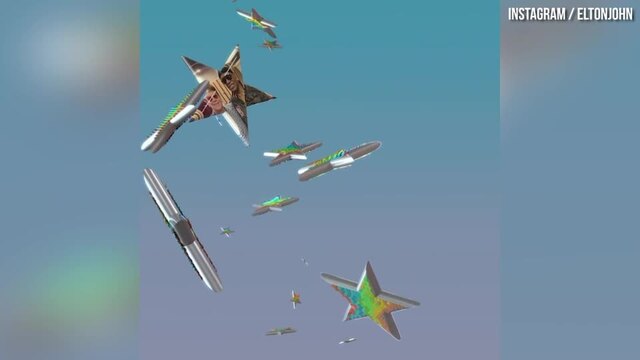 Elton John celebrates friendship with Stevie Wonder as he promotes Finish Line collaboration
From Little Stevie Wonder to a gamechanging pioneer of pop, funk and soul.
It's hard to think of many artists who have had the influence of Stevie Wonder.
From his days as a pre-teen musical prodigy to his classic Motown pop hits, his 1970s experimentation to his chart-conquering duets, Stevie has done it all.
He was a key player in the shift from singles to albums in the music business, and into his 70s he's still recording new music and teasing his first album in nearly two decades.
But do you know how old Stevie Wonder was when he first got signed? Or what song he won an Oscar for? Or which fellow Motown legend played drums on his first number one hit?
Read on for everything you need to know about Stevie Wonder as he enters our online Hall of Fame.
When was Stevie Wonder born and what is his birth name?
Little Stevie Wonder - 1963 Fingertips Part II
Stevie Wonder was born Stevland Hardaway Judkins on May 13, 1950, to songwriter mum Lula Mae Hardaway and dad Calvin Judkins.
He was born in Saginaw, Michigan, but after his parents divorced when he was four, he and his mum and siblings moved to Detroit, Michigan.
Lula later changed Stevie's name to Morris, making his full real name Stevland Hardaway Morris, and he went to Fitzgerald Elementary School in Detroit.
Was Stevie Wonder born blind?
The Oprah Conversation — Stevie Wonder Talks About Seeing Color | Apple TV+
Stevie Wonder was blind almost from birth. He was born six weeks premature, and it's thought the oxygen-rich atmosphere of the incubators of the time stopped the growth of his eyes and caused his retinas to detach.
"Actually, I was not born blind but shortly after that because of being premature I had then being in the incubator," Stevie explained to Larry King years later.
"I think the retrolental fibroplasia, that's what it's called. And it happens from... having too much oxygen and many kids that were born in the '50s, before the doctor discovered that, you know, there was another way to do it, I became blind."
How did Stevie Wonder get into music?
Our Hall of Fame is filled with early starters here at Gold, but few as early as Stevie Wonder.
Stevie started playing piano when he was just five, soon adding the drums and harmonica to his repertoire;.
"He played a lot with one finger, and I showed him how to use two hands to make it sound better," said neighbour Margaret Terry told the Detroit Free Press.
"After that, all he wanted to do was music. He said if he could beat me playing piano one day, that would be the best thing in the world."
Stevie formed a duo with Margaret's brother John Glover called Stevie and John, with Stevie on lead vocals and bongos and John on guitar and harmonies.
Marilyn McCoo & Billy Davis Jr. - You Don't Have To Be A Star To Be In My Show (1977)
It was John who changed Stevie's life forever by introducing him to his cousin Ronnie White of the Miracles.
Ronnie took the dup to Motown for an audition and both got signed.
John ended up writing for other artists, including the 1976 number one smash 'You Don't Have to Be a Star (To Be in My Show)' for ex-5th Dimension duo Marilyn McCoo and Billy Davis, Jr.
How old was Stevie Wonder when he was signed by Motown?
Stevie Wonder was just 11 when he was signed by Berry Gordy to Motown's Tamla label in 1961.
Even before he was signed, he'd earned the stage name Little Stevie Wonder by producer Clarence Paul on account of his young age and prodigious talent.
Because he wasn't yet a teenager, Stevie was signed to a five-year rolling contract with his royalties to be kept in trust till he was 21, with Wonder being paid just $2.50 to cover expenses.
Little Stevie's success was fast, but it wasn't instant.
I Call It Pretty Music But the Old People Call It the Blues
He and producer Clarence Paul recorded Tribute to Uncle Ray, which included Wonder and Paul's own 'Sunset' among its Ray Charles coves, back-to-back with the instrumental The Jazz Soul of Little Stevie, which also had a couple of Wonder/Paul collaborations 'Wondering' and 'Session Number 112'.
Then they recorded potential single 'Mother Thank You', which was replaced with Berry Gordy's 'I Call It Pretty Music, But the Old People Call It the Blues'.
The single only reached 101 in the charts, and follow-ups 'Little Water Boy' and 'Contract on Love' flopped, as did both the albums, released in autumn 1962.
How old was Stevie Wonder he when he got his first number one?
Fingertips Pts. 1 & 2 (Live At The Regal Theater, Chicago/1962)
While Stevie's early recordings failed to trouble the charts, his talent was obvious and things changed quickly.
He joined the Motown Motortown Revue tour that winter, and during a performance at the Regal Theater in Chicago, Illinois in June 1962, he played an absolutely stonking version of 'Fingertips'.
The instrumental by Clarence Paul and Henry Cosby originally appeared on The Jazz Soul of Little Stevie to show off his bongo and harmonica skills, but the live version took it to the next level, complete with a few ad-libbed lyrics.
The live version was released on May 21, 1963, with the impromptu encore on the B-side as 'Part 2'.
It went all the way to number one on the Billboard Hot 100 when Stevie was just 13 years old – the youngest person to ever to achieve that goal at the time.
The accompanying album Recorded Live: The 12 Year Old Genius also topped the charts.
And who was on drums? A young, pre-fame Marvin Gaye.
What are Stevie Wonder's biggest songs and albums?
Stevie Wonder - Superstition (1974)
Despite his record-breaking chart success, Stevie failed to immediately repeat the success, and with his voice changing as he grew older, there was even talk of Motown cancelling his contract in 1964.
Thankfully, Motown writer/producer Sylvia Moy convinced Berry Gordy to give him another go, and she wrote 'Uptight (Everything's Alright)' with Hank Cosby after hearing some Wonder piano improv.
Stevie Wonder - Uptight (Everything's Alright) (Live on TOTP 1966)
Released in late 1965 it topped the R&B charts went to number 3 on the Hot 100, and Stevie Wonder had not only arrived, but was here for good.
Stevie Wonder's very biggest songs include:
Fingertips
Uptight (Everything's Alright)
A Place in the Sun
I Was Made to Love Her
I'm Wondering
Shoo-Be-Doo-Be-Doo-Da-Day
For Once in My Life"
My Cherie Amour
Yester-Me, Yester-You, Yesterday
Signed, Sealed, Delivered I'm Yours
Heaven Help Us All
We Can Work It Out
If You Really Love Me
Superstition
You Are the Sunshine of My Life
Higher Ground
Living for the City
You Haven't Done Nothin'
Boogie On Reggae Woman
I Wish
Sir Duke
Send One Your Love
Master Blaster (Jammin')
I Ain't Gonna Stand for It
That Girl
I Just Called to Say I Love You
Part-Time Lover
Can't Put It in the Hands of Fate (featuring Rapsody, Cordae, Chika, Busta Rhymes)
More than just a singles artist, Stevie Wonder was one of the many artists who played a vital role in shifting the music industry from seeing albums as singles plus filler to cohesive works in their own right.
When he was given full artistic control with his new Motown contract in 1972, not only did he further expand his musical palette with cutting edge synthesiser, he also put out a run of five classic imperial phase albums: Music of My Mind, Talking Book, Innervisions, Fulfillingness' First Finale and Songs in the Key of Life
What are Stevie Wonder's biggest duets and collaborations?
Ebony and Ivory (1982) | Paul McCartney & Stevie Wonder
As well as leading his own hit singles and albums, Stevie Wonder has been part of a number of top pop collaborations over the years, dating back to 1962, when he co-wrote, produced and appeared on the hit single 'It's A Shame' for The Spinners.
He also wrote and produced the lesser-known late-era Supremes single 'Bad Weather' in 1973, and Rufus's 1976 funk smash 'Tell Me Something Good'.
Stevie duetted with Paul McCartney on 'Ebony and Ivory' and 'What's That You're Doing' on Macca's 1982 Tug of War album, co-writing the latter and playing synth and piano on both. He popped up again on harmonica on 2012's 'Only Our Hearts' from Kisses on the Bottom.
He's rumoured to have played harmonica on loads of songs over the years, but a couple that are credited are Elton John's massive 1983 hit 'I Guess That's Why They Call It the Blues' and Eurythmics 1985 chart-topper 'There Must Be an Angel (Playing with My Heart)'.
There Must Be An Angel (Playing With My Heart) (Remastered)
Stevie and Elton hooked up again in 2012 for The Lockdown Sessions track 'Finish Line'.
In 2004, he added his trusty harmonica to Rod Stewart's cover of 'What a Wonderful World' and a couple of years later popped up on Snoop Dogg's Tha Blue Carpet Treatment album.
Stevie Wonder also duetted with Barbra Streisand on the 2014 Partners version of her classic hit 'People'.
His storming 2020 single 'Can't Put It in the Hands of Fate' featured Rapsody, Cordae, Chika and Busta Rhymes.
How many times has Stevie Wonder been married, and does he have any children?
Wonder has been married three times.
He married his fellow Motown singer-songwriter Syreeta Wright in 1970 but the couple split amicably just a couple of years later.
Stevie didn't remarry till 2001, when he wed fashion designer Kai Millard. They split in 2009 and divorced in 2012.
In 2017, Stevie married Tomeeka Bracy, and the couple are still together.
Stevie has nine kids with five women.
Wonder's first child was daughter Aisha Morris, born to Yolanda Simmons in 1975 – Aisha is a singer who has toured and recorded with him.
Stevie and Yolanda also had a son, Keita, in 1977.
He has a daughter, Sophia, and a son, Kwame, with a woman whose identity has not been publicly disclosed.
Wonder had a son Mumtaz Morris with Melody McCulley in 1983, and sons Kailand and Mandla Kadjay Carl Stevland with his second wife Kai Millard Morris.
He also has two children with his third wife Tomeeka, the second of whom is a daughter called Nia born in December 2014.
What awards has Stevie Wonder won during his career?
Presidential Medal of Freedom Recipient - Stevie Wonder
Stevie Wonder has won a record 25 Grammy Awards, including Album of the Year for three consecutive records for Innervisions (1974), Fulfillingness' First Finale (1975) and Songs in the Key of Life (1977), as well as a Lifetime Achievement Award in 1996.
He has been awarded with honorary degrees from universities across the US, being named a Doctor of Humane Letters, Doctor of Music, Doctor of Fine Arts from a number of institutions.
In 2016, he was given a key to the City of Detroit, while an area in his childhood neighbourhood was renamed Stevie Wonder Avenue.
Stevie Wonder Acceptance Speech at the 1989 Rock & Roll Hall of Fame Induction Ceremony
Stevie won the Oscar (and Golden Globe) for Best Song for 'I Just Called To Say I Love You', which was taken from the 1984 movie The Woman in Red.
He was given a Lifetime Achievement Award from the National Civil Rights Museum and is a United Nations Messenger of Peace, and in 2014 President Barack Obama gave him the Presidential Medal of Freedom.
He was inducted into the Rock and Roll Hall of Fame in 1989 when he was just 38 – the youngest living person to be inducted.