Phil Collins facts: Songs, marriages of the Genesis drummer turned singer and unlikely hip-hop icon
22 March 2022, 11:28 | Updated: 23 October 2023, 17:32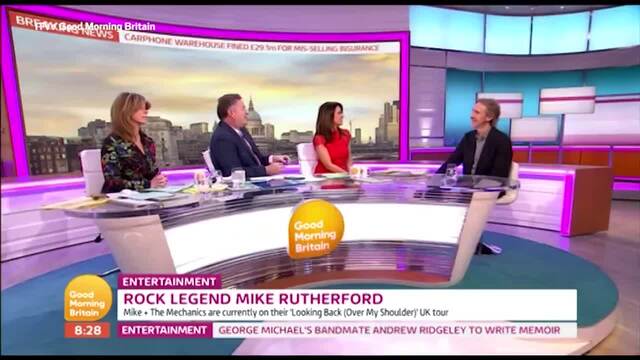 Mike Rutherford hints at Genesis reunion
A celebration of the actor turned drummer turned frontman turned one of the biggest solo rock stars of the 20th century.
Phil Collins went out on the road with Genesis in 2022 on what he said was the band's last ever tour.
Health issues mean he's no longer behind the drum kit (his son Nic is taking over with the sticks), but he still sang those songs that helped make him a superstar in the 1970s and 1980s, possibly for the last time.
As he hangs up his microphone as well as his drumsticks, it seems like the perfect time to celebrate Mr Phil Collins.
Where did Phil Collins grow up?
Philip David Charles Collins was born on January 30, 1951 in Chiswick, Middlesex, to insurance agent dad Greville Phillip Austin Collins and theatrical agent mum Winifred June Collins.
Phil marked his 72nd birthday in 2023.
His older brother Clive became a cartoonist, and his older sister Carole Dreamer became a professional ice skater.
He was brought up in West London and attended Chiswick County School for Boys.
What did Phil Collins star in as a child actor?
Before his career as a musician, Phil had already picked up some minor stardom as a child actor.
He had professional acting lessons at the Barbara Speake Stage School when he was 14, and played the Artful Dodger in the musical version of Oliver! on the West End for a couple of runs.
Phil was also an extra in the first Beatles film A Hard Day's Night when he was 13, but while he's nestled somewhere in the crowd, you can only actual see his face in the cut sequence for 'You Can't Do That'.
PHIL COLLINS INTERVIEW ON CONAN O' BRIEN
He appeared in Children's Film Foundation movie Calamity the Cow, but his scene was cut from hit musical movie Chitty Chitty Bang Bang and he just missed out on playing Romeo in Franco Zeffirelli's 1968 movie adaptation of Romeo and Juliet.
Phil soon decided to put acting on the backburner and look to his first love – music.
How did Phil Collins get into music?
The young Phil Collins was always a fan of music, getting a toy drumkit when he was just five years old, followed by a "proper" kit soon after. He played along to the radio and telly, and soon learned the rudiments of drumming under Lloyd Ryan and Frank King.
He was always a singer, too. "Phil was always special," his mum told The Guardian in 2009. "Aged five he entered a Butlins talent contest singing 'Davy Crockett', but he stopped the orchestra halfway through to tell them they were in the wrong key."
Phil Collins - Going Back (Official Music Video)
Talented and confident.
He was in bands from the late '60s, joining John Walker's band for a tour in 1969. Walker, Collis, Ronnie Caryl and Gordon Smith stuck together and formed the band Hickory, later changing their name to Flaming Youth.
They released the concept album Ark 2 in 1969, but split within a year.
Collins went on to do session work, including work for 'Art of Dying' on George Harrison's mammoth All Things Must Pass, which unfortunately didn't make the final cut.
That session resulted in one of the greatest ever rock 'n' roll pranks, when Harrison sent Collins the supposed master tapes years later featuring some shocking congas playing before the Quiet Beatle asking producer Phil Spector that they do another take without him.
It turned out that George has intentionally overdubbed some hilariously bad congas on to the original tapes as a windup. Phil (eventually) saw the funny side.
When did Phil Collins join Genesis?
Genesis - Abacab (Official Music Video)
Phil Collins wasn't a founding member of Genesis. The original lineup had Chris Stewart on drums, who was then replaced in turn by John Silver and John Mayhew.
When Mayhew left, Phil Collins responded to an ad in the music press looking for a drummer "sensitive to acoustic music", and after a successful audition at Peter Gabriel's parents' house, he formally joined the band in August 1970.
His first album with the band was their third, Nursery Cryme, and he went on to drum on 12 albums for the band.
How did Phil Collins replace Peter Gabriel as the lead singer of Genesis?
Genesis - More Fool Me (Official Audio)
As well as drumming, Phil also provided backing vocals on his early Genesis records and during live performances, and even took lead vocal duties on the song 'More Fool Me' on the band's fifth album Selling England by the Pound.
But it was Peter Gabriel who was the band's well-loved singer, not Phil.
All that changed in 1974, when Gabriel announced that he would leave the band the following year when the tour ended for The Lamb Lies Down on Broadway, his last with the group.
Phil didn't just step into the job though.
After briefly toying with the idea of becoming an instrumental group, the band started recording their first post-Gabriel album A Trick of the Tail with the hope of auditioning singers as they went along.
Genesis - Ripples (Official Music Video)
The auditions weren't successful, with too many wannabe Gabriel clones or singers without the range, so Collins was badgered into singing 'Squonk', and the band were won over.
Collins wasn't mad on giving up his sticks, though. He'd drum for the instrumental bits, and when he took to the front of the stage his hand-picked replacement Bill Bruford took over drumming duties.
After that first tour, Bruford was replaced by Chester Thompson, who drummed with the group until 1992, and again on their 2006 comeback tour.
When did Phil Collins start his solo career?
Phil Collins - In The Air Tonight (Official Music Video)
Despite being busy drumming AND now singing in Genesis, Phil always liked to keep a few plates spinning.
From 1974, he played drums in jazz fusion group Brand X, releasing six albums with the band from 1976 to 1982.
Then in the early 1980s, Phil Collins also managed to kick off a solo career that became every bit as big as Genesis.
During the breakup of his first marriage in 1979 and while the band were on a break, Collins started to write some personal songs, putting them down in the studio at the start of the 1980s and releasing his solo debut Face Value in 1981.
Phil Collins - Sussudio (Official Music Video)
It was massive.
The album topped the UK albums charts, went top ten in the US and eventually sold 1.5 million copies at home and five million Stateside.
Among other hits, it included 'In The Air Tonight' (with that drum break).
He ran his solo career in parallel with Genesis, with hit albums like 1985's No Jacket Required and 1989's ...But Seriously, while the singles 'Against All Odds (Take a Look at Me Now)' 'Easy Lover' and 'Sussudio' became some of the biggest of the decade.
Why did Phil Collins quit Genesis and when did he rejoin the band?
Genesis - I Can't Dance (Official Lyrics Video)
While guitarists came and went, keyboard player Tony Banks, bassist/guitarist Mike Rutherford and Phil Collins were ever-presents in Genesis's lineup from 1970 all the way up to 1996.
They had released their 14th album We Can't Dance in 1991, which became their fifth number one album in a row.
They took it on a massive and successful 55-date tour the following year which spawned a couple of hit live albums, before deciding to go on a break.
That break turned into a break-up in March 1996, when Phil announced that he was leaving the band.
"Having been in Genesis for 25 years, I felt it time to change direction in my musical life," he said.
Genesis - Jesus He Knows Me (Official Music Video)
"For me now, it will be music for movies, some jazz projects, and of course my solo career. I wish the guys in Genesis all the very best in their future. We remain the best of friends."
Having survived the departure of Peter Gabriel decades earlier, Banks and Rutherford weren't inclined to call it a day just yet.
"I quite understand Phil's reasons for leaving - being in two highly successful outfits is very hard work," said Rutherford, whose own Mike & The Mechanics were doing pretty well at the time.
"When a change like this comes about, it brings something different, and that's what we've found with the new direction our music is now taking. The new Genesis album that Tony and I are working on will be much heavier and darker."
Tony added: "[It's] an opportunity rather than a problem. Of course we'll miss him. We have had some fantastic times together. But this gives us a chance to take Genesis to the next stage."
Genesis - Congo (Official Music Video)
The band went on to hire Stiltskin frontman Ray Wilson as their new singer, and their album together Calling All Stations went all the way to number two in the UK charts.
They toured Europe but had to pull the US dates due to poor ticket sales, and the Collins-less lineup called it a day soon after.
Genesis were still on good terms with one another, and in 2006 Banks, Rutherford and Gabriel reunited for the massive Turn It On Again Tour and a load of reissues.
How did Phil Collins win an Oscar?
Phil Collins - You'll Be In My Heart
Despite starting out as an actor and returning to the big screen in 1988's Great Train Robbery romcom Buster in the lead role, Phil never looked like winning an award for his thespian skills.
Instead, his decision to leave Genesis to focus on his solo project paid off when he wrote the songs for Disney's 1999 Tarzan movie.
Among various gongs for the soundtrack, Phil Collins won a Golden Globe AND Academy Award for Best Original Song for 'You'll Be in My Heart'.
When did Phil Collins retire – and when did he return to music?
Phil Collins - Not Dead Yet (Behind The Scenes)
After decades at the top, Phil Collins announced his retirement from music on March 7, 2011, and also tried to shut down various rumours as to why.
He said:
1/ I'm not stopping because of dodgy reviews or bad treatment in the press.
2/ I'm not stopping because I don't feel loved, I know I still have a very large fanbase that loves what I do. Thank you.
3/ I'm not stopping because I don't fit in, this was proved with "Going Back" reaching No 1 in the UK, and doing incredibly well worldwide.
4/ I'm not stopping so I can dive full time into my interest for the Alamo.
I am stopping so I can be a full time father to my two young sons on a daily basis.
Some of the things mentioned above have been said by me in various interviews, but said as asides with a smile on my face and in passing. They were not meant to be "headlines", they were small parts of a conversation. This clearly doesn't come over in print and I should know better.
However, the result is that I have ended up sounding like a tormented weirdo who thinks he was at the Alamo in another life, who feels very sorry for himself, and is retiring hurt because of the bad press over the years.None of this is true.
Thanks for all your messages on the Forum regarding this stuff, it means a lot that you care.
But there's no need for the straitjacket !
No straitjacket required, then!
Phil Collins - Not Dead Yet Live! Announcement (October 17, 2016)
In the years that followed, there was plenty of talk about a possible return to music, including some aborted songwriting sessions with Adele in 2014 ("a bit of a non starter", Phil later said, despite loving Adele's voice).
Then, in 2016 Collins published his autobiography Not Dead Yet and announced a return to touring the following year, with his son Nic taking over on drums.
And in March 2020, Collins reunited with Banks and Rutherford for the last Genesis tour, which is finally back on the road after a couple of COVID-19 delays.
What are the biggest Phil Collins hits?
Genesis - Land of Confusion (Official Music Video)
The Peter Gabriel-fronted Genesis were very much an album-oriented act, with long players like Foxtrot and The Lamb Lies Down on Broadway very much focused on the whole rather than the parts – though they did score a number 21 hit with 'I Know What I Like (In Your Wardrobe)' in 1974.
In the Phil Collins-as-singer era, the band edged towards a poppier, more singles-focused sound and had a run of hits, including:
Follow You Follow Me
Turn It On Again
Abacab
Mama
That's All
Illegal Alien
Invisible Touch
Throwing It All Away
In Too Deep
Land of Confusion
Tonight, Tonight, Tonight
No Son of Mine
I Can't Dance
Hold on My Heart
Jesus He Knows Me
Phil Collins - Another Day In Paradise (Official Music Video)
And then there's the not-so small matter of Phil Collins's solo hits:
In the Air Tonight
I Missed Again
If Leaving Me Is Easy
You Can't Hurry Love
Against All Odds (Take a Look at Me Now)
Easy Lover
Sussudio
One More Night
Separate Lives
A Groovy Kind of Love
Two Hearts
Another Day in Paradise
I Wish It Would Rain Down
Something Happened on the Way to Heaven
Both Sides of the Story
Everyday
You'll Be in My Heart
How many times has Phil Collins been married?
Phil Collins - Against All Odds (Take A Look At Me Now) (Official Music Video)
Phil Collins has been married three times.
He first married Andrea Bertorelli in 1975, with the couple divorcing in 1980.
Phil then wed Jill Tavelman in 1984, and they stayed together for over a decade before divorcing in 1996.
Despite what you may read elsewhere, Phil has maintained that he most definitely didn't divorce Jill by fax. Legal docs went back and forth using fax machines, but that's not quite the same thing.
He then married Orianne Cevey 1999, with that marriage also ending in divorce, in 2006.
How many children does Phil Collins have?
Emily in Paris | Official Trailer | Netflix
Phil Collins has five children from his trio of marriages.
He adopted his first wife Andrea's daughter Joely (who later became an actress and movie producer). The couple also had a son Simon together, who later followed in his dad's footseps as the drummer and singer of prog band Sound of Contact.
Phil had his daughter Lily with his second wife Jill, and she's become a model and accomplished actor, with movie and TV roles in Okja, Emily in Paris and Les Misérables.
He had two sons, Nicholas and Matthew, with his third wife Orianne. Nic has gone on to drum with Collins and Genesis.
How did Phil Collins become a musical pioneer and hip-hop icon?
Phil Collins - You Can't Hurry Love (Official Music Video)
Phil sometimes gets flak from critics who dismiss him as pale and irrelevant. They dismiss his affection for soul and Motown, especially his number one cover of The Supremes' 'You Can't Hurry Love'.
But Phil Collins has also belatedly got some of the respect he deserves as a musical pioneer and also become something of an unlikely icon in hip-hop.
The gated reverb drum sound worked out by Collins and producer Hugh Padgham pretty much took over the 1980s, while everyone from the Foo Fighters to Led Zeppelin have praised his drumming.
Brandy & Ray J - Another Day In Paradise (Remix) [Official Video]
He's played on the uber-cool Brian Eno solo albums Another Green World, Before and After Science and Music for Films.
And with his solo hits being a staple of the early MTV era in the 1980s and early 1990s, his drum sound and melodies were absorbed wholesale by the growing hip-hop culture.
Phil was sampled several times over, culminating in the 2001 Phil tribute album Urban Renewal, featuring the likes of Brandy, ODB, Ray J, Kelis, Pharrell and Lil' Kim. Try telling them that Phil Collins isn't cool.