George Harrison facts: Childhood, solo songs, wife, children and death of the Beatles legend
22 February 2023, 09:36 | Updated: 14 September 2023, 23:11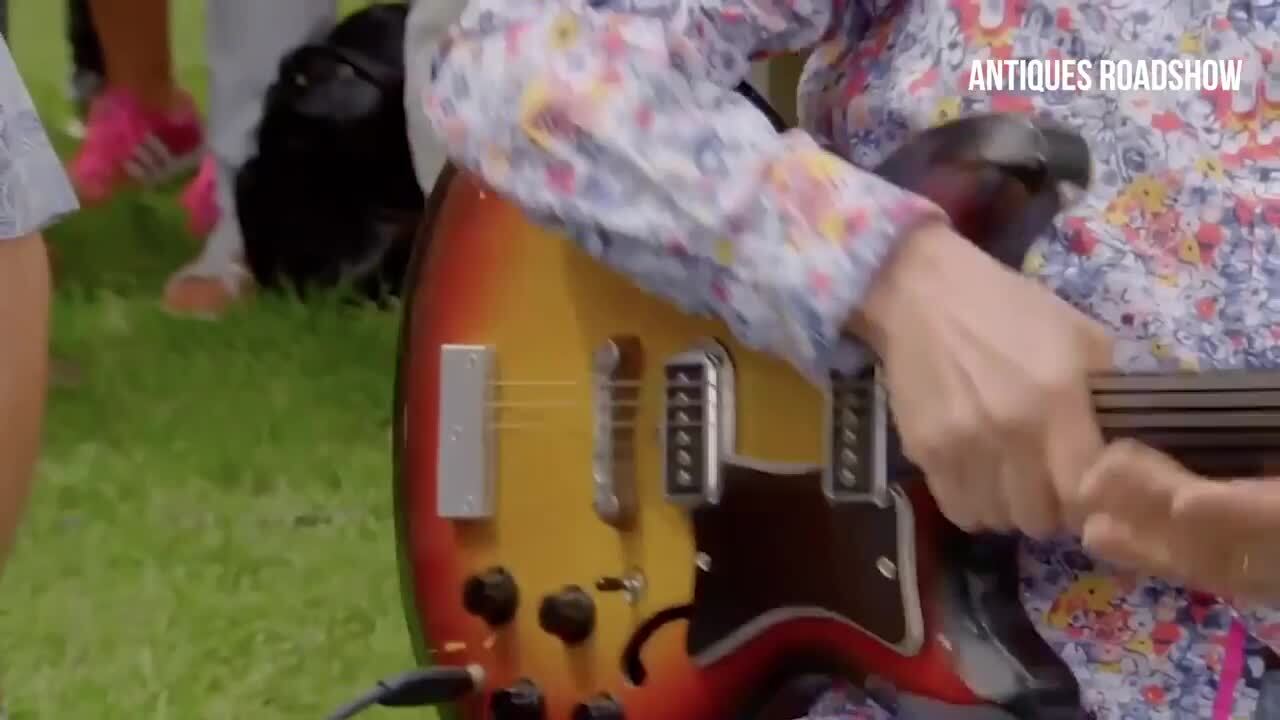 Guitar once owned by John Lennon and George Harrison appears on Antiques Roadshow
George Harrison may have been called 'The Quiet Beatle', but he was also an utterly vital part of what made the group so special.
From his time with The Beatles through his own incredible solo career, George Harrison was a key player in rock history
That's even before you mention maybe the ultimate recording supergroup with Bob Dylan, Jeff Lynne, Roy Orbison and Tom Petty.
His classic triple album All Things Must Pass has just been given an expansive 50th anniversary re-release, so it feels like as good a time to celebrate all things George.
Where did George Harrison grow up?
George Harrison was born February 25, 1943 at 12 Arnold Grove in Wavertree, Liverpool as the youngest of four children of bus conductor dad Harold and shop assistant mum Louise.
His siblings were Louise (like his mum), Harold (like his dad) and Peter.
George Harrison - What Is Life
The Harrisons were probably chuffed to leave behind their terraced house with its outdoor loo and single coal fire when George turned four, moving to a council house at 25 Upton Green, Speke.
George went to Dovedale Primary School and passed his 11-plus, going to the Liverpool Institute, where he would soon meet and befriend a certain Paul McCartney.
How did George Harrison get into music?
The Beatles - While My Guitar Gently Weeps
George loved music from a young age, and soon became obsessed with guitars in particular.
A fan of the jazzy likes of Django Reinhardt and Hoagy Carmichael, he soon got into the skiffle and rockabilly of Lonnie Donegan and Carl Perkins before, like for many teenagers, everything changed in 1956 when he first heard Elvis Presley's 'Heartbreak Hotel'.
After a bit of persuading, his dad bought him a Dutch Egmond flat-top acoustic guitar and he formed a skiffle group called The Rebels.
When did George Harrison join The Beatles?
Back in 1958, George auditioned for Paul McCartney and John Lennon's fledgling skiffle band The Quarrymen.
At Rory Storm's Morgue Skiffle Club he gave it his best shot with Arthur 'Guitar Boogie' Smith's 'Guitar Boogie Shuffle', but with George being just 15 years old, John thought he was too young for the group.
Paul persevered though, and got George a second audition on the top floor of a bus, where Lennon finally got on board when George played Bill Justis's 'Raunchy'.
He filled in here and there with The Quarrymen, before eventually becoming an official member of the band.
Stuart Sutcliffe joined the group on bass in January 1960, changing the band's name to the Beatals, which turned into the Silver Beetles, and by August 1960 they were The Beatles.
Pete Best joined on drums and the band cut their teeth in Hamburg, before Best was swapped out for Ringo Starr and music changed forever.
What Beatles songs did George Harrison write?
Despite being 'The Quiet Beatle', most of the band's songs wouldn't be anywhere near as brilliant if it wasn't for George Harrison's lead guitar.
That said, it must have been tough being one of the best songwriters in the land, but stuck behind the Lennon-McCartney partnership when it came to choosing songs for your band's albums.
So George only had the odd song here and there on The Beatles albums, but they were frequently among the best.
Of the 213 songs released by The Beatles during their lifetime, George wrote 22 (compared to two for Ringo and 25 covers)
George's songs were:
'Don't Bother Me'
'I Need You'
'If I Needed Someone'
'Think for Yourself'
'You Like Me Too Much'
'I Want to Tell You'
'Love You To'
'Taxman'
'Within You Without You'
'The Inner Light'
'Long, Long, Long'
'Piggies'
'Savoy Truffle'
'While My Guitar Gently Weeps'
'Here Comes the Sun'
'It's All Too Much'
'Old Brown Shoe'
'Only a Northern Song'
'Something'
'For You Blue'
'I Me Mine'
'Blue Jay Way'
What were George Harrison's biggest solo songs?
George Harrison - My Sweet Lord
While he was a Beatle, George released the Indian classical soundtrack Wonderwall Music (the first release on Apple) in 1968 and the experimental Electronic Sound (the second and last release on Apple spinoff Zapple) in 1969.
He had something of a backlog to work through when he went solo, and his first "proper" album was the triple-album All Things Must Pass.
He ended up releasing 12 solo studio albums and two as part of The Traveling Wilburys supergroup alongside Bob Dylan, Roy Orbison, Tom Petty and Jeff Lynne.
George Harrison's biggest solo songs include:
'My Sweet Lord'
'Wah-Wah'
'Give Me Love (Give Me Peace on Earth)'
'Bangla Desh'
'Dark Horse'
'Ding Dong, Ding Dong'
'This Guitar (Can't Keep from Crying)'
'Blow Away'
'What is Life'
'All Those Years Ago'
'Got My Mind Set on You'
'When We Was Fab'
Who was George Harrison married to, and did he have any children?
George married Pattie Boyd at the height of Beatlemania in 1966, and they stayed together for over a decade, divorcing in 1977.
Pattie later went on to marry George's pal Eric Clapton 1979. Eric had written 'Layla' about Patti way back in 1970, when George and Patti were still very much married.
George didn't seem to mind, though. He attended the wedding, having already married Olivia Arias and having a son, Dhani, in the meantime.
When did George Harrison become Hindu?
Within You Without You (Remastered 2009)
George became interested in Indian culture by the mid-1960s, and the group met Sivananda Yoga founder Swami Vishnu-devanada during the fiming of Help!
He and Pattie later maid a pilgrimage to India where he studied sitar with virtuoso Ravi Shankar. He and the Beatles later went to Rishikesh and studied meditation with Maharishi Mahesh Yogi.
As well as absorbing the influence of Indian music in his own work with The Beatles on songs like 'Within You - Without You' and 'The Inner Light', he also produced the 'Hare Krishna Mantra' single by members the London Radha Krishna Temple while he was still a Beatle.
What happened when George Harrison was stabbed by an intruder?
On December 30, 1999, just over 19 years after John Lennon was murdered, George Harrison and his wife Olivia were attacked by an intruder at their Friar Park home.
Michael Abram, a 34-year-old man suffering from paranoid schizophrenia, attacked Harrison with a kitchen knife, stabbing him more than 40 times and puncturing his lung before Olivia managed to stop him by hitting him with a lamp and fireplace poker.
Ever the philosopher, George said of his attacker: "He wasn't a burglar, and he certainly wasn't auditioning for the Traveling Wilburys. Adi Shankara, an Indian historical, spiritual and groovy-type person, once said, 'Life is fragile like a raindrop on a lotus leaf'. And you'd better believe it."
How and when did George Harrison die?
George Harrison first battled throat cancer in 1997, which he attributed to years of smoking. He was treated with radiotherapy and it was initially thought to be successful.
Some believe that the violent attack he suffered two years later contributed to the cancer's return. He underwent surgery on his lungs in May 2001, and the disease was found to have spread to his brain.
He began radiotherapy at Staten Island University Hospital in New York City in November 2001, but died of the illness on Heather Road in Beverly Hills, Los Angeles on November 29, 2001.
George's final message to the world was: "Everything else can wait, but the search for God cannot wait, and love one another."
His funeral was held at the Self-Realization Fellowship Lake Shrine in Pacific Palisades, California, and he was cremated at Hollywood Forever Cemetary with his ashes scattered in a private ceremony in the Ganges and Yamuna rivers near Varanasi, India according to Hindu tradition.