Bolan's Shoes review: Timothy Spall shines in bittersweet film about T Rex fans
15 September 2023, 10:59 | Updated: 15 September 2023, 11:45
Marc Bolan is remembered and cherished in this new nostalgic drama starring Timothy Spall and Leanne Best.
Warning: May contain spoilers
Bolan's Shoes is a British drama film written and directed by Ian Puleston-Davies, who makes his feature debut after working in TV.
The film stars Timothy Spall and Leanne Best as two childhood friends who reconnect after a tragic accident that changed their lives. The film also features Mark Lewis Jones, Andrew Lancel, Louis Emerick, and Eden Beach in supporting roles.
Marc Bolan's son, Rolan Bolan, also served as the film's associate producer.
It is set in both the 1970s and the present day, and uses the music of glam rock icon Marc Bolan and his band T Rex as a backdrop and a source of inspiration.
The film begins with a flashback to the 1970s, when a group of children from a Liverpool care home are taken on a coach trip to see T Rex perform live, accompanied by a kind-hearted vicar (Lancel) and his daughter Penny (Beach). Among the children are Sadie (Amelia Rose Smith) and her older brother Jimmy (Isaac Lancel-Watkinson), who are close to Penny but suffer from bullying by the other boys.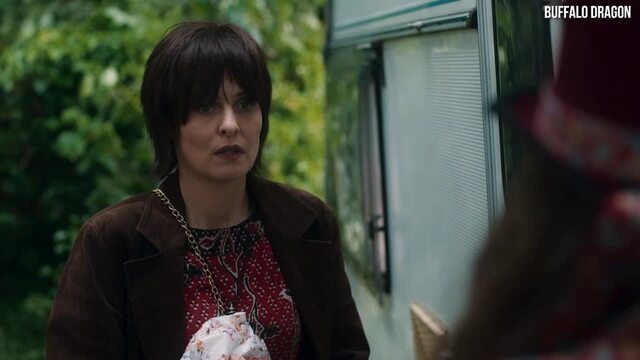 Watch the trailer for Bolan's shoes
On their way to the concert, they have a chance encounter with Bolan himself, who gives them his autograph and some words of encouragement. However, their joy is short-lived, as the coach crashes on the way back, killing several people, including Sadie.
The film then shifts to the present day, where Penny (Best) is now married to another vicar (Jones) and lives in Anglesey. She decides to make her annual pilgrimage to London to visit Bolan's grave on the anniversary of his death in a car crash.
There, she meets a mysterious man (Spall) with long hair and a beard, who entertains the crowd of fans with his bubble-blowing skills. He suffers from an epileptic seizure, and Penny recognizes him as Jimmy, her long-lost friend from the care home.
She learns that he has been diagnosed with bipolar disorder and lives in a caravan in the woods, haunted by the memories of the past. She decides to help him reconnect with his family and himself, while also confronting her own guilt and trauma.
Bolan's Shoes is a film that tries to balance comedy and tragedy, optimism and realism, nostalgia and relevance. It is a tribute to Bolan's legacy and influence, but also an exploration of how music can heal or hurt people.
The film has some flaws, such as its uneven tone, and its melodramatic plot twists. However, it also has some strengths, such as its good-natured spirit, its catchy soundtrack, and its superb performances.
Its biggest asset is the chemistry between Spall and Best, who deliver nuanced and heartfelt portrayals of two damaged souls who find solace in each other. Spall avoids overacting or caricaturing his character's mental illness, and instead shows his vulnerability, humour, and intelligence.
Best is equally impressive as Penny, who struggles with her own demons but also shows compassion and courage. They are supported by a solid cast of familiar faces from British TV, who add some colour and warmth to the film. In particular, Mark Lewis Jones and former Brookside star Louis Emerick are a joy to watch.
Of course, you can't go wrong with the soundtrack. Plenty of T Rex classics are heard throughout, with Marc Bolan's life and tragic death serving as the backdrop. Songs include 'Children of the Revolution', '20th Century Boy' and 'Get It On'. And seeing his fans pay their respects at his actual Rock Shrine at the site of his car crash in London, brings a nostalgic tear.
Bolan's Shoes may not be a groundbreaking film, but it is a sincere and touching one. It is a film that celebrates the power of music, friendship, and forgiveness. It is a film that will appeal to fans of T Rex, but also to anyone who enjoys a good human drama.
3/5
Bolan's Shoes is released on September 15 at UK and Irish cinemas.