Christine McVie is reworking classic Fleetwood Mac songs for a new solo album
30 March 2022, 17:06 | Updated: 30 December 2022, 11:31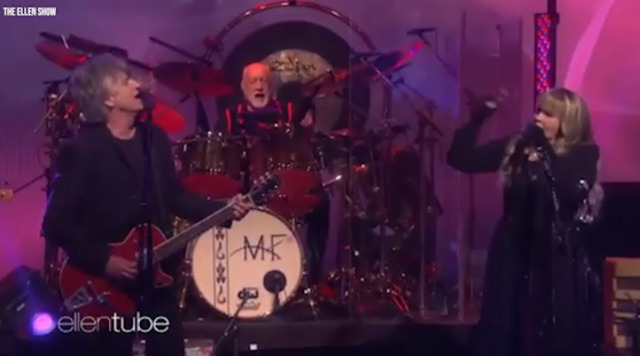 Fleetwood Mac perform 'The Chain' on Ellen with new additions Neil Finn and Mike Campbell
'Songbird' and other Fleetwood Mac songs – as you've never heard them before.
Christine McVie has been a key member of Fleetwood Mac for over half a century.
She left the band to pursue other projects in 1998, before returing in 2014 and is part of the current lineup – but she's still continuing her work on the side.
McVie released her third solo album In The Meantime in 2004, and the collaboration album Lindsey Buckingham Christine McVie in 2017.
She has now revealed that her fourth solo album will be made up of re-recordings of some of her classic back catalogue.
"I've just finished an album, which is a compilation of my biggest hits," McVie told Gary Barlow's We Write The Songs podcast.
"But they've all been produced again by Glyn Johns, Vince Mendoza on strings – who does this fantastic version on 'Songbird'.
"So that's gonna be released – but they all sound completely different.... we've just now actually re-cut it with a complete string orchestra and it sounds beautiful."
It's not yet clear what Fleetwood Mac songs or other tracks from McVie's past will be included on the album, though she wrote or co-wrote songs including 'Everywhere', 'Don't Stop', 'Say You Love Me', 'Little Lies' and 'The Chain'.
The album is set for a June release, though McVie says she is "very cagey" about the prospect of taking it out on the road.
The current lineup of Fleetwood Mac features Christine alongside other classic-era members Mick Fleetwood, John McVie and Stevie Nicks, with Mike Campbell and Neil Finn in place of Lindsey Buckingham, who was controversially axed from the group in 2018.
"I'll just say it… Stevie and Lindsey, I don't think certainly are resolved fully, and I wish they were," said drummer and ever-present Mick Fleetwood earlier this year.
"I visualise those moments as the years trickle by somehow. But I truly, somewhat sadly think that that will go into the rainbow somewhere and never really change. But there you go."