Elvis Costello won't ever perform 'Oliver's Army' again due to controversial lyric
11 January 2022, 10:52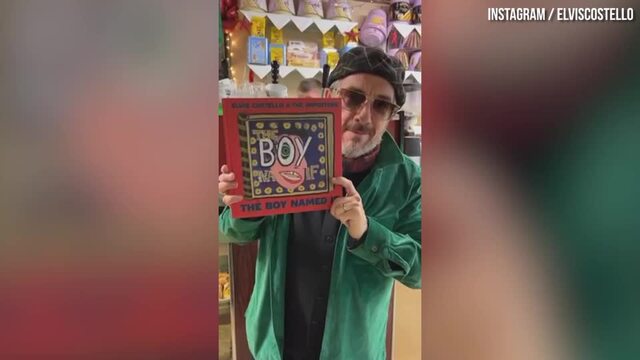 Elvis Costello calls on fans to pre-order his new album
Elvis Costello's massive 1979 hit has come under increased scrutiny over the years.
Elvis Costello has announced that he'll stop playing his 1979 hit 'Oliver's Army' because of its now-controversial lyrics.
The singer-songwriter has also asked radio stations to stop playing it rather than censor the N-word.
Inspired by The Troubles in Northern Ireland, the song from Costello's third studio album Armed Forces contains the lyric: "Only takes one itchy trigger / One more widow, one less white n*****".
The song was played uncensored on radio for decades, but as the conversation around racist slurs has moved on, it has recently been edited for broadcast.
"If I wrote that song today, maybe I'd think twice about it," Costello told The Telegraph.
Elvis Costello & The Attractions - Oliver's Army (Official Music Video)
"That's what my grandfather was called in the British army – it's historically a fact – but people hear that word go off like a bell and accuse me of something that I didn't intend."
He added: "On the last tour, I wrote a new verse about censorship, but what's the point of that?
"So I've decided I'm not going to play it. [Bleeping the word] is a mistake. They're making it worse by bleeping it for sure. Because they're highlighting it then. Just don't play the record!"
'Oliver's Army' isn't the only classic song whose lyrics have only recently become edited for radio.
'Fairytale of New York' by The Pogues and Kirsty MacColl – which had an early version produced by Costello – features the words "You scumbag, you maggot / You cheap, lousy f****t / Happy Christmas, your arse/ I pray God it's our last".
When the song was first performed on Top of the Pops in 1987, the BBC insisted MacColl change the lyric from "arse" to "ass".
When they returned to the show in 1992, Kirsty changed the lyric from "You cheap, lousy f****t" to "You're cheap and you're haggard" – and in 2020 the band themselves released a radio edit of the song to streaming platforms that used these words.