'Fairytale of New York' by The Pogues and Kirsty MacColl: The making of the timeless Christmas masterpiece
30 November 2023, 18:02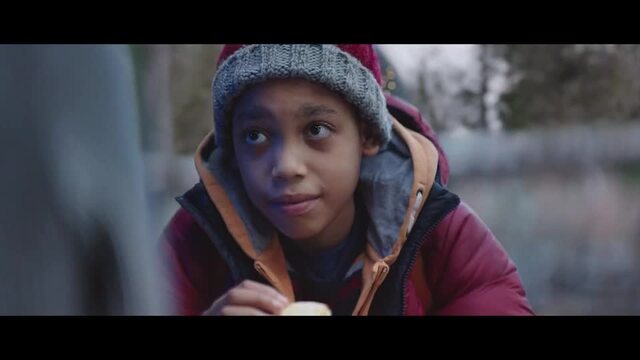 John Lewis launch 2021 'Unexpected Guest' Christmas advert
The Pogues joined forces with Kirsty MacColl to make one of the best-loved Christmas songs of all time.
Some festive songs like 'White Christmas' emerged in the pre-rock era and quickly became seasonal standards.
Others, like 'Christmas Wrapping' and 'Merry Xmas Everybody' have stood the test of time, but absolutely sound like the era from which they come.
But 'Fairytale of New York' seemingly emerged from absolutely nowhere in the mid-1980s and instantly sounded like it had been played for generations.
A collaboration between Ango-Irish Celtic punk band The Pogues and Kirsty MacColl, 'Fairytale of New York' was an instant Christmas classic. But how did it actually come together? Read on to find out everything you need to know.
Who wrote 'Fairytale of New York' and how long did it take?
The Pogues - Fairytale Of New York (Official Video)
While Kirsty MacColl sings on 'Fairytale of New York', she didn't have anything to do with writing it
The song was written by The Pogues banjo player Jem Finer together with frontman Shane MacGowan.
"I had written two songs complete with tunes," Jem told the NME.
'One had a good tune and crap lyrics, the other had the idea for 'Fairytale' but the tune was poxy. I gave them both to Shane and he gave it a Broadway melody, and there it was."
It took a whopping TWO YEARS to write and record, with work starting in 1985 and the song being re-written and attempted in the studio several times over before its eventual recording and release in 1987.
The Pogues Fairytale of New York (1st Demo Version)
"I sat down, opened the sherry, got the peanuts out and pretended it was Christmas," MacGowan had told Melody Maker in 1985.
'It's even called 'A Fairy Tale of New York', it's quite sloppy, more like 'A Pair of Brown Eyes' than 'Sally MacLennane', but there's also a céilidh bit in the middle which you can definitely dance to.
Like a country and Irish ballad, but one you can do a brisk waltz to, especially when you've got about three of these [drinks] inside you."
As to why The Pogues had decided to write a Christmas song, MacGowan said the band's then-producer Elvis Costello bet him they couldn't write a Christmas hit.
For what it's worth, the band's accordion player James Fearnley says that the band's then-manager Frank Murray wanted them to cover The Band's 1977 song 'Christmas Must be Tonight'.
"It was an awful song. We probably said, f**k that, we can do our own," he added.
By 1987, they'd absorbed the influence of their first US tour and Sergio Leone's Once Upon a Time in America (for the lyrics and that Ennio Morricone-esque piano intro), and had a classic on their hands.
Was Kirsty MacColl always supposed to sing the female part of the 'Fairytale of New York' duet?
It's hard to imagine 'Fairytale of New York' without Kirsty MacColl, but the band actually drafted her in relatively late in the day.
When they first started the song, the plan was for The Pogues bass player Cait O'Riordan to duet with Shane.
And in fact, Cait laid down her lines for an unreleased version of the track recorded with producer Elvis Costello in January 1986 during the Poguetry in Motion EP sessions.
The band weren't overjoyed with the recordings. "It was not quite there. It needed to have a full-on, confident performance from the band, which it lacked," said guitarist Philip Chevron.
The Pogues - Fairytale Of New York Demo
By the time they tried again, the group had parted ways with Elvis AND Cait (and Cait and Elvis had got married).
That left a duet in need of a singer.
After a few more attempts to do something with the song, the band's new producer Steve Lillywhite brought the track to his home studio and his wife Kirsty MacColl gave it a go.
"Kirsty knew exactly the right measure of viciousness and femininity and romance to put into it and she had a very strong character and it came across in a big way," said Shane.
Is there really an NYPD Choir?
Bing Crosby - "Galway Bay"
"The boys of the NYPD choir still singing 'Galway Bay'," paints such a beautiful, evocative image.
The only thing is, the New York Police Department doesn't actually have a choir.
So in the music video, they enlisted the NYPD's Emerald Society Popes and Drums group. They didn't know 'Galway Bay' so they're actually singing the 'Mickey Mouse March', carefully edited in the film so you can't tell.
Some people say the "NYPD choir" is actually the gang of drunks locked up for the night, but we think it's just a bit of poetic licence.
What is 'Fairytale of New York' actually about?
Jem Finer's very first draft of the song was about a New York sailor looking over the ocean and remembering his life back in County Clare in Ireland. Jem's wife Marcia wasn't keen, and instead suggested a dialogue between a man and a woman.
Named after JP Donleavy's 1973 novel A Fairy Tale of New York, Shane's version did just that with perfection.
The band rightly laughed off Elvis Costello's overly-literal suggested song title 'Christmas Eve in the Drunk Tank', but that's a fair kicking off point.
"The song itself is quite depressing in the end," said Shane. "It's about these old Irish-American Broadway stars who are sitting round at Christmas talking about whether things are going okay."
An Irish immigrant in a New York drunk tank on Christmas Eve remembers years gone by ("I turned my face away / And dreamed about you"), before a remembered dialogue between him and his lover, looking back at the complex, twisted mess their life and relationship became ("You took my dreams from me / When I first found you") .
Why is 'Fairytale of New York' controversial?
Fairytale of New York (feat. Kirsty MacColl) [Top of The Pops Dec 1987]
The lyrics for the dialogue in 'Fairytale' are gritty, authentic and uncompromising. Our two broken lovers don't pull any punches as they verbally lay into each other.
"You're a bum, you're a punk," sings Kirsty. Shane responds: "You're an old slut on junk / Lying there almost dead on a drip in that bed."
Kirsty hits back: "You scumbag, you maggot / You cheap, lousy f****t / Happy Christmas, your arse/ I pray God it's our last."
It's not the case of the song offending modern sensibilities. The lyrics were always controversial, it's just that the area of contention has shifted with changing times.
Fairytale of New York (feat. Kirsty MacColl) [Top of the Pops Jan 1992]
When the song was first performed on Top of the Pops in 1987, the BBC insisted MacColl change the lyric from "arse" to "ass".
And when they returned to the show in 1992, Kirsty changed the lyric herself from "You cheap, lousy f****t" to "You're cheap and you're haggard".
(Side note: When The Pogues performed the track with Katie Melua on CD:UK in 2005, ITV censored "arse" but kept in "f****t".)
By December 2007, Radio 1 were editing out the words "f****t" and "slut", before backtracking after disquiet from various parties (including Kirsty MacColl's mum). Meanwhile MTV UK censored "slut", "f****t" and "arse" without much complaint.
The Pogues & Katie Melua Fairytale of New York CDUK 24th Dec 2005
As time has gone on, the word causing the most contention is clearly "f****t" (the only one we're censoring here ourselves).
"The word was used by the character because it fitted with the way she would speak and with her character," said Shane MacGowan in December 2018.
"She is not supposed to be a nice person, or even a wholesome person. She is a woman of a certain generation at a certain time in history and she is down on her luck and desperate.
"Her dialogue is as accurate as I could make it but she is not intended to offend!"
He added: "She is just supposed to be an authentic character and not all characters in songs and stories are angels or even decent and respectable, sometimes characters in songs and stories have to be evil or nasty to tell the story effectively.
"If people don't understand that I was trying to accurately portray the character as authentically as possible, then I am absolutely fine with them bleeping the word, but I don't want to get into an argument."
Fairytale of New York (edit) (feat. Kirsty MacColl)
'Fairytale' discourse seemed to kick off every year with angry parties on both sides of the debate threatening to overwhelm the actual song itself, which was a terrible shame.
Happily, by December 2020 an official version of 'Fairytale of New York' with "You cheap, lousy f****t" changed to "You're cheap and you're haggard" (as per Kirsty in 1992) was made available to stream on Spotify and YouTube.
No-one's deleted the original either, so now we've got versions of the song that are appropriate for all contexts and all audiences.
When was 'Fairytale of New York' released and where did it get in the chart?
After it was finally recorded in August 1987, the band obviously held back on releasing 'Fairytale of New York' for a few months, eventually putting it in shops on November 23.
It reached number two in the Christmas charts that year, only being kept off the top by the Pet Shop Boys' joyous cover of 'Always on My Mind'.
It was formally re-released in 1991, 2005 and 2012, and in the download/streaming era has reached at least the top 75 every year since 2005 – usually popping into the top ten around Christmas these days.
It's now a quadruple platinum single with over 2.4 million sales (including streaming equivalent sales).
How much in royalties does 'Fairytale of New York' make ever year?
The music royalties machine is a bit of a black box, with the fine details of the contract plus any licensing deals not fully available to the public, but that doesn't stop people giving a pretty good guess.
And currently, it's estimated that the song brings in around £400,000 a year to The Pogues, making it one of the best performers every Christmas (though behind Slade's 'Merry Xmas Everybody' which rakes in a cool half million).
Who has covered 'Fairytale of New York'?
Ed Sheeran & Anne-Marie - Fairytale Of New York in the Live Lounge
No-one can really match the original 'Fairytale of New York', but many have given it a try over the years.
After Kirsty MacColl's tragic death shortly before Christmas 2000, The Pogues themselves have performed the song with Katie Melua, Ella Finer and others.
One of the highest profile covers came in 2017, when Ed Sheeran and Anne-Marie performed the song on BBC Radio 1's Live Lounge.
Other duets include Ronan Keating feat. Máire Brennan in 2000, Damien Dempsey & Sinéad O'Connor in 2002, Paloma Faith feat. Scouting for Girls in 2018 and Florence and The Machine ft. Billy Bragg in 2010.
'Fairytale of New York' - EastEnders Christmas Party - BBC
It's been done a lot on TV shows: Ruth Jones and Rob Brydon sang it as Nessa Jenkins and Uncle Bryn on the Gavin & Stacey Christmas Special in 2019 and Saoirse Ronan and Jimmy Fallon did it on The Tonight Show Starring Jimmy Fallon in 2018.
Bill Murray even did it on his 2015 special A Very Murray Christmas, and you can't forget Shane Richie and Jill Halfpenny as Alfie Moon and Kate Mitchell for EastEnders ("slut" changed to "girl", "arse" changed to "farce" and f****t left in uncensored, for those writing a book on all this).
Jon Bon Jovi gave it a go, doing both vocal parts with revamped lyrics in 2020 for his Christmas EP A Jon Bon Jovi Christmas, which wasn't particularly well-received.