Frank Sinatra musical to get world premiere in the UK this year
13 March 2023, 13:21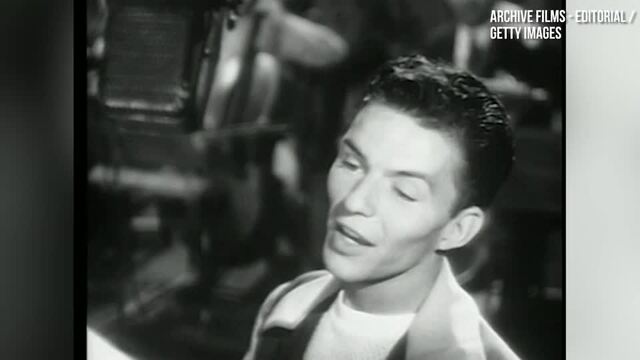 Frank Sinatra delivers beautiful performance in recording studio
Frank Sinatra: The Musical is opening this September in Birmingham.
A new musical based on the life of Frank Sinatra is coming soon, and it will have its first performances somewhere a little unexpected.
Rather than Broadway or in the West End, Frank Sinatra: The Musical, will open at the Birmingham Rep Theatre on September 23 and tickets are available now.
The musical from writer Joe DiPietro and Kathleen Marshall is based on the recollections of Tina Sinatra, Frank's daughter.
"I am very proud of our new musical production," said Tina.
"I'm especially delighted that, for the first time, we're going to give you a perspective on my father that you've never seen before."
"It is New Year's Eve, 1942, and a skinny 27-year-old Italian-American singer is about to step onto the stage of New York's Paramount Theatre and give a performance that will change music history," opens the blurb for the show.
The production will explore Sinatra's skyrocketing career and how he balanced his showbiz life against his relationship with his wife Nancy (mum of singer Nancy), especially once he embarked on an affair with Ava Gardner.
As Sinatra's career fades, he draws on his devotion to his family and art for the ultimate comeback.
DiPietro said: "Growing up, there were two pictures hanging in my grandmother's kitchen – the Pope and Frank Sinatra.
"So to sit down with Tina Sinatra and hear stories of her father which no one else knows, and then to be able to put those stories on stage – well I think it'll make for an unexpected and thrilling new musical.
"We'll be showing you how the man became the legend and how the legend was – at the end of the day – just a man."
Marshall added: "I am beyond thrilled to return to the UK, which feels like my second home, to bring the story of the legendary Frank Sinatra to the stage at such a prestigious theatre as the Birmingham Rep.
"We hope to create an evening of theatre that is as stylish, sophisticated and elegant as Mr. Sinatra, with glorious music from the American Songbook."