Hawkwind announce 50th anniversary Space Ritual album and massive Royal Albert Hall show
6 July 2023, 13:13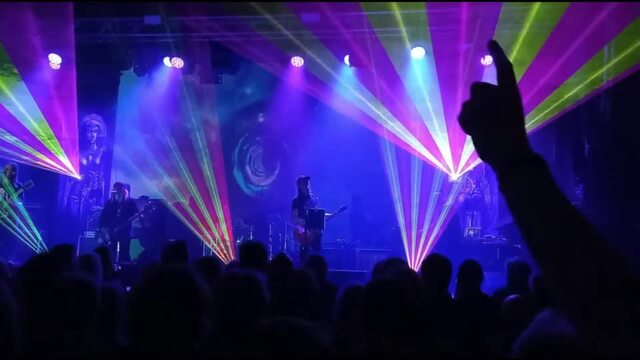 Hawkwind live! Promotional showcase
Hawkwind celebrate their classic 1973 album with a giant reissue and extra-special live show.
Hawkwind have been together for over half a century now in various forms, but for many their crowning achievement was their 1972 Space Ritual tour and the following year's live album
To celebrate its 50th anniversary, the band have not just announced an absolutely mammoth reissue, but also a very special celebratory live show.
The original Space Ritual album has been newly remastered from the original master tapes, while the deluxe 11 disc limited edition boxed set includes new mixes from the original 16-track masters of full concerts at Liverpool Stadium, Sunderland Locarno and Brixton Sundown.
The box-set also includes a Blu-ray 5.1 surround sound mix of the album, featuring the complete versions of 'Brainstorm', 'Time We Left This World Today' and 'You Shouldn't Do That', as well as a 68-page illustrated book and reproduction of the Space Ritual poster-format tour programme.
For those of you wanting something a little more compact, the reissued Space Ritual is also available in a 2CD and double transparent vinyl edition.
To celebrate the anniversary, the current Hawkwind lineup is playing a live show at the Royal Albert Hall on September 29.
Tickets for the night of Sonic Destruction are available now from the venue, with support coming from The Crazy World of Arthur Brown.
The original shows took place during the band's UK tour in December 1972 and followed the release of the Doremi Fasol Latido album and the 'Silver Machine' single.
Featuring a light show by Liquid Len and backing dancers Stacia, Miss Renee and Tony Carrera, the show was a continuous performance linked by poetry recited by Robert Calvert.
The breakdown of the 11-discs on the special edition is as follows:
Discs 1 and 2: The original Space Ritual album re-mastered
Discs 3 and 4: Liverpool Stadium 22nd December 1972 New mix (previously unreleased)
Discs 5 and 6: Locarno Sunderland 23rd December 1972 New mix (previously unreleased)
Discs 7 and 8: Brixton Sundown, London 30th December 1972
Disc 9 and 10: Space Ritual 50th Anniversary Stereo Remix by Stephen W Tayler
Disc 11 (Blu-ray): Space Ritual 96 kHz / 24-bit 5.1 mix & new stereo mix By Stephen W Tayler