Status Quo's Francis Rossi reveals he dreams of Rick Parfitt ahead of band's tour
25 November 2022, 16:16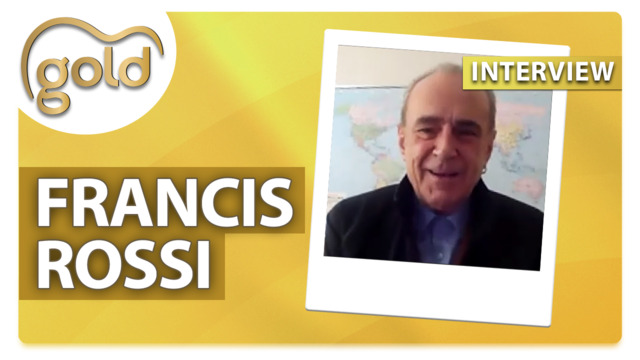 Gold Meets... Status Quo's Francis Rossi
Rick Parfitt died in 2016, but Status Quo are carrying on without him.
Status Quo's Francis Rossi has revealed that he has dreams about his former bandmate Rick Parfitt.
Rossi and Parfitt were the only ever-presents in the Quo lineup from when they adopted the name in 1967 through to 2016, when Parfitt died from sepsis following an infection.
Status Quo have continued since Parfitt's death, and after playing several European shows have returned to the UK this week for their Out Out Quoing Tour with Shakin' Stevens in support.
"The naysayers said, 'They can't do it without Rick... blah, blah, blah'," Rossi told The Mirror.
"And they may be right for all I know. But it just makes you dig in."
Rossi added: "I dreamed of him last night. I was supposed to be doing a vocal for a soundtrack on a movie.
"He said, 'I think you should let me sing this', well, that was Rick all over, 'Let me, let me, let me'."
Of the band still plugging away after six decades, he said: "It's a shame I'm so f**king old. The band are playing really well, and all enjoying each other's company.
Status Quo - Pictures Of Matchstick Men (1968)
"I wonder how far the band can grow, but then I remember... I'm 73. I'm very much aware of age because when I was growing up we would always laugh at someone in music who was 40.
"Now I'm in my 70s, my face is falling off and when I stand under a lamp, my hair disappears."
Status Quo's last studio album was 2019's Backbone, their 33rd, while they recently released the 2/3CD compilation album Quo'ing In – The Best of the Noughties.
The full Status Quo 2022 tour dates are as follows:
November 2022
Friday 25: P&J Live, Aberdeen
Saturday 26: SEC Armadillo, Glasgow
Monday 28: FD Arena, Leeds
Wednesday 30: Brighton Centre, Brighton
December 2022
Thursday 1: BIC, Bournemouth
Saturday 3: OVO Arena Wembley, London