Winifred Atwell facts: The songs, life death and influence of the musical trailblazer
11 October 2022, 16:42 | Updated: 10 March 2023, 13:25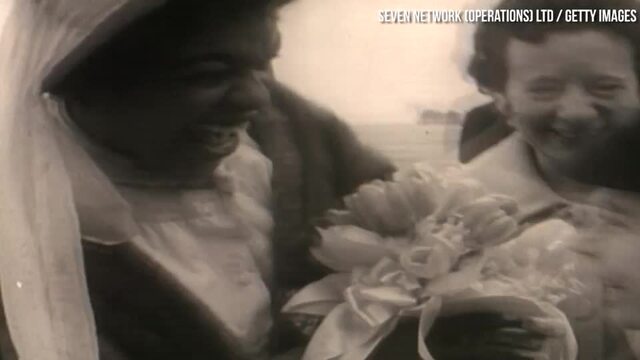 Winifred Atwell arrives in Melbourne in 1960
A celebration of the life and music Winifred Atwell, a true musical trailblazer.
Of the 1,400 odd songs to hit number one in the UK singles charts, most have featured vocals and lyrics.
There has been a sprinkling of iconic instrumentals to top the charts, of course.
The Tornados' 'Telstar' immediately comes to mind, as do all five of The Shadows No.1s,  especially 'Apache'.
Then there's Fleetwood Mac's stunning 'Albatross'. More recently there was had Mr Oizo's 'Flat Beat', propelled to the top by a puppet in a Levi's ad.
Following in the footsteps of Mantovani and Eddie Calvert, the third-ever instrumental number one was Winifred Atwell's 'Let's Have Another Party', which topped the charts in December 1954.
Winifred Atwell :::: Lets Have Another Party.
Atwell's ragtime sequel to her own 'Let's Have a Party' was a groundbreaker.
As well as being the third-ever instrumental number one and – with its five-week run at the top – the third-ever Christmas number one, it was the first number one in the UK singles chart by a Black artist.
As we write this today, she's still the only female instrumentalist to get the coveted number one spot.
Below, we look at the life and work of Winifred Atwell, a true musical trailblazer.
Una Winifred Atwell was born, well, we're not entirely sure.
Back before computers, records weren't so well kept. The dates that pop up are either February 27 or April 27 1914, though the age on her gravestone suggests that she may well have been born in 1910.
What we do know is that Una was born in Tunapuna in Trinidad and Tobago.
Five Finger Boogie by Winifred Atwell
Unlike many stars, she didn't come from a line of musicians. Her family owned a pharmacy and Winifred even trained up in the business, but she also played the piano from an incredibly young age.
It's said that she had her first lessons from her mum when she was just two-and-a-half, and was already giving public performances of Chopin in public by the age of five.
She became the official organist at St Charles's Church in Tunapuna by the time she was eight.
Winifred also played the piano to entertain American and British servicemen at the Air Force Base, which later became Trinidad's main Piarco International Airport.
The story goes that one of the men either asked her to play some boogie-woogie, or bet that she couldn't play it.
Not one to shirk a challenge, by the time of her next gig, she'd written 'Piarco Boogie', later retitled 'Five Finger Boogie'.
The experience of playing for the Americans clearly had an effect, and Winifred went on to move to the US in the early 1940s.
Winifred Atwell - Black And White Rag
There, she studied the piano with Alexander Borovsky, before moving to London in 1945 to continue her studies at the Royal Academy of Music.
So she was a properly-trained virtuoso on the instrument, but at the same time she was showing off her other side – playing ragtime bangers at London clubs.
It was during a set at the Casino Theatre that she was spotted and signed Bernard Delfont.
She got a deal with the then-massive Decca Records, and started putting out successful singles.
Not long after she moved to the UK, Atwell met former comedian Lew Levisohn in 1946 and the couple married soon after, with Lew using his experience to help his new wife with her career.
While this was all happening, Winifred was being beamed into people's homes via the still relatively new invention of television (it's worth noting that by the start of the 1950s, only 350,000 households had a TV set).
Still, her appearance on Stars in Your Eyes in October 1946 certainly made it plain that Atwell was a major star in the making, and she popped up over and over on the Light Programme, BBC Home Service and BBC Television in the years that followed.
Winifred Atwell - The Poor People of Paris
As well as playing a fancy concert grand piano during her shows, Levisohn bought Atwell a beat-up upright piano dubbed "my other piano", bought for just 50 shillings.
In 1952 she released 'Cross Hands Boogie', but it was her version of 1908 tune 'Black and White Rag' on the flipside that cemented her superstar status.
'Black and White Rag' eventually went gold, selling over a million copies. Being the theme of successful snooker show Pot Black certainly didn't hurt.
After that, the hits just kept coming. 'Let's Have Another Party' and 'The Poor People of Paris' both reached number one, while 'Flirtation Waltz' and 'Jubilee Rag' sold plenty of copies.
On November 3, 1952, Winifred played the first Royal Variety Command Performance for the new queen, attended by Her Majesty the Queen, the Duke of Edinburgh and Princess Margaret at the London Palladium.
She wrote 'Britannia Rag' for the occasion, and chatting to the royals after the show Princess Margaret told her how much she loved her records.
Winifred Atwell - The Wheeltappers & Shunters Social Club
Soon, she wasn't just popping up other variety TV shows or on other people's programmes.
She featured on her very own Bernard Delfont Presents The Winifred Atwell Show, which started on the new ITV before being snaffled by the Beeb.
With her talent, it seemed certain that Winifred Atwell would conquer America, but being a Black woman with a British accent apparently confused audiences there, especially in the South.
Legally-endorsed racism and segregation was sadly a major issue in the US in the 1950s – the Civil Rights Act was still a decade away.
Britannia Rag by Winifred Atwell
Atwell was supposed to have performed on The Ed Sullivan Show in 1956, but the appearance was never recorded.
Instead, Winifred and Lew travelled to Australia, becoming a massive star on the other side of the world, with regular tours Down Under cementing her legacy there.
She eventually moved there, while still making several trips back to Trinidad and the UK over the years.
Lew died in December 1977, and Winifred suffered a stroke in 1980, retiring from music the following year.
Dixie Boogie by Winifred Atwell
Her final TV performance saw her play 'Choo Choo Samba' and a medley of 'Black and White Rag' and 'Twelfth Street Rag'.
In 1983 she was staying with friends in Seaforth in Northern Sydney after a fire had stroyed her home in Narrabeen.
During her stay, she had a heart attack. Winifred died on February 28, 1983, and was buried next to her husband in Lew Levisohn in South Gundurimba Private Cemetery in northern New South Wales.
Her legacy is imprinted on popular music, with pianists like Keith Emerson and Elton John especially singing her praises over the years.