How George Harrison saved Monty Python's Life of Brian film from being axed
22 February 2023, 09:36 | Updated: 18 September 2023, 12:03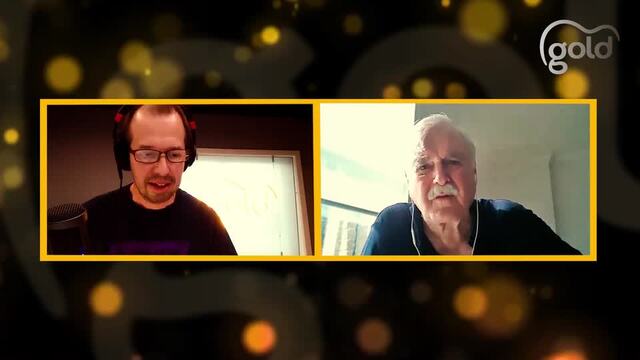 John Cleese on Fawlty Towers, George Harrison and staying creative
When EMI Films backed out, a Beatle and Python superfan stepped up to save one of the best British films of all time.
George Harrison was one quarter of The Beatles and a solo rock superstar in his own right.
That would be more than enough to secure anyone's legacy, but The Quiet One also has another major claim to fame: he's the man who saved Monty Python's Life of Brian.
Released in 1979, it was the Python troupe's third film after And Now for Something Completely Different and Monty Python and the Holy Grail, and is rightly hailed as one of the funniest comedies of all time.
"Monty Python's Life of Brian" 40th Anniversary Cinema Teaser
But the film almost never got made at all.
After Eric Idle jokingly claimed that the follow up to Holy Grail would be called Jesus Christ – Lust for Glory the idea burbled of actually making a biting satire on organised religion.
Life of Brian doesn't actually mock the real (or textual) Jesus, or his teachings, but instead his a hilarious takedown of the mess of organised religion.
Instead of Jesus, the protagonist is his little-known contemporary Brian Cohen, who is mistaken for the Messiah but really doesn't want to be.
Brian Telling His Followers He Is Not the Messiah - Monty Python's Life of Brian
Originally titled The Gospel According to St. Brian, the Python team had a first draft of the screenplay ready by Christmas 1976, and the final draft all done-and-dusted by January 1978.
But days before production was due to start, EMI suddenly got cold feet about the whole thing.
Despite Jesus himself not being a target of the gags, were worried about the potentially controversial subject matter, and pulled the rug out from under the whole production just before they were due to fly to Tunisia.
Eric Idle and Terry Gilliam on George Harrison and Life Of Brian
It's believed that late in the day, Chairman of EMI Lord Bernard Delfont finally thought it was worthwhile to perhaps look at the screenplay of the film his company was about to make.
"They pulled out on the Thursday," Terry Gilliam told The Guardian in 2003. "The crew was supposed to be leaving on the Saturday.
"Disastrous. It was because they read the script... finally."
So what do you do when you need about four million dollars in a hurry (around $20m in today's money)?
You go to California, apparently, which is what producer John Goldstone and Python Eric Idle did.
Michael Palin's Super 8mm Film - "The Life of Brian" (1978)
It just so happened that ex-Beatle, Python fan and pal of Eric's, George Harrison was in Hollywood, because of course he was.
Eric got in touch to share his woes, and George calmly assured him that he'd find the money to get the film made.
"I sort of put that out of my head," Idle said years later. "I just didn't believe anybody could actually pay for it. Then eventually he said, 'Look, I'll pay for this. I'm going to set this up'."
Apparently, what happened was that Harrison had spoken to his US business manager Denis O'Brien who urged him to fund the film himself.
But even a Beatle doesn't have a couple of million quid lying around. He had to mortgate his Henley-on-Thames mansion and O'Brien's London offices.
Michael Palin on George Harrison funding Life of Brian | Film Feast Suffolk
Goldstone was dumbstruck. "I can't remember whether he'd read the script already or not... it didn't really seem to matter. I just couldn't believe it. I felt... rock 'n' rollers, no sense of reality at all."
Idle agreed that it was "really unheard of" and acknowledged that without the cash "Life of Brian would never have been made".
As John Cleese later told us here at Gold: "Eric couldn't believe it. He said, 'Why are you doing this?.'
"George said, 'I want to see the movie'. But what an act of generosity and utter, glorious madness."
Life Of Brian was very nearly never made - George Harrison saved the day - Film Finance
Shooting got underway on September 16, 1978, and we ended up with a masterpiece of comedy and British filmmaking.
George apparently called his investment "the most expensive cinema ticket ever issued" but while we've not read the contract, we're pretty sure he made his money back.
On a budget of around $4 million, Life of Brian went on to gross over $20 million at the box office.
So – apart from wanting a good movie to watch – just why did George Harrison decide to put a small fortune into a film that had a very real chance of flopping, or being outright banned?
Terry Jones said: "When Eric rang George and asked, 'What can we do?', George said, 'Well, you know, when the Beatles were breaking up, Python kept me sane, really, so I owe you one.'
By way of thanks, Harrison was given a tiny cameo role in the film as owner of the Mount, Mr Papadopoulos.
Mr P shakes hands with Brian (Graham Chapman) in one scene, and has a single word of dialogue in the film – a decidedly Scouse "ullo".
The very much not Scouse Michael Palin later revealed in his diary that he actually had to dub that line in later.
An Accidental Studio – UK TV Premiere Trailer
To get Life of Brian off the ground, Harrison and O'Brien formed the production company HandMade Films, which went on to produce or distribute the classic films Time Bandits and Withnail and I.
And as with Life of Brian, it also saved the Bob Hoskins career highlights The Long Good Friday and Mona Lisa when EMI pulled out.
After some less successful films (Shanghai Surprise being one), before closing down in 1991, and eventually re-emerging under new owners later in the decade.