Only Fools and Horses turns 40: The 13 greatest moments from the classic sitcom
7 September 2021, 16:35 | Updated: 31 January 2022, 23:40
From Del Boy falling through the bar to Trigger's Broom, we round up the greatest moments from one of the greatest ever sitcoms.
On September 8, 1981, the first episode of Only Fools and Horses aired on the BBC.
In 'Big Brother', Derek Trotter buys a load of briefcases to flog, the only problem being that the combinations are written down on a bit of paper inside the cases. Which are locked shut.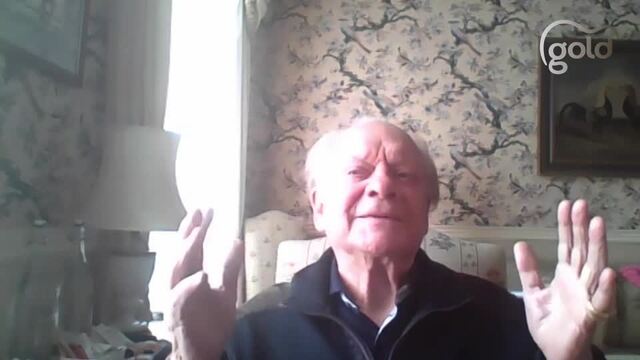 Gold's David Jason full interview
OFAH ran for 61 episodes, ending perfectly with finale 'Time on our Hands 'in 1996 64 episodes, ending with 'Sleepless in Peckham' in 2003, and to mark its 40th birthday we've rounded up its greatest ever moments.
The auction - 'Time on Our Hands' (December 29, 1996)

Del's finally a millionaire! | Only Fools and Horses | BBC Comedy Greats

After 15 years of ups and downs, so many chances and heartbreaks and near misses, Del Boy's prediction finally came true – he and Rodney became millionaires when a pocket watch that had been in their possession all that time went up for auction.

There's the double faint, and then that cathartic rocking of the Trotters Independent Traders Robin Reliant that we all felt.

Sex dolls in the van - 'Danger UXD' (January 15, 1989)

Del Boy and Rodney Sneak the Disguised Dolls Out the Flat | Only Fools and Horses

OFAH was a little closer-to-the-bone than many remember, especially in its earlier days, and this ridiculous scene featuring a load of blow-up sex dolls in the back of the van is a classic example of that.

Batman and Robin - 'Heroes and Villains' (December 25, 1996)

Batman and Robin | Only Fools and Horses | BBC Comedy Greats

Some of the best moments of Only Fools and Horses were incredibly clever. Some were utterly heartbreaking.

This visual gag of Del Boy as Batman and Rodney as Robin is just funniness that defies explanation.

Cassandra's miscarriage - 'Modern Men' (December 27, 1996)

Cassandra's miscarriage in Only Fools and Horses.

Picture: BBC

Not the first or the only time OFAH put the comedy to one side, but maybe the most memorable.

Soaps and dramas often get plaudits for tackling harsh real-life issues like miscarriage, but the skill to approach it in a sitcom and pull it off can't be praised enough.

Only Fools And Horses Nicholas Lyndhurst On Scripts | Gold

And, being Only Fools and Horses, they added humour to the heartbreak with Del Boy's uncontrolled sobbing and punching out a drunk in the waiting room ("I bet you wished you'd gone private now!")

Alright Dave? - 'Homesick' (November 10, 1983)

My Name is Rodney! | Only Fools and Horses | BBC Comedy Greats

Ever since the start of the show, Trigger would refer to Rodney as "Dave". Why? Nobody knows, but this scene where Rodders confronts Trigger about it lives long in the memory.

Rodney: "Trig, why do you call me Dave? My name's Rodney."

Trigger: "Are you sure?"

Trigger pledges to call Rodney, Rodney, from then on. But obviously doesn't.

The exploding tour bus - The Jolly Boys' Outing (December 25, 1989)

The Jolly Boy's Explosive Coach Outing | Only Fools and Horses

No expense is spared on the special FX when things go wrong for the lads on a beano to Margate in a faulty coach.

Trigger's broom - 'Heroes and Villains' (December 25, 1996)

Trigger's Well Maintained Broom | Only Fools and Horses

The Ancient Greeks pondered if the ship of Theseus remained the same vessel if you kept replacing its rotting planks with new timber.

Millennials ask if a Sugababes lineup of Amelle Berrabah, Heidi Range and Jade Ewen can truly be called the Sugababes.

But for us, it's all about Trigger's broom.

Trigger: "This old broom's had 17 new heads and 14 new handles in its time."

Sid: How the hell can it be the same bloody broom then?"

Trigger: "There's the picture. What more proof do you need?"

Del's two pairs - 'A Losing Streak' (November 4, 1982)

Del Boy's Poker face - Only Fools and Horses - BBC

Only Fools and Horses could do it all. Comedy, tragedy, and when necessary, absolutely thrilling tension.

In a poker game against his friend/nemesis Boycie with everything on the line, Del Boy only had two pairs against Boycie's four kings.

Luckily for him, his two pairs were two aces and... two aces. Having twigged that Boyce wasn't playing fair, Del Boy gave him a well-deserved taste of his own medicine.

The three grand butterfly - 'As One Door Closes' (April 4, 1985)

Three Grand Butterfly - Only Fools and Horses - BBC

Rodney and Del Boy are on the hunt for a rare butterfly worth £3,000 (which adds up to about £9,500 in today's money).

Against all the odds, they recover it, only for a low-ten from Denzel to ruin everything.

The chandelier falls - A Touch of Glass (December 2, 1982)

Del and Rodney Smash the Chandelier | Only Fools and Horses | BBC Comedy Greats

The Trotters wangle their way into a plum job of cleaning two priceless Louis XIV chandeliers. Del and Rodney hold a bedsheet underneath one while Grandad unscrews it from the floor above.

The only problem? It's the wrong chandelier.

Del Boy takes a beating and 'Holding Back the Years' - 'Little Problems' (February 12, 1989)

Del Gets Beaten Up After Being Mistaken For Rodney | Only Fools and Horses | BBC Comedy Greats

For all the antagonism, teasing and downright bullying, Del Boy was effectively a father figure for his younger brother, and his love for him was as pure as anything in the show.

Derek has promised Rodney £2,000 for his wedding to let him go in on a flat with Cassandra. He also owes about the same amount to the brutal Driscoll Brothers for some mobile phones.

The threat of the Driscolls prompts Boycie to give Del the cash, but instead of paying them off, he takes a punishing beating so he can honour his promise to his brother.

Del Boy at Rodney's wedding reception.

Picture: BBC

Later at the wedding while chatting to Marlene, Del reveals that the reason he never got married is because none of his girlfriends wanted to care for Rodney.

Soon after, the brothers exchange a glance as Simply Red's 'Holding Back The Years' plays and we're left holding back the tears.

Del Boy falls through the bar - 'Yuppy Love' (January 8, 1989)

Del Boy Falls Through the Bar (HD & Extended) | Only Fools and Horses | BBC Comedy Greats

Maybe one of the greatest bits of physical comedy. The beauty of Del Boy falling through the bar isn't just the visual, which is amazing in and of itself – David Jason doesn't hesitate or flinch or pull out of it for a second.

What makes the moment work so well is that it's a perfect encapsulation of everything we've learned to know the contrast of Del's self-image and the truth of the character.

Stewart Lee sketch : Del Boy falling thru the bar.

It's a scene so well-loved, known and parodied, and often tops polls of the best comedy moment full stop, prompting stand-up Stewart Lee's incredible sketch from his own classic Comedy Vehicle.

Walking off into the sun - 'Time on Our Hands' (December 29, 1996)

Yes, the auction that opened this list is the moment that the boys finally became millionaires, but the most touching part of the Only Fools and Horses finale* came afterwards.

(*okay, not the actual finale, but what should have been the finale, not least because this perfect moment is undercut by those limp 2000s specials).

One last deal? | Only Fools and Horses | BBC Comedy Greats

Because where do you go from there? As well as Uncle Albert helming another boat wreck, you've got Del Boy and Rodney being toasted at the Nag's Head and the prospect of one last deal (250 carpet steamer from Lenny Norris, but "Trotters Independent Traders has ceased trading.").

Then there's the tease of risking their fortune in the futures market ("This time next year, we could be billionaires") as they walk off into the sun.

It's utterly tear-jerking, set to the wonderful 'Our House' by Crosby, Stills, Nash and Young (though they had to swap in a Helen Reddy cover for the VHS/DVD).