Crosby, Stills and Nash facts: Members, break-ups, reunions and hit songs of the folk rock supergroup
20 January 2023, 13:32 | Updated: 10 March 2023, 13:30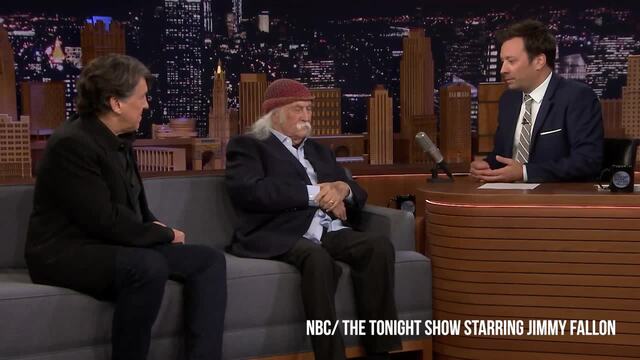 David Crosby says he would be up for reuniting Crosby, Stills, Nash and Young
One of rock's first and very greatest supergroups, Crosby, Stills and Nash absolutely delivered on their promise.
There have been plenty of rock supergroups over the years, but Crosby, Stills and Nash weren't just one of the first – they were arguably the very best.
Formed by David Crosby (The Byrds), Stephen Stills (Buffalo Springfield) and Graham Nash (The Hollies), CSN were so much more than the sum of their considerable parts.
With and without their occasional fourth member Neil Young, CSN recorded some of the finest music of the era, and their influence echoed across the 20th century and beyond.
The relationships between the band's members weren't always smooth, and the sad death of David Crosby at the age of 81 means that there'll never be another reunion.
So it's time to celebrate the work of CSN(and Y), and induct them into Gold's digital Hall of Fame.
When did Crosby, Stills and Nash form and what bands did they come from?
Unlike some supergroups, David Crosby, Stephen Stills and Graham Nash all came from genuinely successful acts.
David Crosby was a founding member of The Byrds in 1964 and appeared on their first five albums, though he was sacked in October 1967 during the recording of their fifth The Notorious Byrd Brothers amid disagreements over the group's direction and his own role as a songwriter.
Stephen Stills formed Buffalo Springfield in 1966 alongside Bruce Palmer and Dewey Martin and Richie Furay, as well as future CSNY member Neil Young. It was Stills who wrote and sang lead on the group's biggest hit – 1967's protest song 'For What It's Worth'.
Buffalo Springfield - For What It's Worth 1967
Meanwhile, over the Atlantic Graham Nash had the jump on both his future bandmates, forming The Hollies in 1962 with Allan Clarke and was a key member, urging the group to write their own material.
Things started to cross over as Crosby filled in for a missing Neil Young for Buffalo Springfield at the Monterey International Pop Festival in June 1967.
As Buffalo Springfield fell apart, Crosby and Stills started jamming together, coming up with future CSN song 'Wooden Ships' while on Crosby's boat.
The Hollies - I'm Alive - Rooster (10-07-1965) • TopPop
Nash had met Crosby and Stills in 1966 when The Hollies had toured the US, he was more formally introduced to Crosby the appropriate setting of Laurel Canyon by mutual pal Cass Elliott in July 1968, at either her house or Joni Mitchell's... memories are understandably hazy.
As the story goes, Nash asked Stills and Crosby to play Stills' own 'You Don't Have to Cry' and after a few run-throughs they realised they had something.
"Whatever sound Crosby, Stills, and Nash has was born in 30 seconds," Nash said in 2014. "That's how long it took us to harmonise."
Nash quit The Hollies a few months later and flew to LA in December 1968.
Not put off by a failed audition for Apple Records in early 1969, the band were instead snapped up for Atlantic Records by Ahmet Ertegun.
Crosby, Stills and Nash were born.
When did Neil Young turn CSN into CSNY?
CSN was all about those tremendous vocal harmonies, but while Crosby and Nash pitched in with some acoustic guitar, it was Stephen 'Captain Many Hands' Stills who did the most in the studio, instrument-wise.
While hired hand Dallas Taylor sorted the drums, it was Stills who played every bit of lead guitar, bass and keyboard on the band's self-titled debut Crosby, Stills & Nash.
That was all well and good in the studio, but no matter how many hands a person has in a multi-track studio, they've only got two on stage.
When the album was a hit, the band needed reinforcements to take it on the road.
Crosby, Stills & Nash - Suite: Judy Blue Eyes (Official Audio)
Drummer Taylor stuck around at first, but their first choice keyboard player Steve Winwood (formerly of Traffic and the Spencer Davis Group), was busy with his own supergroup Blind Faith.
Ertegun suggested Neil Young, and despite some reservations, Young was signed up on the condition that he could continue working with Crazy Horse on the side.
Fellow Buffalo Springfield man Bruce Palmer briefly joined on bass, but was swiftly replaced by Motown session player Greg Reece.
Their first proper gig was on August 16, 1969 at the Auditorium Theatre in Chicago with Joni Mitchell in support. Their second, was at a little festival called Woodstock...
What happened when Crosby, Stills, Nash and Young played Woodstock?
Crosby, Stills & Nash Marrakesh Express & Blackbird Woodstock 1969
"This is the second time we've ever played in front of people, man. We're scared s**tless," said Stephen Stills from the stage as CSNY played what was one of the highlights of the whole festival.
They played an alternating acoustic and electric set, starting of without Young before their new bandmate joined them from 'Mr Soul' on.
The set was a mix of CSN numbers, some as-yet-unreleased CSNY material, covers, and songs by the group's former groups.
Crosby, Stills, Nash and Young's full Woodstock setlist was as follows:
Suite: Judy Blue Eyes
Blackbird
Helplessly Hoping
Guinnevere
Marrakesh Express
4 + 20
Mr. Soul
Wonderin'
You Don't Have to Cry
Pre-Road Downs
Long Time Gone
Bluebird Revisited
Sea of Madness
Wooden Ships
Find the Cost of Freedom
49 Bye-Byes

Did CSNY write 'Woodstock'?
As we just noted, CSNY had one of the most stunning and successful sets at Woodstock, despite having barely played together live before.
Their performance was captured by the cameras, and they were one of the standouts of the 1970 Woodstock documentary film
They also went on to have a massive hit with the song 'Woodstock' which perfectly captured the story of the festival ("By the time we got to Woodstock / We were half a million strong / And everywhere was a song / And a celebration").
CSNY's performance of the song even played over the end credits of the Woodstock film, helping cement their status as superstars.
But despite their rendition being among the best known, the song was actually written and first recorded by their good pal Joni Mitchell
Joni wasn't actually playing at Woodstock, despite being invited. Her manager David Geffen urged her to decline because he was worried she'd miss her spot on The Dick Cavett Show that Monday.
"We got to the airport and I saw the TV report – 400,000 people sitting in mud – and I turned to Joni and said, 'Let's not go'," Geffen remembered.
Depending on when she was talking about it, Michell was either distraught about missing the festival or dismissive of its importance.
Mitchell actually would have been able to make both gigs. CSN not only stole the show at Woodstock but chartered a helicopter and actually appeared on The Dick Cavett Show themselves, effectively gatecrashing poor Joni's appearance.
They didn't even have the decency to pretend it wasn't all that, either.
Joni Mitchell, Jefferson Airplane and David Crosby Discuss Woodstock Festival | The Dick Cavett Show
"It was incredible," Crosby said. "It was probably the strangest thing that's ever happened in the world."
"Can I describe what it felt like flying in on a helicopter, man? It felt like an encampment of the Macedonian army on Greek hills… crossed with the biggest batch of gypsies you every saw. It was amazing."
Mitchell worked fast, and premiered 'Woodstock' at the 1969 Big Sur Folk Festival one month later (where CSNY also performed.
A studio version appeared on her third album Ladies of the Canyon in March 1970 (and also as the flip of 'Big Yellow Taxi'), while she also included it on her Miles of Aisles and Shadows and Light live albums.
"By the time we got back to the hotel the song Woodstock had basically been written," said Nash of Joni's fast work.
Crosby added: "She contributed more to people's understanding of that event than anyone who was there."
What were CSN(Y)'s biggest songs and albums?
Crosby, Stills, Nash, & Young - Our House (Official Video)
CSN released their debut album Crosby, Stills & Nash in May 1969, and after Neil Young joined the group, CSNY released follow-up Déjà Vu less than a year later in March 1970.
It would be seven years before the core trio reconvened for 1977's CSN, and then 1982's Daylight Again. Young rejoined for 1988's American Dream, but they were back to a three-piece for 1990's Live It Up, 1994's After The Storm.
Young returned for the CSN(Y) swansong Looking Forward in 1999.
CSN(Y)'s biggest songs include:
Marrakesh Express
Suite: Judy Blue Eyes
Wooden Ships
Woodstock
Teach Your Children
Almost Cut My Hair
Ohio
Our House
Just a Song Before I Go
Wasted on the Way
Southern Cross
When did Crosby, Stills and Nash split, reunite, and break-up again?
CSN 2012 Concert DVD Preview
With three (and sometimes four) major talents in the group – all incredible and independently successful songwriters – it's no surprise that egos and personalities rubbed each other the wrong way over the years.
Neil Young flitted in and out of the lineup, but even among the main trio there were plenty of fallings out and reunions.
The first break-up happened as early as 1970, in part due to Stills' problems with alcohol and cocaine. CNY initially fired Stills before his reinstatement, but the group couldn't stay together.
Crosby, Stills & Nash - Teach Your Children (Live Aid 1985)
There were various pairings up and releases of already-recorded live material as the successful 4 Way Street, but CSN(Y) didn't properly reform until a failed 1973 studio session and more successful 1974 comeback tour.
Things continued to stutter – not least because of Crosby's insatiable appetite for sex and drugs – until 1976, when Crosby, Stills and Nash did things properly and recorded the CSN album.
Officially, CSN(Y) were a going concern from then until their eventual split in 2015 – CSN played Live Aid, while Neil Young played separately – though there were many ups and downs, partings and reunions along the way, with Crosby's cocaine habit and jail term in 1982 being particularly troublesome.
The last ever Crosby, Stills, Nash and Young gig was an acoustic set at the 27th Bridge School Benefit concert on October 27, 2013.
Young confirmed the following year that the group would never tour again – his falling out with Crosby over his insults towards Neil's then-girlfriend, future wife Daryl Hannah were likely a major factor there.
Crosby later apologised, telling Howard Stern: "Where do I get off criticizing her? She's making Neil happy. I love Neil and I want him happy... Daryl, if you're out there, I apologise."
There was still no CSNY reunion and while CSN toured in 2015, their final performance was a rendition of 'Silent Night' at the National Christmas Tree Lighting Ceremony at The Ellipse in Washington, DC on December 3, 2015.
This time it was Crosby and Nash's falling out putting an end to things.
Crosby, Stills & Nash, "Silent Night"
"We haven't talked for a couple of years," Crosby said of Nash only last year to The Guardian. "And I'm not going to talk to him. I don't want to talk to him. I'm not happy with him at all."
In the years since they last played, there were murmurs about a possible reunion – even from Young.
"I think CSNY has every chance of getting together again," he told Mojo. "I'm not against it. There's been a lot of bad things happen among us, and a lot of things have to be settled
"But that's what brothers and families are all about. We'll see what happens. I'm open. I don't think I'm a major obstacle."
But it wasn't to be. Crosby's sad death in January 2023 meant the end of CSN(Y) forever.