Chaim Topol, star of Fiddler on the Roof and Flash Gordon, dies aged 87
9 March 2023, 11:24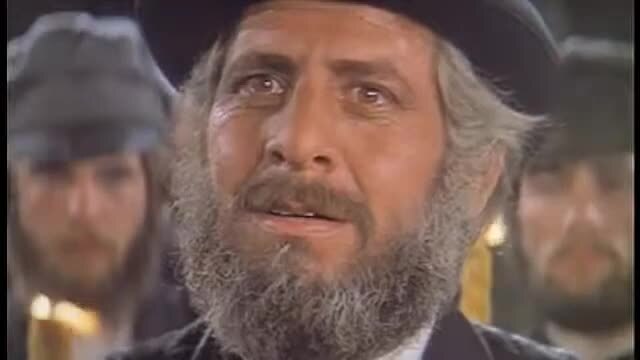 Fiddler on the Roof – original movie trailer
Topol first played Tevye on the stage before immortalising the role on the big screen.
Chaim Topol, known to the world as Topol, has died at the age of 87.
The actor was best known for playing Tevye the milkman in Norman Jewison's classic movie musical Fiddler on the Roof in 1971, as well as for key roles in 1980 comic book adaptation Flash Gordon and 1981 James Bond movie For Your Eyes Only.
Topol died at his home in Israel yesterday (March 8) surrounded by his family.
The Times of Israel reports that he had been battling Alzheimer's disease for several years.
"From Fiddler on the Roof to the roof of the world, Chaim Topol, who has passed away from us, was one of the most outstanding Israeli stage artists," said Israel's president Isaac Herzog.
"A gifted actor who conquered many stages in Israel and overseas, he filled the cinema screens with his presence and above all entered deep into our hearts.
"Topol was one of the giants of Israeli culture and he will be greatly missed. Condolences to his dear family and all his loved ones."
Herzog added that he got to know Topol during the actor's work away from the spotlight on the Kfar Nahar Jordan project for sick and disabled children and their families.
Born in Tel Aviv-Yafo – in what was then part of British Mandate Palestine – on September 9, 1935, Topol had several stage roles before grabbing national attention for his early film roles in I Like Mike and especially 1964's Gol Sallah Shabati.
He then played Tevye the Dairyman in the Israeli stage production of Fiddler on the Roof in 1966, when he was just 31.
Despite his then lack of fluency in English, he was cast in a new production of the play at Her Majesty's Theatre in London.
When Norman Jewison made the 1971 movie adaptation of Fiddler on the Roof, Topol was controversially cast ahead of Zero Mostel, who had originated the role on Broadway in 1964.
In later life, Topol frequently reprised the role of Tevye on the stage around the world – including a Tony-nominated Broadway revival – but by then he had also become known for his roles in other major movies.
He played Dr. Hans Zarkov in 1980's Flash Gordon and Milos Columbo in the following year's For Your Eyes Only opposite Roger Moore's 007.
Topol had previously played the title role in Joseph Losey's 1975 movie adaptation of Bertolt Brecht's 1943 biographical play Galileo.
He continued to work into his 70s and 80s, and in 2010 was cast in an ambitious Yiddish language movie The Golem which sadly failed to be produced.
Topol is survived by his wife Galia, three children and several grandchildren.